"Every Person in a Movement Must See It as Their Own"
People power is what moves the world.
Someone who deeply embodies this right now, and has been launched onto the international stage, is Pastor Evan Mawarire. Mawarire is the Zimbabwean pastor who is igniting the #ThisFlag movement. The subsequent #ShutDownZimbabwe on July 6 and spin-off online and offline demonstrations such as #BeatThePots and #Tajamuka has been the start of what Mawarire describes as "Zimbabweans taking back their power."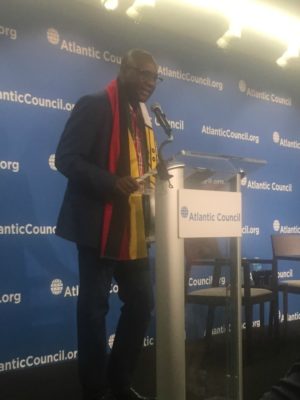 I heard him speak this week in Washington, DC. His offering to the policy wonks gathered at the Atlantic Council, so often insulated by intellect and severed histories, was incredibly powerful. Following are some of my livetweets of quotes from his speech and the discussion.
Below are his remarks on the international community's interventions in Zimbabwe to date:
"The citizens have been absent in building #Zimbabwe. We have to be on the forefront. It's not about help from outside." @PastorEvanLive

— How Matters (@intldogooder) August 17, 2016
"You see #Zimbabwe thru statistics. But you must see the tears. We can't suppress anymore. We can't always 'make a plan.'" @PastorEvanLive

— How Matters (@intldogooder) August 17, 2016
.@PastorEvanLive re: IMF & World Bank funding of Zim gov & ignoring of #humanrights. "It just reinforces that we [citizens] are on our own."

— How Matters (@intldogooder) August 17, 2016
Zimbabweans in the Diaspora made up half of the audience, crowding the front rows, the Zimbabwean flag draped over their shoulders – a symbol of pride and resistance. His story and the stories of so many others called deeply to the Zimbabweans in the room, who truly, were his audience.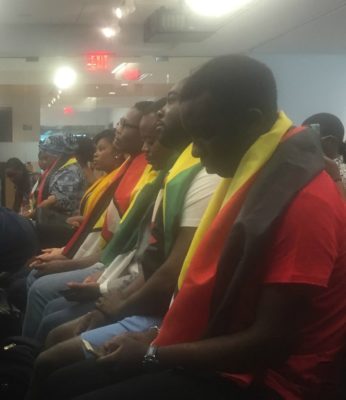 "How do you arrest people holding up their flag and singing their national anthem?" @PastorEvanLive on #Nonviolence #ThisFlag #Zimbabwe

— How Matters (@intldogooder) August 17, 2016
What made the time with Mawarire so inspiring is his authenticity. He's funny. He's a storyteller. He's humble, e.g. referring to his religious training as preparing him for salvation, not democratization. He's determined. He's committed to nonviolence. He's full of grace. And yet, he reminds:
"Every person in a movement must see it as their own. It's never about the passion of one person." @PastorEvanLive #ThisFlag #Zimbabwe

— How Matters (@intldogooder) August 17, 2016
"It's not just #ThisFlag. There are many other expressions of people's will. The space has been created-This is our victory" @PastorEvanLive

— How Matters (@intldogooder) August 17, 2016
You can watch the full recorded webcast from yesterday here, or you can click on the headings below to download some of the video clips I took that spoke deeply to me about movement building and grassroots leadership around the world. I share these lessons because I firmly believe that to be a relevant and skilled practitioner in our sector, is to be a lifelong student of people power.
On being launched into activism:
"…there's no way that I could ever have planned what has happened."
"Sometimes you and I have taken a peak into our hearts to look at the Zimbabwe we long for…"
"…a lot of the heroism we're looking for is locked up in you and me."
"It is the strength of the citizens that keep showing up…we are each other's security."
People power is indeed what moves the world. Leaders like Mawarire call us to be ready for the reckoning. His phrase from yesterday I will not soon forget: "If we cannot get the politicians to be brave, we have to inspire the citizens to be bold."
As a Zimbabwean friend shared yesterday, "it feels like history."
***
"How Matters: Aid Can Be Better–Let's Talk About How," is a guest blog run by Jennifer Lentfer in order to place community-driven initiatives at the forefront of international aid, philanthropy, and social enterprise.