Knowledge Drawn from Experience: Building the Post-2015 Agenda with People Living in Extreme Poverty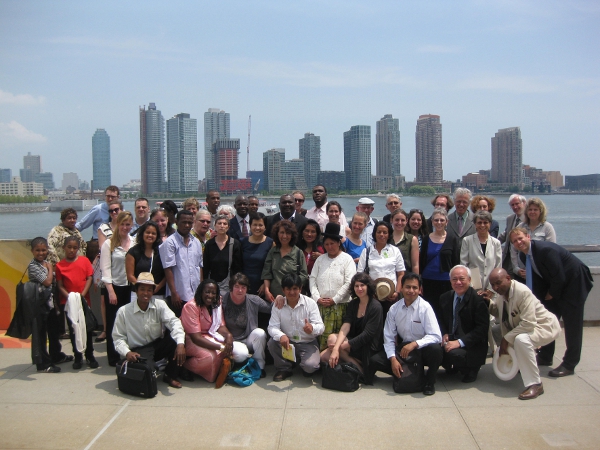 News from the project
United Nations, New York, 27 June 2013
This summer, ATD Fourth World organised a seminar at the UN in New York to present the results of the MDGs evaluation it had undertaken with people living in extreme poverty. Fifty participants from Africa, Latin America, North America, Asia, Europe and Indian Ocean held discussions with representatives from the United Nations and diplomatic missions as well as academics and active members of civil society.
Participants included: Ms. Amina Mohammed, Special Advisor of the Secretary-General on Post-2015 Development Planning; Mr. Olav Kjørven, Assistant Secretary-General, UNDP; Mr. Ivan Šimonović, Assistant Secretary-General for Human Rights; H.E. Mr. Gérard Araud, H.E. Mr. Libran N. Cabactulan, H.E. Mr. Enrique Roman-Morey, H.E. Mr. Jean-Francis Régis Zinsou, respectively Ambassadors of France, the Philippines, Peru and Benin; Ms. Alison Tate, Director of External Relations, International Trade Union Confederation; Mr. Roberto Bissio, Coordinator, Social Watch, as well as academics and representatives of several other civil society organizations.
The participatory evaluation project has involved more than 2000 people from twelve countries. A majority of participants were people living in situation of poverty or extreme poverty.
Five recommendations for the Post-2015 Development Agenda:
1. Leave no one behind. It requires eliminating discriminations based on gender, social origin or poverty and turning the MDGs and their implementation coherent with human rights.
2. Introduce people living in poverty as new partners in the process of building knowledge on development. It requires creating cooperation as well as new forms of shared knowledge between people living in poverty and mainstream society – academics, professionals and policy-makers.
3. Promote participatory good governance. It requires helping communities to set up their own support organisations and to make sure that national and international structures put in place participatory mechanisms at all levels.
4. Promote decent jobs, social protection and access to fundamental rights for all. It should be done while at the same time improving environmental protection and biodiversity.
5. Achieve education and training for all based on cooperation between all stakeholders.