Women and Poverty: "An Ounce of Flesh Taken From My Heart"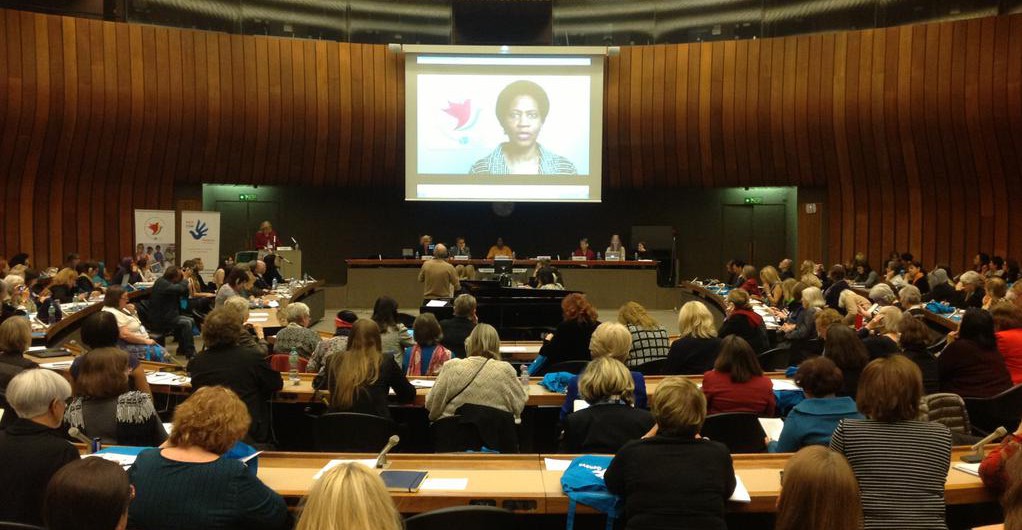 The following remarks were prepared by Diana Skelton, Deputy Director General of ATD Fourth World, for the Geneva NGO Forum for the Beijing+20 UNECE Regional Review. Held in 1995, the Beijing conference was the most ambitious international conference on gender equality ever held, and the Beijing+20 process is an important part of continuing its work into the future.
These comments are rooted in ATD Fourth World's work with women living in extreme poverty in 15 of the ECE countries, and more specifically in the UK, France, Poland, Luxembourg, Switzerland, and the US. In comparing the national reports submitted by those countries with the experiences of the women we know there, we see four areas that should be addressed.
1. Greater attention needs to be given to the multidimensionality of poverty in order to develop more effective anti-poverty strategies
Ewa, in Poland, had two children with her husband, but making ends meet became such a source of stress that the couple soon divorced. Because the father was unemployed, Ewa began receiving government aid to raise the children. She also found work cleaning a hospital, while her ex-husband spent several years living in the street and struggling with alcoholism. However, when their sons were 10 and 11, he found support to become and remain sober. In addition to job-hunting, he began to spend more time helping Ewa to raise the boys. Because she left home at 4:50 am every morning for work, the boys had often been unsupervised. Their behavior was aggressive and a school counselor advised psychiatric treatment. However, Ewa's work hours conflicted with medical appointments. Once the father was able to help, he took them to the appointments and also began preparing meals for them, seeing them before and after school every day. Their behavior improved. However, Ewa now risked losing the government support she received as a single mother. Her choices were: to give up needed income without knowing for how long she could continue depending on her ex-husband; or to cut off her children from his positive influence in order to keep the government aid; or to try hiding the fact that she was counting on both the government and her ex-husband in raising their children. [1]
Policies meant to support single mothers often have unintended consequences that confront women in poverty with impossible choices. The realities of their lives are shaped by many factors, from work to substance abuse, from health care to child care, from housing to isolation. Increasingly, many employers are using advances in information technology to further fragment the time of low-wage workers, who are expected to be always on-call depending on customer flow, regardless of their responsibilities for children, elderly parents, or sick family members. A New York Times reporter notes: "Automated scheduling software, and the erratic schedules computers produce […] is ubiquitous. Nearly every worker I spoke with had some example of scheduling drama: getting notice of their hours only a day or two in advance, coming in for only a two- or three-hour shift, being dismissed mid-shift because the computers said sales were slow, or the opposite, being pulled in when more hands were needed." [2]
• Governments should review and update the standards for decent work in keeping with evolving conditions.
• Particularly in ECE countries, the unique issues facing low-income women are often missed, partly because existing data looks at people uni-dimensionally, either by gender only, or by race/ethnicity, or by income level. Governments and UN agencies should disaggregate data in new ways that can tease out intersectionalities between both gender and income level in order to draw increased attention to the specific issues facing low-income women.
• To address the multi-dimensionality of poverty in a sustainable way, governments should design comprehensive anti-poverty action plans based on the UN Guiding Principles on Extreme Poverty and Human Rights.
2. Poverty needs to be recognized not only as a consequence of gender discrimination, but also as a cause of double discrimination for low-income women
A woman in the UK named Bea says, "My health means I can't work full-time anymore, so instead I do as much as I can for whoever I can. My mother is physically disabled and I've helped to look after her and support her. […] But I hate the stigma, shame, insecurity, and instability that come with being on benefits.[…] I feel attacked when I open a newspaper, watch TV or listen to the radio. I love looking after my family and I'm needed to do it. I shouldn't have to feel ashamed." [3] While people who are better off can afford in-home care without needing public financial assistance, many low-income women invest their time and energy in caring for relatives. Supporting and according greater value to their role in care-giving is both more cost-effective and more emotionally rewarding than placing people in homes.
Here in Switzerland, Clementine speaks about poverty in terms of prejudice about neighborhoods. She says, "The neighborhood I live in is called 'les Baumettes,' after a French prison. There's a lot of prejudice about it, even though the neighborhood is mixed. It's not only low-income, but everyone is categorized and lumped together. We're judged so fast: 'Oh, that's where you live, so you must be a certain way!'" [4] Another woman in Switzerland, Roxana, says, "The way the police talk to us should be changed. Whenever they come, […] they insult us just to check our ID. Why? Can't they check our ID but speak gently at the same time? […] I don't understand why they speak to us so arrogantly." [5]
Poverty-based discrimination impacts many aspects of low-income women's lives: their chances at getting hired, the quality of health care they receive, their self-esteem, and their vulnerability to rough or violent treatment. Governments should acknowledge that living in poverty in and of itself makes people vulnerable to discrimination. In France, while the condition of poverty itself is not considered under the country's discrimination law, ATD Fourth World applauds the fact that last January 14th, this law was changed to ban discrimination based on "place of residence and a person's real or imagined origins." [6]
3. Social services need to be reformed to be more supportive of women in poverty
A woman in Luxembourg was shocked by the way social services sent the police to question her daughter: "My teenage daughter hasn't been doing well these past months. I know she's often missed school. One morning when we were still sleeping, there was loud banging on the door and they shouted, 'Police, open up!' […] They rushed straight upstairs into the bedrooms, asking the children, 'What's your name? Where do you work?' Then they barged into our 16-year-old's room. She was still in her nightgown. They ordered her to come with them. She was so embarrassed! They took her away and refused to let me go with them. It was shameful, us in pajamas, and so many police officers, as though we were criminals, with the neighbors all there—horrible!" [7]
The director of the University of Massachusetts' Center for Social Policy writes about "humiliation, punishment, and isolation" that can be the result of low-income parents reaching out to social service agencies: "Parents who are poor, in particular single, female parents, have always been held to a higher parenting standard in the US than have those with higher incomes. Surveillance of the parenting behaviors of those with low-incomes is possible because of these families' unavoidable reliance upon a public assistance program that has been riddled from its inception with stigmatization of its beneficiaries." [8]
In addition, in ECE countries, the economic crisis has not only prevented making recommended improvements to services but has led to austerity measures that can compound stigmatization. Policies focus on rooting out "welfare fraud" committed by only a very small percentage of people benefiting from social protection. Cumbersome bureaucratic procedures, and the obligation to prove need over and over again, prevent many eligible families from benefiting from assistance. The director of all state Children's Homes in Luxembourg, René Schmit, recognizes these risks, saying: "We're raising the question of a drift toward institutional violence. […] Interventions, even with the best of intentions, can contribute to undervaluing and disqualifying the poor." [9]
To address this, governments should require social services to redesign policies in consultation with women in poverty, and based on the UN Guiding Principles on Extreme Poverty and Human Rights.
4. Child welfare policies should support women in their care-giving roles, rather than separating families
In the UK, Patricia says, "When my daughter had her son, I spent a lot of time with her in the assessment centre. It was a big test; I had to spend two weeks showing professionals how I could support her. I did this even if it was hard having someone younger than me telling me how to feed, change and wash my grandson. We might be in poverty, but we are human beings; we've got lives, we get on with things, and we still help each other." [10]
UNICEF notes that "the region of Central and Eastern Europe and Central Asia is known to have some of the highest numbers in the world [11] of children growing up separated from their families. The total number of children who grow up in formal care in the region is estimated at 1.4 million […] to a large extent due to the legacy of systems inherited from the socialist regimes. […] Mind-sets based on the common belief that the state could easily substitute family life prevailed." [12]
A researcher at Re:Gender in the US, Rosa Cho, reports, "a metaphorical war on women who are raising children alone and in poverty." Instead of offering support for mothers to provide the best environment possible for all family members, too often social services misunderstand, blame, and penalize women in poverty. In order to lower the number of children in poverty, foster care and adoption policies are used to remove children from low-income parents. This not only leaves many women in poverty feeling bereaved, but also often fails to take into consideration children's emotional needs for love and security. Martin Kalisa, who has worked with low-income families in Europe for 15 years, notes: "When children are separated from their families, this leads to emotional distress, they lose their roots, and most of the time they do not bond with foster parents or their schoolmates because they are stigmatised for being in care. […] We need to recognise that children's opportunities are being diminished by government policies rather than improved. There are some exceptions, where some people who have been in care as children escaped poverty as adults, but […] in my experience the system in the UK is set for the poorest people to fail." [13]
A woman in Luxembourg describes how she feels about her experience:
A family means being connected. Since my sister's children were placed in foster care, I'd say our whole family has been separated. […] The children's home will not let us contact her children. We haven't seen them, and aren't allowed to telephone them. It makes us feel that we're not good enough for the children. My own children now doubt me. They can tell we're worried. […] They ask if their cousins will come home and I don't know what to answer. We've lost confidence and joy. An ounce of flesh has been taken from my heart. [14] Experience has shown that helping women and their families to provide the best possible environment for their children, rather than removing the children, makes sense not only economically, but also in terms of child development. The UN Guidelines for the Alternative Care of Children and their implementation handbook provide important recommendations for improving government policies in ways that will support low-income mothers to care for their families.
[1] From a contribution by ATD Fourth World to the UN's Universal Periodic Review of Poland in 2007
[2] "Times Article Changes a Starbucks Policy, Fast," by Jodi Kantor, The New York Times, 22 August 2014. www.nytimes.com/times-insider/2014/08/22/times-article-changes-a-policy-fast/?
[3] The Roles We Play: Recognizing the Contribution of People in Poverty, by ATD Fourth World-UK, 2014, page 39.
[4] Carnet de Vies, by the "Collectif 17 Octobre," 2014, page 6.
[5] Carnet de Vies, page 12.
[6] Law n°2014-173 on City Planning and Urban Cohesion.
[7] Vivre en famille, c'est notre espoir: La parole de parents en situation de précarité, by ATD Fourth World-Luxembourg, 2014, page 72.
[8] Parenting in Public: Family Shelter and Public Assistance, by Dr. Donna Haig Friedman, Columbia University Press, 2000, page 3.
[9] Vivre en famille, pages 98-100.
[10] The Roles We Play, page 71.
[11] "At Home or in a Home," UNICEF (2009), page 9.
[12] "Providing most vulnerable families with adequate support to prevent family separation," by Jean-Claude Legrand, Senior Advisor Child Protection, UNICEF Europe and Central Asia, speaking on the 5th Anniversary of the Guidelines for the Alternative Care of Children, 17 September 2014
[13] "Supporting Parental Care to Keep Families Together," by Martin Kalisa, ATD Fourth World-UK, speaking on the 5th Anniversary of the Guidelines for the Alternative Care of Children, 17 September 2014.
[14] Vivre en famille, page 78.