USA: A World Without Poverty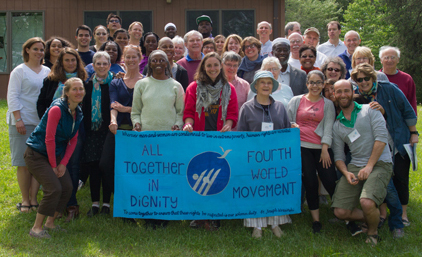 We laughed, we cried, we committed to actions to strengthen our organization. It's safe to say that the ATD Fourth World USA action planning retreat in Maryland two weeks ago was a big success.
We are so grateful to everyone who has been helping us along the way – from the first online survey to the interviews, up till the three-day retreat, it has been an amazing experience, and a really important moment for the future of ATD Fourth World in the US.
There were so many encounters and connections, so many fantastic ideas and suggestions, so many moving and inspiring moments.  If you haven't seen the photos we've posted on Facebook, you can check them out here.
In the end, there were two really important things to share.  The first is that on the last day, there were six essential questions to discuss, and those can give a great sense of where ATD Fourth World USA is heading as an organization.  Each of these questions led to specific commitments to action by everyone who was at the retreat, and in the coming weeks they will add on more actions from Volunteers and members back home who couldn't make it.
The questions were:
1. What can you and others like you do to strengthen our organization and our communities?
2. What's our role working with people involved in the criminal justice system?
3. What are the conditions we can give new American Volunteers to stay more than three years in one location?
4. What could members, Volunteers, and supporters do to make transitions in teams smoother?
5. How can we be more involved in public issues?
6. How can we improve our reporting and evaluation process to create strategic plans and enhance ongoing learning?
The second point to share is still up for discussion – it's the ATD Fourth World USA Vision Statement:
"ATD Fourth World holds a vision of a world without poverty, where everyone has equal opportunity to access all human rights. In this world, everyone can be fully themselves and be known and treated with dignity, as whole human beings. Everyone has a part in building this world."
This is a really exciting time for the work of ATD Fourth World in the United States. We hope you'll join us on the road ahead as we work towards building that world without poverty!