"We Have Lost a Friend, a Brother"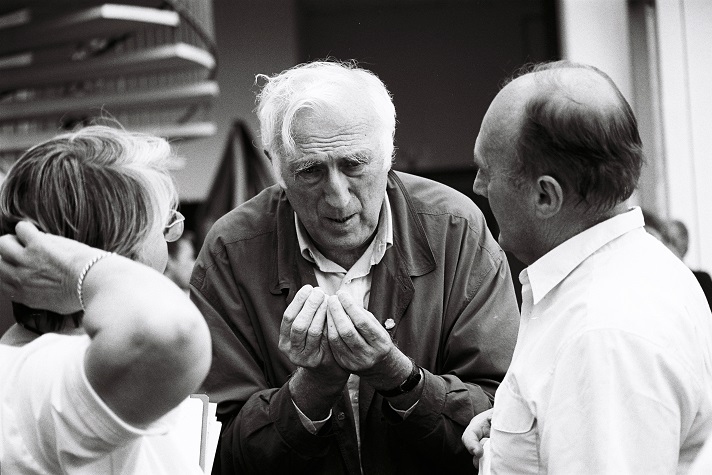 Jean Vanier, founder of l'Arche,* passed away last month. He and his organization worked closely with ATD Fourth World. ATD's International Leadership Team wrote the letter below to the l'Arche community around the world.
Dear friends of l'Arche,
It is with great sadness that we learned of the death of Jean Vanier. His long friendship with Father Joseph Wresinski created a profound relationship between our two organisations. We have lost a friend, a brother, and we share in your grief.
On behalf of all members of ATD Fourth World around the world, please accept our most sincere condolences. We pay tribute to this exceptional man who has enriched humanity. We owe him both respect and gratitude.
We are honoured to have been involved with Jean Vanier since the early 1980s, when members of the ATD Fourth World Volunteer Corps joined L'Arche in Burkina Faso. Jean Vanier accompanied them as they entered the country for the first time.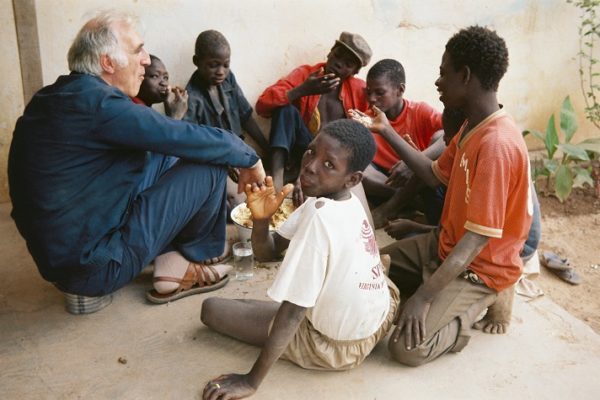 "To love is not to do something for someone, it is to be with him." This affirmation illustrates the great respect that Jean Vanier had and showed for everyone he met. We felt this profound and unconditional respect for others each time we met him. "To be with each other" is to live and to connect with each other, to count on one another to do something together, not just for oneself. That's what binds us deeply to all of you.
Jean Vanier's spirituality and his work have been, and will continue to be, an inspiration to us. We still have a profound memory of the support he gave us during the time when we were in disarray following the passing of our own organisation's founder, Father Joseph Wresinski. We remember Jean Vanier spending a long time in silent prayer in front of Wresinski's coffin at the chapel in Méry sur Oise.
At that time we knew that we could count on his friendship, his trust, his experience and his wisdom. On several occasions the meetings we had with him guided us, especially when we had to think about our governance and set up a process to decide who would run our organisation.
In 2000, Jean Vanier wrote in our Fourth World Review: "We have without a doubt people committed to ATD Fourth World and L'Arche who share a common trait: the recognition that we are changed, transformed, by our meeting with those who are excluded and marginal. They show us essential elements about themselves, but also about ourselves and about the world around us.
"Marginality shows us the oppression of our societies which are increasingly based on competition and performance. The weakest are increasingly excluded." In all his writings, Jean Vanier shows a joy of living in solidarity with those who are marginalised. It bears witness to the power of the simplicity of this solidarity.
We bring to you today this friendship that has bound our two founders. You are among those who give us confidence and strength in our approach. This shared life that you live every day is precious to us. It tells us about what is important in a world that seeks to protect itself from the most vulnerable as opposed to considering them as an opportunity. All the members of the ATD Fourth World Movement who have shared your daily life have been very sincerely and profoundly touched by your way of living together.
We can empathize with what you are experiencing right now, having gone through it ourselves. Your founder instilled the belief in each of you that if the most vulnerable guide your life, you will find the strength to move forward and stay united. Please always remember that you can count on our friendship.
With great affection and on behalf of all members of ATD Fourth World,
The ATD Fourth World International Leadership Team

* L'Arche is composed of communities where adults with an intellectual disability and those who support them, employed "assistants" or civic service programme volunteers, live and work together.
These communities in the medico-social sector, offer all their members the chance to be connected by inter-personal relationships that go beyond mere support. In L'Arche, everyone tries to "live with" people with a disability, rather than to "do for" them.
Each L'Arche community is based on three dimensions: the community dimension, the professional dimension and the spiritual dimension.