Hurricane Katrina and COVID 19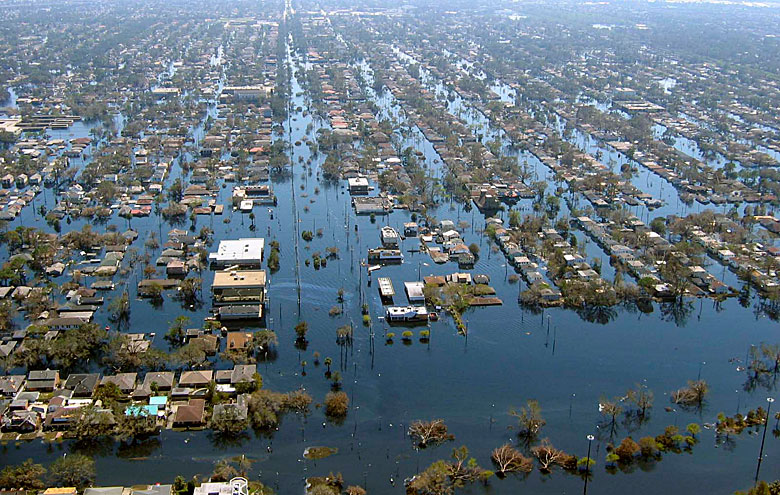 By Maria Victoire ATD Fourth World Volunteer Corps member.
Double plagues and overwhelming traumas for families living in extreme poverty in New Orleans.
All of a sudden, the world is in panic and total disorder, not knowing how to save lives of the thousands of African Americans in extreme poverty affected by COVID 19 in New Orleans and elsewhere. The decision to save lives brings back the nightmare and trauma of Hurricane Katrina when thousands of families living in poverty were killed and thousands displaced, never able to return to their hometown.
Many families living in extreme poverty in these poor black neighborhoods have been unable to rebuild their lives in the almost fifteen years since the hurricane. This double plague has brought them to their knees, exacerbating problems associated with health and education for their children. The pandemic is jeopardizing the future of young people and their families. Many have no permanent jobs or income at all. Many also don't have health insurance and are worried about how to cope with their daily lives which were already a challenge before the pandemic.
Fifteen years ago, Hurricane Katrina devastated New Orleans leaving thousands of poor black families suffering the loss of their loved ones and living in extreme poverty while receiving very little support to help rehouse them. We also witnessed how they were denied participation in the rebuilding of their city.
Re-reading the book Not Meant to Live Like This written by fifty co-authors just after Hurricane Katrina, I wonder:  without this book, would the efforts of an entire community have been erased from the history of poor black people in New Orleans?
What did this catastrophe leave for future generations?
By reading each other's stories and observing the current situation, we can see that the post-Katrina generation has already been left behind!
Marcie Lewis, 37, mother of three, died 9 years after Hurricane Katrina. Marcia was displaced and moved to Baton Rouge with her seventy-year-old mother and four children.
She paid a heavy price for the trauma caused by Hurricane Katrina. Before dying she said,
"My wish is to come back home and live with my family again. We are all scattered!"
Marcie was never able to realize her dream of seeing her children grow up. Her children were also traumatized by displacement and their right to return to their home was not respected. Her eldest son Darnell was 13 years old at the time and was expelled from school and never went back. He locked himself in a room for a couple of years. It took a lot of listening to understand what he was going through. Darnell is an example of the trauma caused by Hurricane Katrina on the lives of young people in poverty.
Many young people like Darnell missed school and found themselves entering the job market without a diploma and illiterate. Many became homeless, slept at their friends' houses or crammed into their parents' only room or they ended up in jail.
We can also talk about Eula Collins, one of the authors of Not Meant to Live Like This. Eula dreamed of coming back to live in her hometown. She missed her culture very much and was not able to see her children and grandchildren grow up. She tried many times to return to her neighborhood with her children but was unable to find a house. Ten years later she found herself homeless, when she had to leave her son's house under pressure from the mixed-housing1 authorities.
There are hundreds of families who find themselves the target of injustices like Marcie and Eula. There are so many other stories to tell.
New Orleans has a large tourist industry where many people held several jobs to support their families in order to survive. Now with COVID 19 many low-income families will find themselves out of work. How will they have enough money to save their homes while trying to protect themselves from this pandemic? What about the future of young people who have missed out on their education and suffered traumas? We saw how Darrell's future was turned upside down.
The Mixed-Housing project called Hope IV, was built three years after the Hurricane, "Mixed Housing allows access to working class families. Authorities tore down about five thousand apartments where people in poverty lived prior to Hurricane Katrina and these were replaced by mixed income housing where hundreds of families living in poverty were not eligible to live.