International Advocacy
Striving together to end poverty.
ATD Fourth World strives to take the knowledge and aspirations of those most weighed down by persistent poverty, to the heart of international institutions. The aim is to open spaces of dialogue in which those in poverty are not merely "invited to the table," but are taken on as vital partners in constructing a more just world together.
ATD Fourth World has general consultative status at the United Nations Economic and Social Council (ECOSOC), UNICEF, UNESCO and the ILO. This gives greater weight to our work in the human rights field and other essential issues in the joint effort of striving together to end poverty and exclusion.
ATD Fourth World also has participative status at the Council of Europe and maintains a permanent delegation to the European Union.
Latest Articles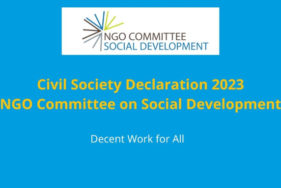 Excerpt from the Civil Society Declaration 2023 by the NGO Committee on Social Development Each year ATD Fourth World participates (…) Read more →
"People with a lived experience of poverty must be part of the decision-making process in creating solutions — as legitimate, (…) Read more →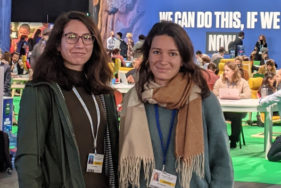 Photo above: Aria Ribieras and Céline Caubet, ATD Fourth World delegates at COP26 in Glasgow, 2021 © ATD Fourth World (…) Read more →