Human Rights Prize in the Philippines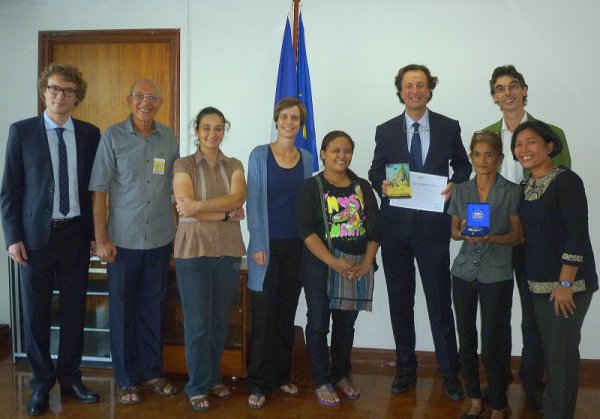 Above: Representatives of ATD Fourth World accepting the Human Rights Prize from the French Ambassador to the Philippines, His Excellency M. Gilles Carachon
In 2014 ATD Fourth World Philippines received a Special Mention for the French Human Rights prize. The award, granted by the French National Human Rights Commission, was given in person at the French Embassy in Manila by the French ambassador for the team's "Unheard Voices" project, an initiative which seeks to accompany people living in poverty in Manila as they adapt to changes brought about by urban development in the city. The goal is to ensure that people in poverty, particularly in a community that lives under a bridge in Manila, have their voices heard and their rights respected throughout the urban development process.
To do this, our team works to ensure the participation of families in poverty in negotiations with the government and various agencies involved in the relocation process so that the families' own priorities are taken into account and their own projects and futures can be assured. The hope is to make the re-location process as smooth as possible, and to minimize any negative impacts on the lives of families and communities.
Accepting the prize on behalf of the ATD Fourth World team, Guy Mailfait said, "The special mention by the National Consultative Commission on Human Rights attributed to our project 'Unheard Voices' is another strong encouragement for us. […]Even though the project of 'Unheard Voices' focused mainly on this particular community, the residents themselves are the first ones to remind us that's not just about them but many other families in other communities around and even those waiting for a new shelter in the Visayas." It is this wider vision that makes the work of our team in the Philippines so powerful and meaningful.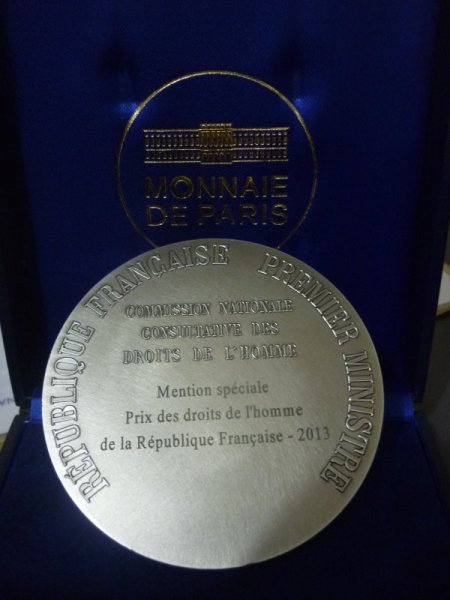 Ms. Igano, from the community under the bridge, presented the Ambassador with a copy of "Gold Under the Bridge," a book written by an ATD Fourth World volunteer from the Philippines. Ms. Tiglao, from the community in Manila North Cemetery where our team also works, described the event as a, "wonderful and unforgettable experience."