Tanzania December 2015 Newsletter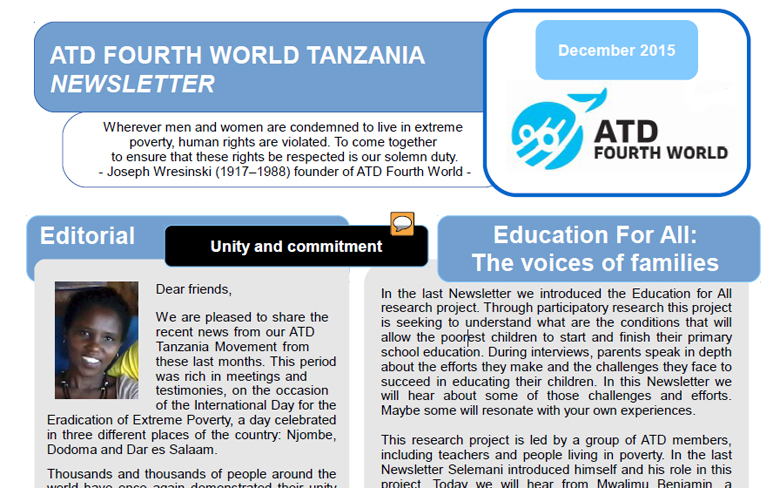 FULL TEXT ATD Tanzania December 2015 EN
Editorial
Dear friends,
We are pleased to share the recent news from our ATD Tanzania Movement from these last months. This period was rich in meetings and testimonies, on the occasion of the International Day for the Eradication of Extreme Poverty, a day celebrated in three different places of the country: Njombe, Dodoma and Dar es Salaam.
Thousands and thousands of people around the world have once again demonstrated their unity and commitment for a world without poverty and respectful of rights for everyone (see last page the celebration in Central Africa Republic).
ATD Tanzania is involved in research with families and schools for education for all, so we choose to celebrate this day in connection with this theme.
Education for all is still a big challenge for families living in precarious situation, but its also a challenge for the whole society because the
development of a society can not be accomplished if part of the population does not have access to education.
However, efforts are being made as an example to follow. This is the case for example in Njombe. The Kisangani Smith Group where the youth center offers professional training that enables young people to regain hope and be able to break the cycle of poverty by accessing
knowledge and work. It also creates a chain of solidarity between those who finished their training and those who want to begin to learn.
We hope you enjoy this latest news and take this opportunity to send you our best wishes for the New Year, full of commitment to your community.
Friendship,
Alexie Gassengayire
Member of the ATD Tanzania Leadership Team