History and Research
Writing the History of the Fourth World
Joseph Wresinski, the founder of ATD Fourth World, experienced extreme poverty during his youth and since then he has always been convinced that good intentions are not enough to overcome poverty and exclusion. A thorough knowledge of the most underprivileged families' personal histories is also needed. Thus, he has always wanted to make this knowledge a priority for ATD Fourth World.
The purpose of this approach is two-fold :
To allow to the most underprivileged families to:
become conscious of their own collective identity and of their common history, a precondition to allow them to dialog with other components of society,
transmit to their children the pride of a history of courage and resilience to extreme poverty, that will liberate them from their confinement and allow them to take an active place within society.
·To allow society to :
benefit from the priceless contribution of Father Joseph Wresinski's thinking in order to renew the way of apprehending the fight against extreme poverty,
perceive the valuable contribution the lives of the underprivileged families can be to society (courage, endurance, humor) which is most often ignored.
understand the forces and the expectations, which inhabit the most underprivileged people in order to act in accordance with them and to build partnerships with this people.
understand the mechanisms of extreme poverty and exclusion in order to stop their transmission from generations to generations.
have a strong basis from which to elaborate the tools required to facilitate the action and the training of professionals and citizens who participate in the fight against extreme poverty and exclusion and to propose innovative ways and means in this field.
Currently, this exceptional heritage, assembled by ATD Fourth World over more than 45 years, thanks to the core Volunteers who have shared the life of the most underprivileged families throughout the world, is stored in places that are not adapted, sometimes scattered in different locations and are saturated.
Thus the creation of the Joseph Wresinski International Center aims at giving the fight against extreme poverty and exclusion the lasting and efficient tool which Joseph Wresinski had so wanted. The mission of this Center is also two-fold :
To gather and to protect materials contributing to the Fourth World knowledge elaborated by ATD Fourth World : written documents, audio recordings, audio-visual recordings and photographs.
To highlight this exceptional testimony and to organize an international promotion while respecting confidentiality inherent to some of its elements.
"We cannot eradicate poverty if we do not understand it – and we cannot understand poverty if we do not (…) Read more →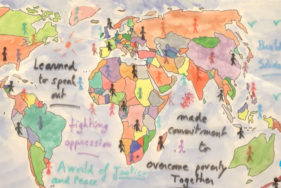 This is the sixth in a series of videos retracing the life of Mary Rabagliati, one of the first volunteers to join Joseph (…) Read more →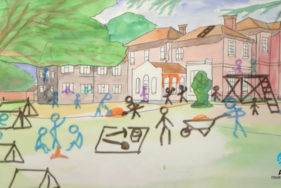 Convincing Families in Poverty That They Can Change Their Destiny This is the fifth in a series of videos retracing the life (…) Read more →