European Institutions
ATD Fourth World maintains a permanent delegation to the European Union and the Council of Europe. Djynamo, the ATD Fourth World European Youth Movement, works with the European Youth Forum (EYF).
The goal of our work on the European level is:
• Alongside people in poverty, to develop policies that enhance the role of European institutions in the fight against poverty;
• To create a forum where civil servants and European Parliament representatives can exchange ideas on their commitments to the fight against poverty, as well as encourage reflections with people in poverty about their role in building Europe (for example, the Intergroup "Extreme poverty and human rights").
• To listen to and take into consideration the contributions that people who live in poverty make to the future of Europe within the mechanisms, consultations, and structures set up by the European institutions.
Created on May 5, 1949, the Council of Europe is an intergovernmental organisation. It is (...)
Latest Articles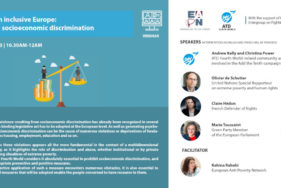 On June 28th, 2023 ATD Fourth World Europe organized a webinar on the theme of socioeconomic discrimination – Building an (…) Read more →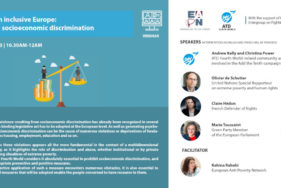 "Building an Inclusive Europe: Combating Socioeconomic Discrimination", a webinar organized by ATD Fourth World with the support of the European (…) Read more →
In February 2023 an ATD Fourth World delegation that included ATD activists with lived experience of poverty met in Vienna, (…) Read more →