United Nations
The United Nations International Relations team, with offices in New York City and Geneva, strives for greater participation of people living in poverty in the work of the United Nations. Our team advocates for increased recognition of people in poverty as agents of change and producers of meaningful knowledge. By collaborating with UN Agencies, working directly with member states, and partnering with civil society organizations, the UN team influences the development of policies, programs, and agendas that affect communities living in poverty around the world. Our policy priorities, shaped by the UN Guiding Principles on Extreme Poverty and Human Rights are:
poverty eradication;
effective social protection;
provision of employment and decent work;
universal good governance; and
participatory monitoring and accountability.
To this end, the New York UN team engages in a range of interventions including writing and disseminating position papers, speaking on panels, serving as discussion moderators, and hosting informal dialogues. These efforts focus on constructive networking and collaboration toward a more just and dignified future for all.
Each year, ATD Fourth World hosts the official commemoration of the International Day for the Eradication of Poverty on October 17.
Latest Articles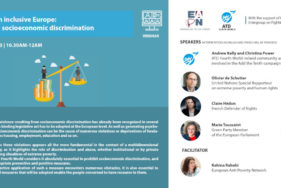 On June 28th, 2023 ATD Fourth World Europe organized a webinar on the theme of socioeconomic discrimination – Building an (…) Read more →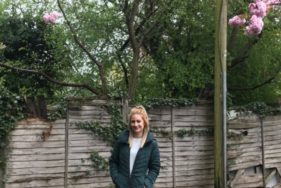 Above: Francesca Crozier-Roche helped coordinate consultations with young people who have been in care. Article adapted from "Our Rights, Our (…) Read more →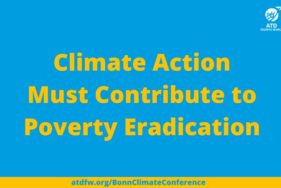 Climate Action Must Contribute to Poverty Eradication Four ATD Fourth World representatives, Solal Billon, Lou Borderie, Virgina Pintó Muñoz, and (…) Read more →