Joseph Wresinski
Who is Joseph Wresinski?
Joseph Wresinski (1917-1988) is not the first person to listen carefully to people living in extreme poverty or be influenced by them. But his work was unusual in several important ways. Wresinski's own roots in poverty fed his conviction that the only way to advance social justice is to recognize and build on the strength, intelligence, and determination of people in poverty. Wresinski considered people in poverty leaders. He believed people in poverty had an important world vision. Where all were accepted and respected. The projects he developed were not simply designed alongside people in poverty; they were consistently inspired by their unique experience and understanding.
From personal experience
Wresinski's approach was possible because he knew from personal experience how it feels to be humiliated, how desperation can mingle with hope, and why some children are broken hearted at an early age. Wresinski's knowledge did not come from higher education. He knew first-hand that what people in poverty want is not charity or hand outs, but to be treated as equals and listened to with respect. He often heard people in poverty ask, "Am I not a human being? I want to be treated like one!"
Noisy-le-Grand France
In 1957, Wresinski first met disenfranchised families in a large emergency housing camp in Noisy-le-Grand, France. This catalysed his personal experience into a vision for a movement of people overcoming poverty and shaping a society without exclusion. As he said later, "The families I met [in Noisy-le-Grand] made me think of the poverty of my mother. The children there could have been my brothers, my sister, or me, forty years earlier." From then on, Wresinski and others who helped him, devoted their lives to gaining recognition for the dignity of people in poverty, people whose knowledge and experience make an invaluable contribution to society.
Key dates in Wresinski's life:
1946
Joseph Wresinski ordained a priest. He served in industrial and rural parishes in France. From the beginning Wresinski had a special connection with the most deprived families.
1956
Wresinski's bishop assigned him as chaplain to 250 families in an emergency housing camp in Noisy-le-Grand, near Paris. The families lived in huts built in a muddy field. He said about his years in Noisy-le-Grand: "The families in that camp have inspired everything I have undertaken for their liberation. They took hold of me, they lived within me, they carried me forward; they pushed me to found ATD Fourth World with them."
1957
The families of the camp founded the first official organization, which later became ATD Fourth World.  They replaced soup kitchens and the distribution of old clothes with a library, a kindergarten, and a chapel.  Joined by the first few ATD Fourth World Volunteer Corps members, Joseph soon created a research institute on extreme poverty. It brought together researchers from different countries and disciplines.
From personal experience
Since ATD Fourth World's beginning, its development has been inspired by Joseph's own experience as a child in a poverty-stricken family. This includes his daily interactions with families living in poverty, and the support of members of its Volunteer Corps.
Joseph Wresinski always aimed to unite all social classes in solidarity with those most excluded by persistent poverty. With this goal, he built a network of leaders representing nations, churches, and international bodies. They came from all over the world (a foundation on which ATD Fourth World continues to build today). He believed that every man or woman he met represented a chance for excluded families to be heard. He was determined to keep ATD Fourth World open to people of all cultures, faiths, and races.
1979
Wresinski's appointment to France's Economic and Social Council was a significant step in his quest for official representation for families living in persistent poverty.  With the publication of the Wresinski Report in 1987, he succeeded in gaining recognition for them as partners in society.
1987
On October 17, 1987, in the presence of over 100,000 people from every socio-economic background and every continent. Joseph Wresinski unveiled a commemorative stone at the Human Rights Plaza in Paris.  The stone says: "Wherever men and women are condemned to live in extreme poverty, human rights are violated.  To come together to ensure that these rights be respected is our solemn duty."
1988
On February 14, 1988, just four months later, Joseph Wresinski died in a hospital in Paris. Commemorative stones similar to the one unveiled on October 17, 1987, have been built in 44 cities since then, and in 1992 the United Nations officially declared October 17 the International Day for the Eradication of Poverty.
Articles
On November 20, the United Nations and the world recognize World Children's Day. In 1979, International Year of the Child, (…) Read more →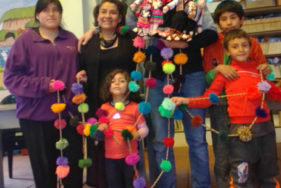 Written by Jonathan Roche and originally published in the Quart Monde journal (n° 263). Jonathan Roche is an ATD Fourth (…) Read more →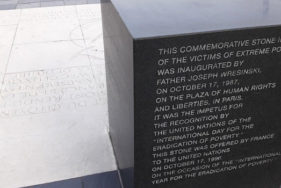 Above: Commemorative stone honouring the victims of poverty at the UN. Below is an excerpt from a press conference given (…) Read more →