Stop Poverty Campaign
A Global Campaign in 2017 to Reach New Communities and Partners
"Wherever men and women are condemned to live in poverty, human rights are violated. To come together to ensure those rights be respected is our solemn duty,"

Joseph Wresinski, founder of ATD Fourth World

Call to Action from the first World Day for Overcoming Poverty
After a thrilling eight months full of events online and on the ground in over thirty countries around the world, the 2017 Stop Poverty campaign came to a close on October 18, 2017, as the last contributions to the World Day for Overcoming Poverty WebTV were aired.
With the campaign launching on February 12, 2017 100 years after Joseph Wresinski 's birth in a refugee camp, the year covered the 60th anniversary of the founding of ATD Fourth World as well as the 30th World Day for Overcoming Extreme Poverty. These anniversaries offered us a unique opportunity to reach out to new people and new communities with the message that we must all come together in partnership with people living in poverty if we are to overcome poverty.
2017 was a marathon and a sprint at the same time. Together throughout eight months ATD Fourth World managed to reach hundreds of thousands of people around the world, bringing in support from dozens of organizations on local, national, and international levels, and to draw new energy into this global movement to end extreme poverty in partnership with those who live it.
Campaign Highlights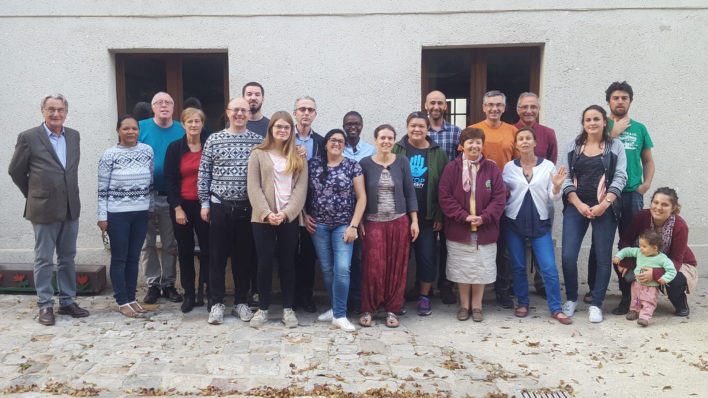 The Call to Action
At the heart of the campaign was the call to action. Online, over 6,000 people added their name and photo to the Stop Poverty mosaic, including the President of the UN General Assembly, the Grand Duchesse of Luxembourg, the Mayor of Paris, the Administrator of the UNDP, and numerous Ambassadors and members of Parliament from around the world, alongside activists and people living in extreme poverty. In local events across the globe, more than 10,000 people joined their names offline thanks to the campaign. This is an extraordinary achievement, and one that opens up many avenues for future cooperation with this diverse set of stakeholders.
Stories of Change
Over 150 Stories of Change, chosen from among hundreds received during the year, were published in English, French and Spanish, both online and in print. These stories from over thirty countries around the world have been read tens of thousands of times, sharing inspiring stories of success in the fight to overcome poverty.
Books
In addition to collections of Stories of Change published in English, Bulgarian, Hungarian, and Romanian, the three anniversaries of 2017 were the occasion for many books to be published around the world:
• In Latin America, authors from eight countries contributed to Aqui Donde Vivimos (Here Where We Live), an exploration of Joseph Wresinski's legacy in Latin America.
• In France, Le Monde Changera Un Jour (One Day the World Will Change) was a collection of short stories selected in a national short story writing contest.
• ATD Quart Monde: Unis Contre la Misere (United Against Poverty) by Erik Orsenna, a collection of photos and text, was published in France to commemorate the 60th anniversary of the founding of ATD Fourth World.
Concerts and Choirs
From the beginning, music was a huge part of the campaign. Building on the legacy of the 100,000 Voices for the Voiceless campaign that marked the first World Day for Overcoming Extreme Poverty, the Stop Poverty campaign launched a choir songbook including music of struggle and dignity chosen by people living in extreme poverty and those who work alongside them around the world. The songbook was printed over 2,500 times, running into a second edition. There were over 100  major concerts organized in France, Ireland, Belgium, Guatemala, Canada, Central African Republic, Great Britain, the United States, Switzerland, Spain, and Luxembourg, as well as many others small concerts elsewhere.  Throughout the year there were benefit concerts including musicians performing classical music, pop music, hip hop, and much more. The Song Around the World video co-produced with Playing for Change has been seen over 400,000 times and counting.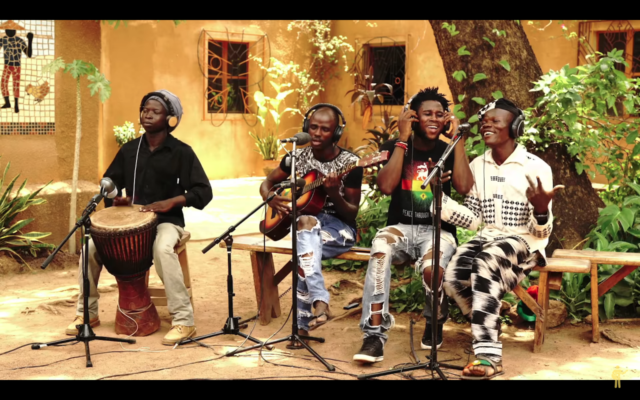 Key Events
Almost each month throughout the campaign there was an event that, in itself, would have deserved a campaign's worth of attention. Some key moments are worth mentioning to capture the breadth of voices and events that were part of this year of action:
• On Feb 12, 2017 the campaign launched with events in Angers, Bangui, and New York which focused on the origins of ATD Fourth World including founder Joseph Wresinski's childhood and youth spent in extreme poverty.
• In June, in Cerisy la Salle in France, an international seminar brought together researchers, practitioners, and people living in poverty from every continent for one week to discuss how Joseph Wresinski's work and the voices of those living in extreme poverty force us to rethink our world. The content of the conference will be published in book form in 2018 and videos covering the major presentations are available online in English, French, and Spanish.
• In July in the UK, hundreds of people gathered to commemorate the 60th anniversary of the founding of Frimhurst Family House, a place of friendship where families living in poverty come together to escape the daily stresses that define their lives.
• In August in Wijhe, the Netherlands, over 100 young people from a background of poverty from 10 different European countries came together to talk about the challenges they face and the paths toward building a Europe without poverty.
• In August, in Guatemala, people from across the country came together to celebrate the birth of ATD Fourth World in a remote village in the mountains. Founded in the midst of the civil war, ATD Guatemala has since grown in different villages and cities, and contributed to major changes in the educational and cultural policies of the country.
• In October, just before the 30th World Day for Overcoming Extreme Poverty in Paris, more than 30,000 people came to visit the Village of Initiatives for a Better World, a showcase of positive initiatives for a world without poverty ranging from street libraries to political lobbying. With coverage in national and international media, the campaign hashtag #stoppauvrete was trending in Paris throughout the weekend.
In the Media
Our partnership with RFI (Radio France International) was key in generating over 75 radio stories broadcast on nearly fifty partner radio stations on every continent, reaching millions of people. The campaign was also featured on TV in Guatemala, Belgium, France, Burkina Faso, the Democratic Republic of Congo, and elsewhere, as well as in print media in every continent.
October 17, 2017
For the 30th World Day for Overcoming Extreme Poverty, more events than ever before were organized and, thanks to our 24 hour webTV, shared with the world.
• In the Philippines, a live stream launched the day with the official national commemoration.
• In Dakar, Senegal, young people from throughout West Africa came together for one of the most festive events of the day.
• In Dublin, Ireland despite a rare hurricane having ravaged much of the island in the days before, a large crowd gathered to share the day with the world, with so much support that #StopPoverty was trending on social media in the Dublin area throughout the day.
• In Paris, France thousands came together at the Trocadero Human Rights Plaza where the first World Day for Overcoming Extreme Poverty was celebrated thirty years before.
• In New York, at the United Nations, an international delegation of people living in extreme poverty spoke alongside diplomats and development professionals at the official commemoration of the International Day for the Eradication of Poverty. They forcefully challenged the community of nations to do more to end poverty in all its forms and build societies that leave no one behind.
• Closing the day out in Guatemala, people living in extreme poverty came together to speak on stage with government officials about the violence that is tearing apart their communities and robbing their young people of hope for a better future.
In addition to the almost 5,000 people who tuned in to watch the WebTV on the Stop Poverty website, Facebook Live broadcasts of the event reached tens of thousands more.
On Social Media
Among all the ways for people to get involved in the Stop Poverty campaign, social media was one of the easiest and most popular.
• The three campaign hashtags, #StopPoverty, #StopPauvrete, and #Pobrezanuncamas, were all trending at one point during the eight months, accumulating millions of impressions over that time.
• Our October 17 Thunderclap reached almost 700,000 people.
• The campaign website homepage was shared on Facebook thousands of times.
• Videos made for the campaign, ranging from Joseph Wresinski: Revisited (more than 250,000 views) to the campaign trailer (10,000+ views), clips from filming with Playing for Change in Haiti (15,000+ views), and others led to over half a million views online over the course of the campaign – a number that is still growing every day.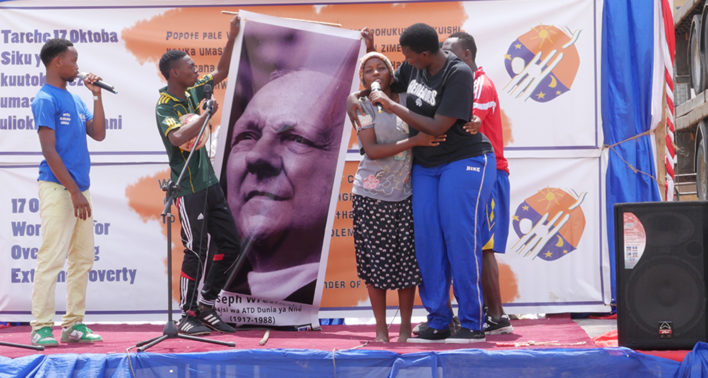 Perhaps more important than all these numbers though is the intangible energy we have felt throughout the year in every aspect of this campaign. Whether it was groups tuning in to the WebTV from rural areas where there was no event they could take part in, volunteers coming together to write a story and tell of the work they are proud of and that is so dear to their hearts, or people organizing concerts, signing the call to action, and much more – the movement to overcome extreme poverty has never felt so real and so strong.
The tremendous support we received from over twenty civil society partners was another testament to this. These groups included the International Trade Union Confederation, Social Watch, the European Anti-Poverty Network, the Global Call to Action Against Poverty and many others.
As much as any number, that energy and the concrete actions that came with it, give pride to people in poverty and courage to continue their daily struggle to be respected and heard, and to take action with others to stop poverty.
It gives us confidence that we gained new supporters this year. Our message has echoed around the world: in order to overcome poverty, we must come together in partnership with people living in poverty.
This movement is all of you, and we are so grateful to be engaged in this struggle together.
Now the time has come to move forward and continue to build a world without poverty.
#StopPoverty
Dernières actualités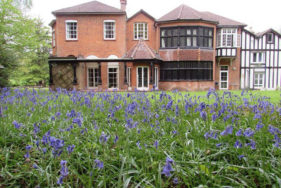 "When people are listened to, and their ideas are taken on board, you can often come up with better answers, (…) Read more →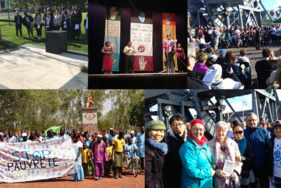 Highlights from October 17, 2017, the World Day for Overcoming Poverty, aka #StopPoverty or #EndPoverty day. October 17, 2017 marked (…) Read more →
Message of Isabelle Pypaert Perrin, Director General of ATD Fourth World International on the occasion of the World Day for (…) Read more →