Our Priorities for 2013–2017
One Central Focus, three priorities: ATD Fourth World's Common Ambitions for 2013 - 2017
Every five years, ATD Fourth World teams evaluate and plan their work for the coming years. We undertake this process in collaboration with the most marginalized people in order to ensure that our work is always anchored in their desire to build a more inclusive society.
Through this global exchange, members of ATD Fourth World of every background have defined our common ambitions for 2013–2017 with one central focus and three priorities.
Our Central Focus: Reaching out to those whose contribution is still missing
Acting all together in dignity means acting in a way that allows all people to be taken into account wherever decisions are made that affect humanity. This central focus is a compass for everything we undertake, be it on our own or with partners, and anywhere each of us may be involved.
Priority 1: Building Knowledge and Accessing Education – Every Mind Counts
Because people in situations of extreme poverty are prevented from expressing their own experience, they cannot contribute to projects that affect them. Wasting the intelligence of people living in poverty — men, women, young people, and children is a serious form of discrimination and a tremendous waste for society.
Priority 2: Shaping a people-centered and earth-friendly economic vision
Increasingly, today's economic systems create a permanent state of crisis for people in extreme poverty, forcing them to struggle even harder to survive without regular jobs. Many people around the world, individually or in networks, are engaged in exploring alternative economic models whose aim is to foster the well-being of people and communities, especially the most disadvantaged ones.
Priority 3: Organizing for Human Rights and Peace
It is no longer possible to speak of peace without recognizing the violence of poverty and the contributions of the towards fighting violence and building peace. Ending extreme poverty depends on public organizing and civic engagement in society.
Below is a brief video presentation of our Common Ambitions:
How we are working toward our Common Ambitions
Central African Republic: reaching out to families who are struggling every day to survive. In the Central African Republic, families who were struggling every day to survive before the current political unrest have an even more difficult life today. They have nothing in reserve and can not afford a day without earning money. Due to the armed conflict, they sometimes have to remain confined to their homes or to do work without pay. The school year has been disrupted and some children can't return to school because of a parent having been killed, their house having been looted, or their crops having been stolen. Young people are vulnerable to various militias that are recruiting. However, several ATD Fourth World members have chosen not to leave children to deal with the violence by themselves. They will reach out to them with books "to ease their minds" They tell us, if they have courage, it comes being together, standing firm for peace.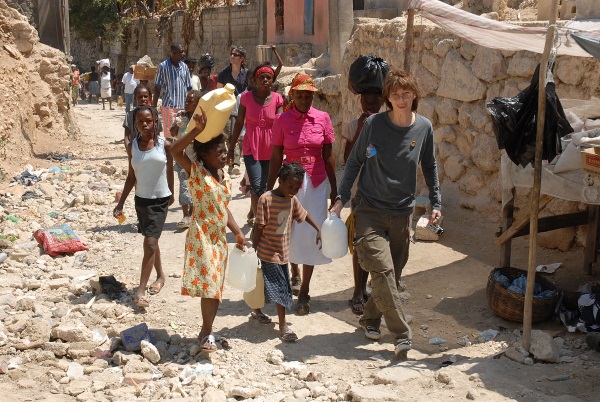 Haiti: inappropriate emergency relief. In Haiti following the 2010 earthquake, the emergency relief took place without genuine dialogue with the country's authorities, nor with Haitian activists who had been committed long term alongside vulnerable populations. For example, internationally funded emergency projects offered high salaries, attracting the country's skilled workers. This severely weakened local projects which had less funding, but were long term and sustainable. Others emergency projects relied on community leaders who did not truly represent the people. This created tension in the community, and increased the probability of discrimination against the weakest families. Poorly coordinated international aid created price inflation, threatening domestic production. This led to overall discouragement and undermined confidence in the country. ATD Fourth World continually highlighted the strength, ideas, and efforts of the most impoverished families living in neglected areas, that they be counted on to participate alongside others in rebuilding the country.
Our Central Focus: Reaching Out to Those Whose Contribution is Missing
In Guatemala, the importance of reaching out to those whose contribution is missing. Maritza Orozco lives in Guatemala and is the mother of six children. She is one of some thousand people who, from 2010 to 2012, worked on the theme, "Poverty is Violence. Break the Silence. Speak Out for Peace." She said how this work taught her the importance of "reaching out to those whose contribution is missing". "Something new that has grown in me is sharing with other families. It's something that fosters in us the strength to carry on. I always wanted to support people, to help—because I'm like that—but I didn't have the know-how. I learned that we must defend our rights. I learned to say, "Yes, we are able; yes, we have knowledge." I felt stronger. I wanted to go out and visit families that I didn't visit before. I wanted share more. The way of working we have is good because each person brings his or her experience and can talk about it. I think we should continue to visit and seek out new families, remain united in reaching out to those who don't participate yet. I think more people could work on efforts like this. We have to prepare individuals to break the silence. That means continuing to visit them, continuing to share with them."
USA (Gallup): dairing going over and starting a conversation. ln USA, The ATD Fourth World team in Gallup develops actions in the field of education and culture with families experiencing poverty, reaching mainly Native Americans but also other population groups. Once, a volunteer noticed a couple and their baby sitting outside a food store in Gallup, looking as if they were living out of a shopping cart. He reached out to them by going over and starting a conversation. One of the first topics these parents spoke about, sitting on the sidewalk that first day as people walked by and handed them money or food, was wanting to find ways to support their child in his development. The relationship grew over the months, as the team accompanied them in their search for housing and obtaining birth records, clothing and supplies for the baby, trying to give them opportunities to pursue whatever seemed most important to them for their future. The mother said, months later, that different agencies were willing to help them as long as they fit their criteria and accepted their "solutions. " "You guys are there for us. I know that wherever we go, whatever we decide, you 're still with us. "
Priority Education
Bolivia : the challenge of bringing together all the stakeholders, in a way that does not stigmatize anyone, to think about the responsibilities of parents, children, and teachers.
ATD Fourth World Movement's history in Bolivia, with the Tapori Children's Network and the construction of a "House of Friendship," has led the team into the field of education. Their primary goal is to allow children to unleash their creativity, to free them of the "This is good / This is bad" framework, through various creative activities.
The recent Tapori campaign, "What I Need in Order to Learn Well," allowed children to dynamically express their strong desire to learn, as well as the material and emotional conditions they need to do so. They then constructed the school they dream of: "I dream that in my school we could all be together and equal, and that teachers would treat us well. […] I want a creative school, a computer room, and that we all be kind to our classmates. […] My dream school is where we can all learn the arts! […] I dream of a school that is pretty with flowers and trees."
Work in the People's University (2010 and 2013) resulted in parents' expression on the strict, authoritarian education inherited from the dictatorships under which they've suffered, as well as women's need to study having been denied, and their common desire for quality education for their children. Allies who are teachers could have felt criticized by what parents said. Instead, they wanted to explain their teaching methods, their commitment, their discoveries. "With ATD, I discovered the importance of being in relationship with parents regarding the education of their children." All denounced the gaping inequalities between education in La Pazdans, the out-lying neighborhoods of El Alto, and in the countryside where generally education is much weaker.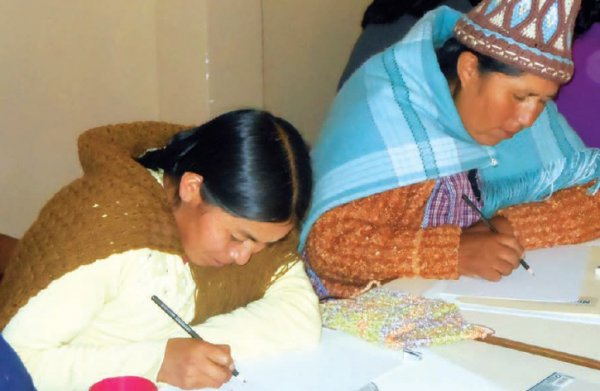 ATD Fourth World continues to answer the challenge of bringing together all the stakeholders, in a way that does not stigmatize anyone, to think about the responsibilities of parents, children, and teachers. School is the cement that holds a community together. But when the community must support the school, then the financial participation or required services can condemn some parents to make excessive sacrifices, often in silence and with no recognition from others.
In such cases, it is difficult not to leave behind the children of families with the hardest lives, and some of them end up dropping out of school. Work on learning and teaching methods is essential if school is not a place of humiliation, but rather at place that transmits the knowledge and values of the children's culture, as well as pride in their community. In response to the distress caused by the confrontation between the modern world and traditional society, we must answer with art, creative projects, and community gatherings that invite a diversity of ages. These projects must have one question at their core: what do we want our children to learn and why, so they can fully become who they want to be? .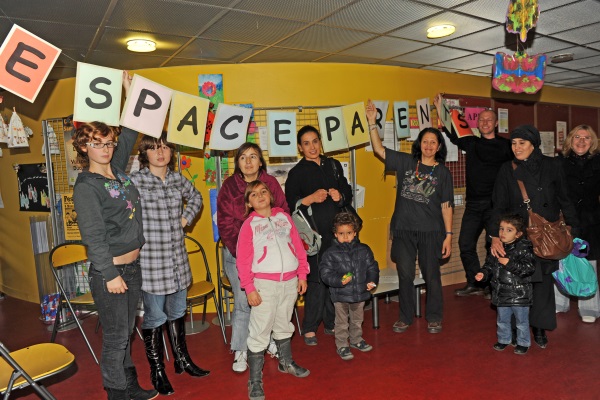 In France: proposals for a school that works to improve all children's future. In France, the ATD Fourth World has worked in partnership with parents, teachers, and unions to make proposals for a school that works to improve all children's future. The school reform law of July 2013 takes some of those proposals into account. For the first time we hear talk about encouraging a pedagogy of cooperation, to enable all children to achieve, and about training teachers training to gain a better understanding of those who have the hardest life. All this takes time. The impatience of teachers, children and parents is normal. The media show interest too often in what doesn't work. But who speaks of the children who now, for the first time, have access to arts and sports activities ? Who recounts how children from different backgrounds are happy now to take part in various activities together? ATD Fourth World Movement members are committed to help foster schools where there is trust and cooperation among all students.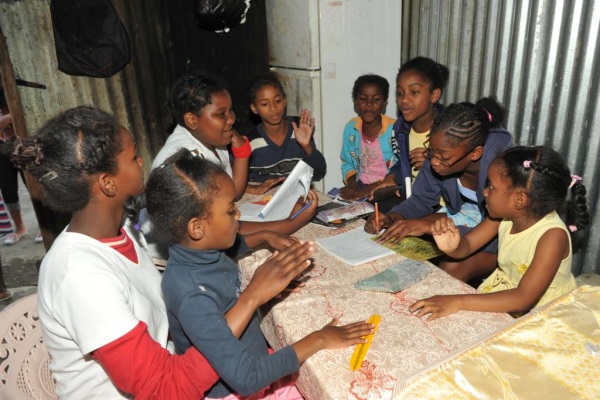 Mauritius: focus on success rather than on failure. In Mauritius, those who participated in the review of the Millennium Development Goals denounced a school competition that excludes 30% of children at the end of primary school. In making a change, a director of the school said, "It is essential to highlight the knowledge that children and parents bring to us. We must focus on success rather than on failure." One mom gave the advice that they should ask the "quicker" children to accept that classmates who have trouble sit beside them for support. Another parent stated, "When a student has trouble learning, teachers don't try why he's not studying, or why he's disobedient, or why he fights with his classmates. We parents can explain how to capture the children's attention." Another suggestion came: "If we offered teachers special courses about children whose lives are very difficult, they could give the children more attention and support"
Priority on a People Center Economy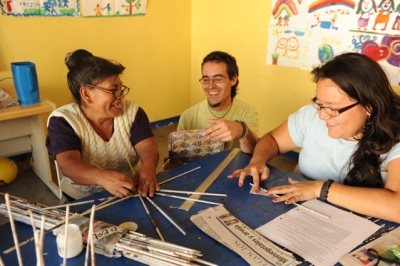 Guatemala: in doing something, everyone must benefit. The project Working and Learning Together (TAE) is, above all, an adventure, a human adventure around the division of labor, yes, (with some work at home when there are lots of orders), but moreso around a real commitment to the recognition of the other. The primary objective of TAE-Guatemala is not to be a company, but rather to explore, by making and selling handicrafts, alternatives to habitual employment, as well as to support the efforts families make every day to establish a dignified life through work. The idea of selling is simple, but the human side is something else: which people for what project? It's something built on a history of relations with people. TAE is not just some economic development project. It is a project of ATD Fourth World Movement. There is a history of visits, gatherings, People's University, Street Library, marking International Day for the Eradication of Poverty, October 17. And there have been key people (activists and ATD Volunteer Corps members) who have understood and helped others comprehend the spirit and content of the project: the ideas of profit sharing and valuing each person's work. The most important aspect is that in doing something, everyone must benefit. This reinforces the idea that we must support each other. Among the benefits, money is not always the most important for people. Rather, it's to have place where they can share concerns, find respect, and gain friends with whom to move forward.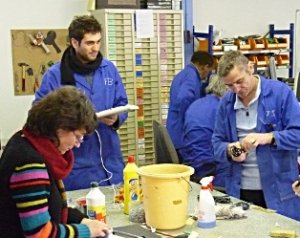 France (Noisy Le Grand): "Employment Conceived as a Right". In France, the social enterprise TAE-Noisy-le-Grand ("Working and Learning Together" Noisy-le-Grand) employs twenty people in workshops for refurbishing computers, doing finishing work in construction, and industrial cleaning. This project is building upon ten years of experience in creating community in the workplace. It brings together people who are long-term unemployed, with people who specifically choose this work out of solidarity. The program's success comes from the following elements:
Work that fosters positive ties among people. Such relationships produce quality work and allow people to get a better handle on life as individuals and as a group of colleagues.
The decision to take the time to get to know one another, express one's experience and ideas, and build the project together. Each of us can develop and change because we know one another better.
The security and freedom provided by a renewable contract and a regular salary.
An approach based on the principle of non-abandonment and success for all.
The Noisy "Working and Learning Together" project cannot be replicated or taken to scale as is. Its exploratory and experimental nature requires a significant amount of outside funding. But it can serve as a reference from which we learn how an economic project can reverse the inevitability of social exclusion for people long outside the labor market, provided that material security is coupled with building strong ties among the people involved.
In 2014, ATD Fourth World France wants to experiment with partners, in a township of 5000 inhabitants, how it would be possible to offer work to any long-term unemployed person. This will mean first demonstrating that the money the State spends on unemployment benefits and loses from decreased tax revenue, could be better used to provide jobs for those most excluded from the job market. Then they'll have to obtain authorization for the project. In receiving permission and the expected subsidy, the partners involved at the grassroots level will have to put into practice the types of service jobs that are currently unfeasible and too expensive for those who are supposed to benefit (grounds maintenance, home help for the elderly, etc.). But the biggest challenge may be to understand and implement—with all the partners learning and adapting as we go—the principle of "success for all." For the participants of the Noisy "Working and Learning Together" project reveal that this, in itself, is a daily struggle.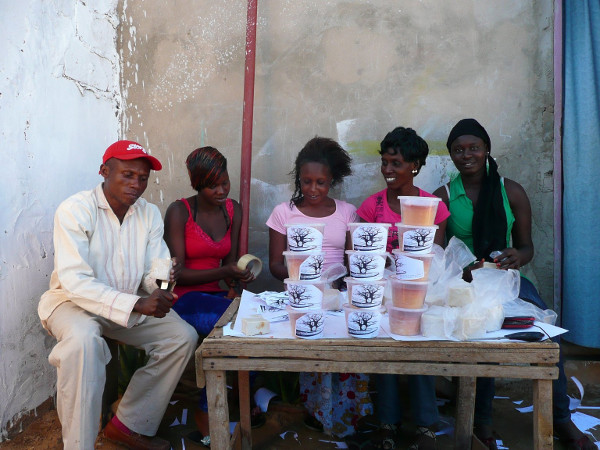 Senegal: The "Research and Overcome Poverty Together" project. In Senegal , the project "Gestu And Xeex Ndool" (research and overcome poverty together) extends the actions of the "flood-fighting brigade" that allowed young people to help one another and be useful to the community. A soap-making project involves several young women in the neighborhood. "We make soap, yes, but the most important thing is that we create positive relationships between people who, as neighbors, sometimes don't get along. On the bars of soap we've written in the Wolof language: People are the cure for humankind. This work allows us to work together and to be more open to others. We talk about things in life that help us move forward. Some of the girls are getting to know ATD Fourth World as a movement. We take turns meeting at each other's home to show that no one should be ashamed of her house, even if it is flooded. And others will see that each person, even poor, has the right for others to visit her home."
(See "Dakar's Flood-Fighting Brigade: A Hands-on Commitment" )
Priority on Organizing for Peace and Human Rights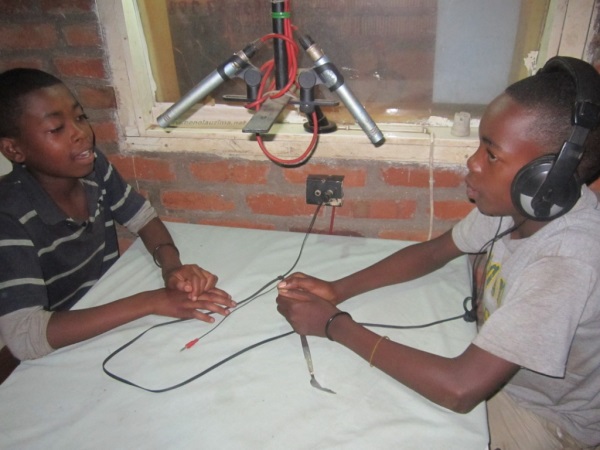 Democratic Republic of Congo: children give examples of "everyone's right to friendship." For over five years, ATD members in Bukavu have produced a radio program with children involved in the Tapori network.
They broadcast every Sunday from 3:15 – 3:45 p.m. on the Neno la Uzima community radio. The children tell about the projects they undertake; they give examples "everyone's right to friendship;" and they invite listeners to mobilize for and attend the events for October 17 International Day for Overcoming Poverty. On every show, they discuss a different topic, such as: • What does it mean to be poor? • Youth and television. • Why hunger does exist? What are the consequences for children? • When life no longer inspires hope, does a person necessarily turn to violence? • Even as children, is important that we have a dream for the world? • Does listening help us build peace? Is it important to learn to listen to others? • etc.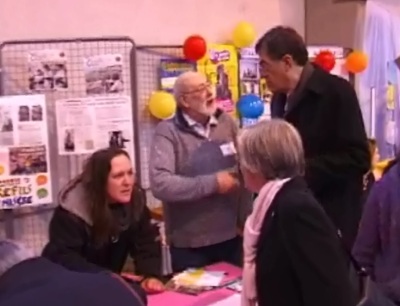 France (Sambre Avesnoy): a group of activists has a blog on the Internet. In 2011, each month activists of the Sambre -Avesnois ATD group (in northern France) went to meet people at the post office who were receiving their public assistance checks. They let them know that they are not alone and that they have rights. From such encounters, the group were able to take action with some people to secure their right to housing.
In the local ATD Fourth World group, some people never come to meetings because life is just too difficult. So, a member of ATD goes to their homes, exchanges news, and shares the minutes of the meetings. He gets their reactions and input to make them understand that they are part of the group even if they can't attend.
Today, after training in IT, the group has a blog (in French only) on the internet where they give news of their various activities and the Peoples University meetings. They give their opinions on current events and speak out against injustices they see and experience. This allows the group to be better known and build relationships with others.
Philippines : using Facebook. ATD Philippines frequently uses Facebook to stay in touch with others, but also to call for volunteers and for donations to fund actions like Street Library and Festivals of Knowledge.