Central Africa Has Been Through Hard Times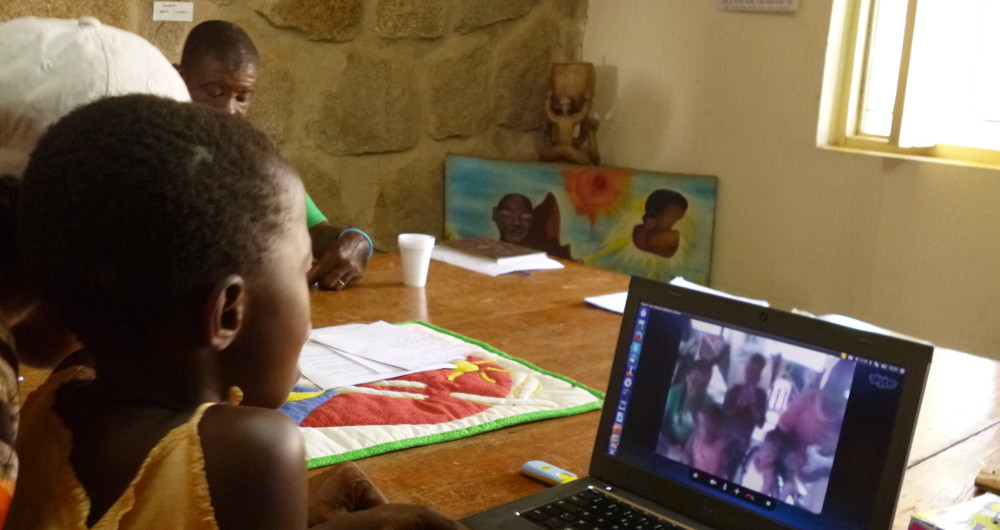 February 14th marks the anniversary of the death of Joseph Wresinski, founder of ATD Fourth World. This year in Bangui though it represented much more – for the first time after so many months of conflict and violence, ATD Fourth World friends and allies could come together to reflect on what they have been through and on where they are going.
"Just because the country is in the state it is, doesn't mean we can forget Father Joseph's day," said one young woman.
The day was celebrated by old friends and new, with many people who had come to discover the work of ATD in the Central African Republic only recently. Over 150 people gathered at the refugee camp at the airport, including representatives of UNICEF, Doctors Without Borders (MSF), Mercy Corps, and UNFPA; another thirty gathered later at a local church. After curfew, smaller groups came together in homes and at the ATD Fourth World courtyard.
There were readings from different texts of Joseph Wresinski and of messages of support from friends in the Democratic Republic of Congo and Ivory Coast. Children sang songs and shared the "Peace Albums" they had been making with all of their wishes for the future and peace for their country.
"The Movement calls us to create brotherhood between us," reads one of the texts by Joseph Wresinski shared during the day. "Which is to say, that the other is truly recognized as my equal, and that because the other is recognized as my equal he has the right to share with me the best of what I am."
A friend of ATD, whose home had been occupied for weeks by a militia group, reflected on how he found the courage to keep on: "Firstly it comes from those who were even more destitute than I even before. Those who are still here and don't have the strength to flee. It's their courage, their bearing witness, that gives me the strength to stay."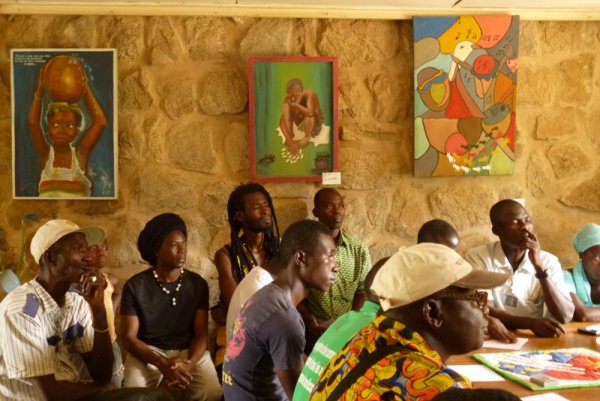 Another friend, who had worked to organize activities for children at the airport, said, "We're human, life is tiring, but the presence of others give us strength. When we come together for others, the presence of others gives us even more." Time was taken during the day to remember those friends and family members lost during the recent violence, and reflecting on the future, he added, "There are populations that lived together for 50 years and that are now fighting. We have to ask ourselves, what did we do yesterday to make this happen, and what can we do today, what can we do tomorrow? The different religions, Muslims and Christians, should be able to communicate. Where we are, where we live, we can do something – talk, create. It's what we're doing now and it means a lot."
On the next day, the team was able to share a video conference with the ATD Fourth World team in Bouake (Ivory Coast). For over three hours, teams from the two nations discussed what the day meant to them, sharing poetry written by children and even dancing on both ends of the line as an Ivoirian friend played the djembé. As one friend in Bangui said, "No matter where we are, we carry within us the movement of Father Joseph. It's up to us to get involved in this way to get closer to the poorest, to the most vulnerable, so that they don't feel isolated."
Reflecting on the recent experience of the Ivory Coast, another friend said, "For us, it lasted 10 years. But we organized and we have recovered."
These words hit home for the team in Bangui: "They're right, we should organize. If not, how will we recover? How will the country advance? We have to do something to calm the atmosphere."
It was a time for sharing strength and hope for what was to come. If there was a message to be passed on to the rest of the world, it was that of one young friend in Bangui who said, "We've been through hard times, but we're still here. We're alive."