We're Waiting for You at Our Youth Construction Camps!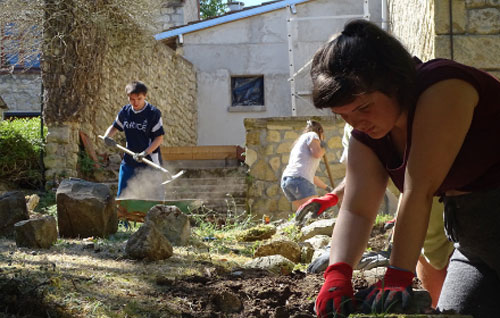 Are you between 18 and 30? Would you like to meet other people your age? How about learning more about ATD Fourth World?
Bring your hands and, more important, your life experiences and participate in a spring or summer youth construction camp! These take place at several locations in France and Switzerland.
You will help with the upkeep of ATD's the international centre so it can continue to welcome and train activists working to overcome extreme poverty. The centre is also  used by Volunteer Corps members recharging their batteries and taking a step back to think through daily activities in the neighbourhoods where ATD works.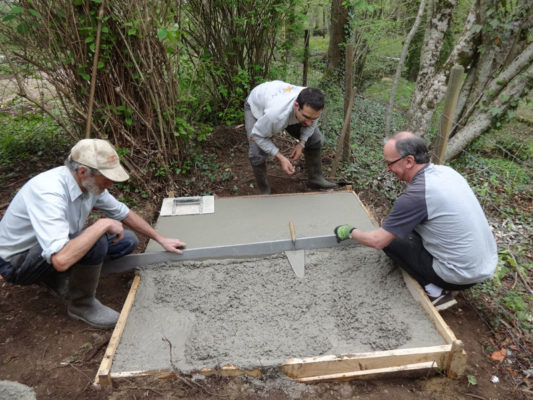 The work camp will do manual labour such as excavation, masonry, painting, and maintaining green spaces. Professionals will be on hand to help everyone to learn new skills. In the evening, there will be discussion groups and videos on extreme poverty around the world and ways to overcome it. Participants will hear from ATD activists who have experienced poverty themselves. Working knowledge is French, Spanish or English is desirable.
2020 Schedule
April 15-18: International Centre, Méry-sur-Oise  near Paris
May 8-10: Colmar Fourth World House in the Haut-Rhin department (Eastern France)*
June 14-19: La Bise Family House in the Jura department (Eastern France) *
July 11-18: International Centre, Méry-sur-Oise  near Paris
July 12-19: ATD Fourth World National Center, Treyvaux (Switzerland)*
* Working language French.
Practical information:
Where?
Méry-sur-Oise (Val d'Oise), 35 kms North-West of Paris, France, accessible by train from the central Paris train station 'Gare du Nord'.
La Bise Family House:
Family Vacation Home
La Bise
39600 MESNAY
France
Colmar Fourth World House
3 Oberhoh Weg, 68000 Colmar
France
ATD Fourth World National Center
CP 16
La Crausa 3
1733 Treyvaux
Switzerland
Please contact us for more information on access.
How much does it cost? We ask participants to pay a participation fee of approximately 10€/day for food and lodging, 7€/day if you bring your own tent. Contact us for exact rates for your country. Reduced rates are available in case of financial difficulty. Round-trip travel to from your home is at your own expense.
Contact:  for more information.

Short video of a camp in 2019: