Anne, an ally from the Democratic Republic of the Congo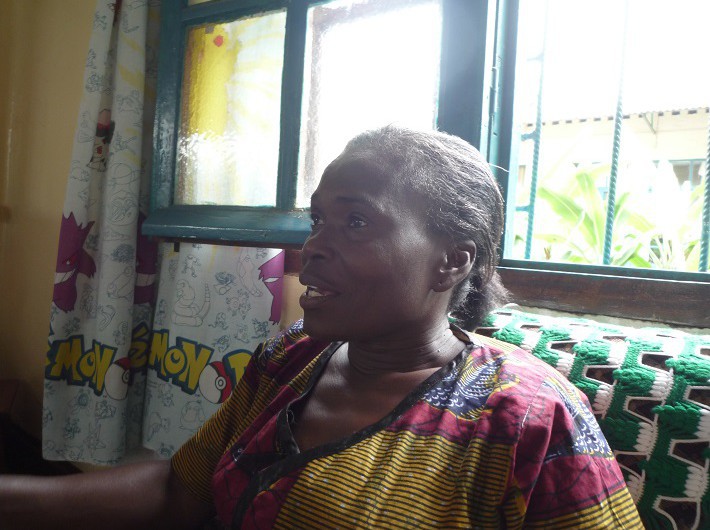 "Committing your time, that is the real commitment"
I am both a seamstress and a teacher at a pre-school. There are three of us, teaching three grade levels, but we all share one classroom. We started off with 180 registered pupils at the beginning of the year; however, due to the socio-economic issues facing our country, the number of students has steadily decreased.
We spend a lot of school time with parents – either discussing payment issues or listening to their concerns. I try to live in friendship with everyone.
In addition to my job as seamstress and pre-school teacher, I am also part of a group called "Community Relay." In this group, we help raise awareness in our neighborhood about hygiene and the importance of going to the hospital when one is ill. We also provide advice on health and family planning.
Speaking with and spending time with a range of my neighbors – from the elderly, to the young, to children, and others – makes me feel free. The members of my community call me "Da mkubwa," which means "Big sister." I think they call me this because I try to be everyone's friend.
In fact, my father often asks me, "So are you the head of the district now or what?" I tell him that it's more as though I have become the chief of the poor people's district!
In my neighborhood, there is an elderly man who nobody approaches. Many neighbors take advantage of his old age and poverty to ruin his small tract of land. But, I regularly approach him. I make time to speak with him because someone from my family, or even myself, might be in his situation one day, and I would want someone else to be there as a friend. In fact, I see him as if he was my dad or my husband and he sees me as if I was his daughter or his sister.
One day, I remember him calling out for help when he had an issue with a neighbor who was trying to take something that belonged to him. When I came over to help, the individual told me that this man was not normal and did not need my help. I knew I had to do something about this situation: I could not walk away and ignore it. That is why I invited the neighbor to participate in an open dialogue.
Eventually, we were able to settle the matter amicably and find a solution. Yet, although the solution was meant for these two individuals, it also applied to all the neighbors of this area.
All of my experiences – seamstress, pre-school teacher, and as a "big sister" – require commitment. I spend my Tuesday, Thursday afternoons with the Tapori children's group, and every Saturday I help run the Street Library in the mountains. I will give my time in any weather condition – rain or sunshine. To me, commitment means time. I do not have much money, but I do have time, and time that I am willing to give. We must give our time and rest will come later.
Committing your time, that is the real commitment.
Anne, Democratic Republic of the Congo.