ATD Fourth World at COP 25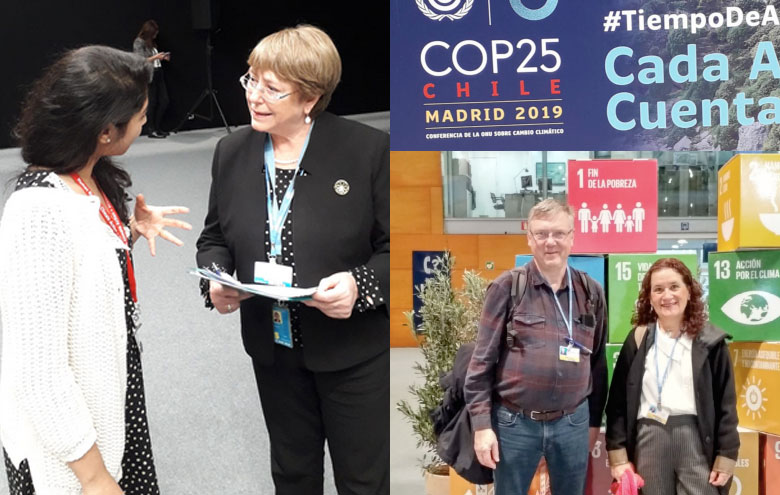 The International Movement ATD Fourth World was present at COP 25 in Madrid as an observer of the climate negotiations led by the United Nations Framework Convention on Climate Change (UNFCCC*). Our three delegates (from Belgium, Peru, and the USA)  worked to introduce the concerns of those in poverty and to highlight the need for a reference to human rights in the negotiated texts.
ATD's delegates drafted a policy brief  to engage in a common dialogue with as many partners as possible. Below ATD's delegate presented the policy brief to Ms Michelle Bachelet, High Commissioner for Human Rights, at the end of a side event where Ms Bachelet spoke on 9 December.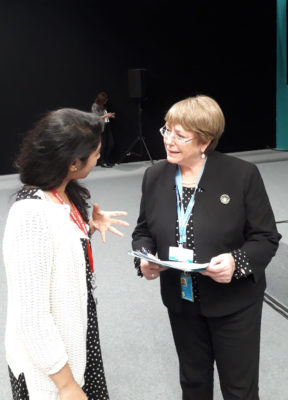 The ATD Fourth World Movement maintains that those in poverty are the least responsible and the most seriously affected by climate change. This is a new form of violence that they face. It is essential to make their voices heard in the negotiations.
The ATD Fourth World calls for the full implementation of the Paris Agreements with explicit respect for human rights principles. It supports the call to create a mandate for a Special Rapporteur on Human Rights and Climate Change.
Read ATD Fourth World's Policy Brief.
More on ATD Fourth World's international advocacy
* UNFCCC: United Nations Framework Convention on Climate Change