ATD Fourth World Luxemburg, Publishes a Collection of Testimonies by Parents Whose Children Have Been Placed in Care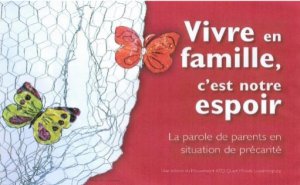 A voice is finally being heard: the voice of parents in insecure situations who met over several months and worked together using photos which illustrate their real life situations. Authentic tales have emerged which reveal their pain, doubts, fears, but also hope, relating their experiences of foster care, violence, difficulties in getting help and having access to their files, the pain of separation, the longing to remain parents despite the removal of their children and especially the ambition to one day reunite the family. These parents also looked for ways to exchange views within the People's University of ATD with childhood experts, to build up a case for the right to live as a family.
Laws from another age
In Luxembourg the law impedes this basic right. "Once a child is taken from his parents, he remains in care until he is 18. Normally the situation should be reviewed by the courts, but in reality this doesn't often happen" claim the families.
"My children were taken from me when they were in the nursery, relates one of the mothers who took part in this project. The police came and took them. At the time I knew nothing of where they were or who had taken them". Furthermore the law removes all parental authority as soon as a child is placed in care. "This is a rule from another age which must be abolished absolutely", says René Schmidt, director of "les Maisons d'Etat" who on the basis of the contribution from the ATD Fourth World families, calls for a change in the law. "Your book contains key witness accounts which we professionals cannot ignore. I hereby appeal to politicians, social services and institutions to join us in making a charter. We must commit to recognizing the fact that parents want to be parents; we must commit to providing concrete means to associate the families in evaluating separations and in looking for help based on the families' skills; on training professionals to really listen to these families; on the accompaniment and return of the children to their parents." In other words, consider the parents as main partners in the education of their children, with all their rights, even when the children are in care.
Joëlle Ludovici-Loos, president of ATD Fourth World Luxembourg, underlines the important role of the families in a context that is ready to change. "The present government has expressed its intention to review the "law for the protection of minors". Professionals, dissatisfied with the responses that they can offer, are seeking new ways. Having witnessed the efforts and capabilities of the parents, they want to go beyond the immediate emergency. The time is right to create forums for dialogue and to put an end to the violence of poverty which brings about painful experiences (…). Families excluded from society also want to contribute to changing the perception, the mentality and the action based on respecting dignity and the value of each person. This collective work offers knowledge to complement that of experts and politicians. Simple but demanding suggestions have come out of it: try talking with and training families in difficulty and social workers." "Let us take this challenge together," she concludes.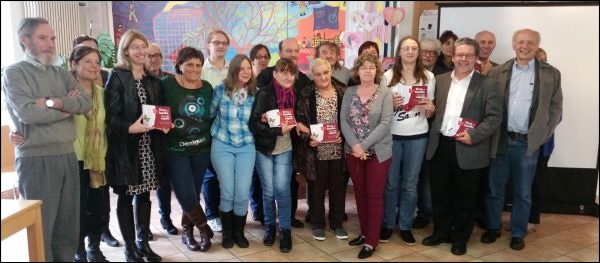 Gilbert Pregno, family psychologist and therapist, expert in human rights who contributed to the book, declared during a press conference : "I am very moved by these witness accounts. This is a lesson in humility for a professional like myself. We are living in a difficult time for families, I see more and more children who have problems. The solution to this malaise must be found within parenthood. You did the right thing in writing these texts. It is important to express one's indignation. We cannot always agree with everything. Sometimes provocation becomes necessary. Your witness accounts are a huge provocation to society."
Some experts have promised to promote the reading of this book within their circles so that the laws change at last and that the future of these children can be envisaged with their families.
The book (not available in English) costs 15 euros. Currently available at the headquarters of ATD Fourth World 25 rue Beggen, L-1221 Luxembourg. Tél : 43 53 24, email : It will be available shortly in France