ATD Workshop in Budapest 4-8 July 2018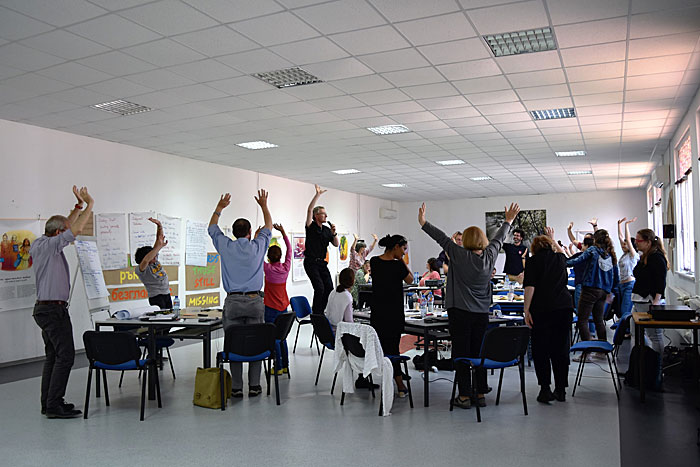 Building a more just and caring society based on ideas and experiences from people living in extreme poverty.
In July 2018, ATD Fourth World will hold a three-day workshop in Budapest to discuss creating a more just society and how to overcome the misunderstanding and prejudices that divide people.
The originality of this conference lies in the choice of participants. People with a history of poverty do not often attend an international meeting in five languages.
The event, to be held at the Europe Youth Center of the Council of Europe in Hungary's capital city, will include:
Attendees from Bulgaria, Hungaria, Romania, and Serbia
Members of ATD Fourth World, from Poland and the United Kingdom, who have lived in poverty
People and groups who reach out to others excluded from mainstream society due to poverty.
The workshop aims to build connections among people in different areas who all experience poverty and among non-profits who are engaged in overcoming poverty. It will allow participants to share best practices, especially regarding how to engage the poorest people in anti-poverty initiatives. Discussions will focus on improving solidarity and equality across different groups by improving capacities to develop a real participation of people living in extreme poverty.
Building on the Expertise of People with an Experience of Poverty
The workshop builds on ATD Fourth World's experience working in partnership with people who live in extreme poverty around the world and on the experience of other people and groups struggling against poverty, gathered through the Forum on Overcoming Extreme Poverty.
People who experience poverty work hard every day to survive and to support one another. Their experiences give them a unique perspective on overcoming poverty and on developing relationships that strengthen communities. Their ideas are not often represented in discussions about strategies to overcome poverty, support human rights, and establish equality.
In preparation for this event, members of the ATD Fourth World Volunteer Corps have been visiting all participants who plan to attend. This preparation is important to help people think about what they want to contribute to the workshop discussions. ATD Fourth World has pioneered a number of ways to facilitate discussions so that all participants can feel they are on an equal footing.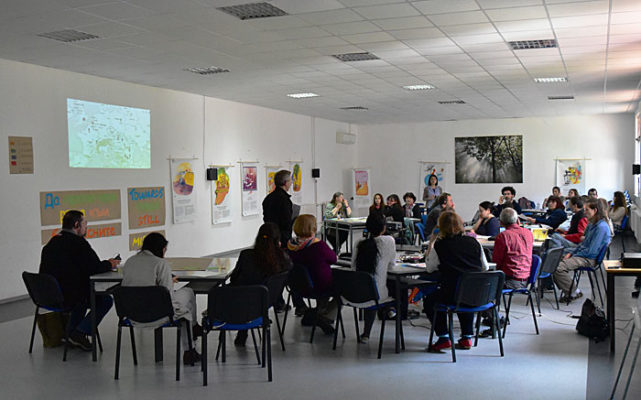 Workshop Agenda
The participants will spend some time getting to know each other and discussing what poverty is like in different countries in Central and South Eastern Europe, and in Western Europe as well. Information will be presented on local initiatives attendees have undertaken to address challenges and to overcome inequality and discrimination. Attendees will explore effective approaches and recommendations regarding the following topics:
access to documents necessary for legal status;
access to equal education;
access to decent housing with electricity, running water, and heat.
Discussions will focus on strategies that include people living in the deepest poverty and that promote a more inclusive society overall. Finally, participants will explore opportunities for collaboration in the future.
ATD Fourth World's Work in South East Europe
Since September 2015, members of ATD's Volunteer Corps have been living and working in the Southern and Eastern European countries that have less of a voice in the European Union. Benoit and Veronique Reboul-Salze have been learning from projects and organizations that struggle to overcome poverty in Bulgaria, Hungary, Romania, Macedonia, Serbia, Moldova, and Kosovo. In 2016, ATD Fourth World held a gathering for these diverse groups in Sofia, the capital of Bulgaria, to share ideas and establish connections among people who often work in isolation. "I never imagined that there were so many people involved in fighting against poverty," said one of the participants. "It gives me strength to keep going."
A key part of this effort to get to know groups and projects working in very poor areas of South East Europe has been collecting "Stories of Change" about situations of injustice and exclusion caused by extreme poverty. These stories, which show that when people work together real change can happen, have been published in an e-book, Stories of Change from South East Europe. They aim to inspire the involvement of other people in the same way that this Workshop aims to strengthen the participants and their organizations.
For additional information, please contact:
Benoit Reboul-Salze
359-876-718-983

Veronique Reboul-Salze
359-878-189-254

For additional conference details click here.