ATD Member Awarded as "Iconic Woman Creating a Better World for All"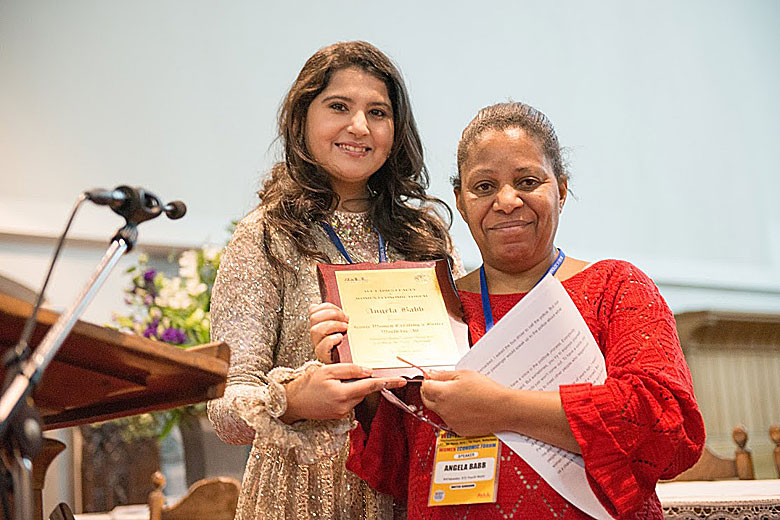 Above: Dr. Harbeen Arora, the Global Chairperson of the Women Economic Forum, (at left) presents Angela Babb with the award of Iconic Women Creating a Better World for All.
Growing up in a rough part of East London, Angela Babb never thought of herself as an "iconic woman." Nor did she focus on poverty as an obstacle in her life. "Poverty is a big word that makes you think of Africa," she said on International Women's Day, as she stood before the Women Economic Forum in the Netherlands where she was honoured by an international crowd as an "Iconic Woman Creating a Better World for All".
Throughout Angela's life, the media never had anything good to say about her neighbourhood. When it got any attention at all, it was because bad things happened there. "The news is always about a teenager who got stabbed, or about guns, or shootings." she explained as she accepted her award.
Angela certainly didn't think about complaining or speaking out in the British Parliament. But that's where she found herself one day. "To have a voice, you need to have the opportunity to meet other people who respect you," she said.
Angela found people who respected her when she got involved in ATD Fourth World. As a co-author of The Roles We Play: Recognising the Contribution of People in Poverty, Angela has become an ambassador for her community, explaining to others how challenging poverty can be. Not having enough money is hard, of course, but sometimes the humiliation is worse, she explained:
"Poverty is when others think you must be a scrounger. Using food banks can leave you feeling humiliated — but you have no choice if a food bank is the only way to provide for your family. Why do people get so stigmatised?"
Angela was presented with the award of "Iconic Woman Creating a Better World for All" for her work with ATD Fourth World over the past decade, in particular for speaking out on behalf of others experiencing poverty. In 2017 she spoke at the national UK conference of Women Economic Forum (WEF) on human rights and poverty. This year, speaking to WEF's European conference in the Hague, Angela talked about the challenges of political participation for people who experience poverty:
"Political participation for women like me can be hard because of poverty. People in poverty are made to feel bad about themselves and also have their time filled with challenges. Poverty is when you get stigmatised. When you feel humiliated, it becomes even harder to stand up in public and participate in politics."
Dr. Harbeen Arora, the Global Chairperson of the Women Economic Forum, presented Angela with the award of Iconic Women Creating a Better World for All saying about her speech: "This sobering moment is drawing our attention to the underbelly of what we see in our societies. It's very important to celebrate success and to encourage and inspire each other, without which we wouldn't move forward. But it's also important to look at that which ails us, which pulls down all of us. […] Thank you for doing the work that you do at ATD Fourth World for all people in poverty and towards making [the world] a more inclusive and a better place for not just a few, but for all."
About 200 participants from some thirty countries convened at the 2018 European conference. Amid dozens of panel discussions on themes ranging from empowerment to sustainable development, a speaker who impressed Angela was a 25-year-old woman named Mutetelenu Kalama. In her native Zambia, Mutetelenu explained, when she was 16, early pregnancy or HIV prevented many of her friends from completing school. When UNICEF offered to train young people as advocates for climate change and sustainable development, she "took a leap of faith" to join in.
Learning to speak out motivated Mutetelenu to continue doing so even though people warned her that "talking too much" could make it difficult for her to find a husband. Nevertheless, Mutetelenu persevered, co-founding the youth-led Agents of Change Foundation to pass on the training she had received. In 2010, she became a UNICEF ambassador for fighting climate change and HIV/AIDS. She also volunteers with Planned Parenthood and Action Aid. "My aim," she said, "is to help girls to see themselves differently and to use their voices."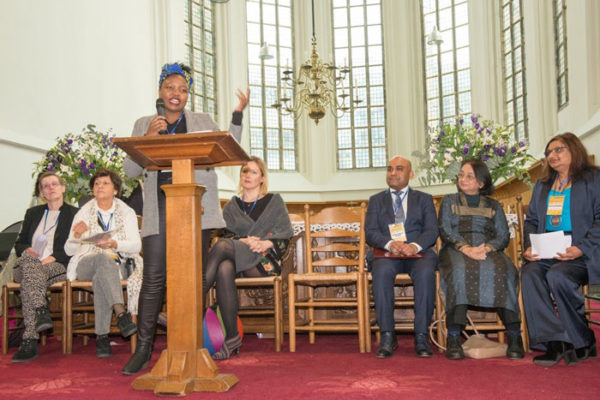 Benjamin Western, another conference participant, spoke about how his grandfather's caring values made him want to do volunteer work. However, he saw that some corporate social responsibility projects did not actually have a positive impact on the non-profit causes they aimed to help. So he founded IndiGO Volunteers to help volunteers to target the most vulnerable people. He is also developing a platform called Gaggle that encourages people to spend more time volunteering and improves corporate social responsibility projects.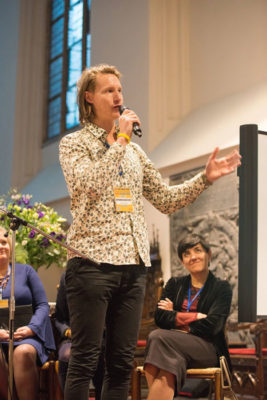 Benjamin was excited to learn about ATD Fourth World and its project called "The Roles We Play". He is hoping to propose it to companies as a way for their staff to learn from people with direct experience of poverty about the challenges they face, and in so doing to gain perspective on the often distorted media narrative about poverty.
During the conference, Angela and Diana Skelton, another member of ATD ran a workshop called "Exploring and Addressing Diverse Inequalities". Below are the texts they used to introduce that workshop, Angela's full speech on political participation, and another talk given by Diana during the conference plenary on "Being Open While Addressing Privacy and Security Concerns: The Importance of Continuing Communication & Dialogue".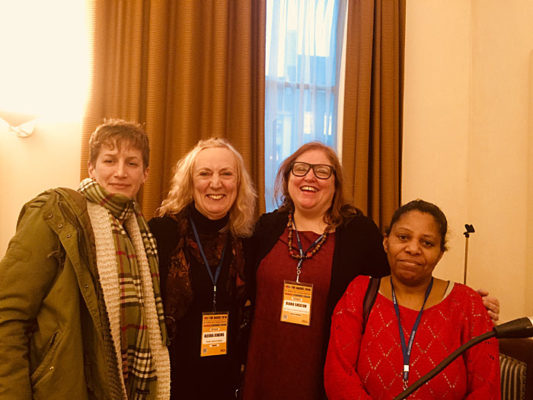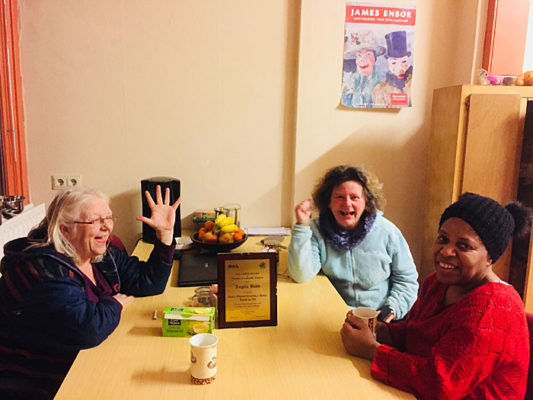 Exploring and Addressing Diverse Inequalities Introduction
Angela Babb's full speech on political participation
"Being Open While Addressing Privacy and Security Concerns: The Importance of Continuing Communication & Dialogue