ATD Tanzania Newsletter: May 2021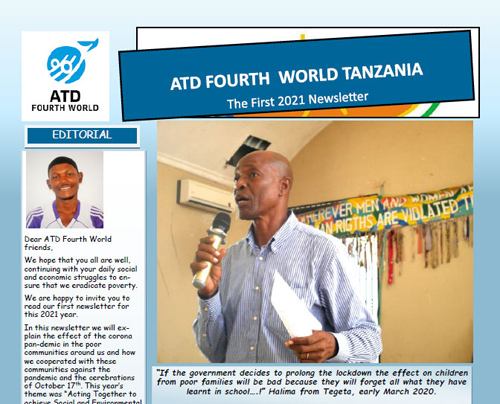 Dear ATD Fourth World friends,
We hope that you all are well, continuing with your daily social and economic struggles to ensure that we eradicate poverty. We invite you to read our first newsletter of 2021. In it we will explain the effect of Covid-19 in communities in poverty around us and how we worked with these communities against the pandemic. Also we talk about our 17 October cerebrations. The theme in 2020 was "Acting Together to achieve Social and Environmental Justice for All". Also we will tell you about  two new volunteers to our team, Micol and Damien with their two children from Méry-sur-Oise, France and the farewell to Salma and Saleh who have moved to Njombe to continue with their duties in the struggle against poverty. Lastly, you will find pictures from our various events. These are events let us come together to continue the fight against poverty that is affecting our communities.
Hamisi. I. Matibu, an ATD Fourth World activist, Tanzania.