Beitounia, A House that Opens up to the World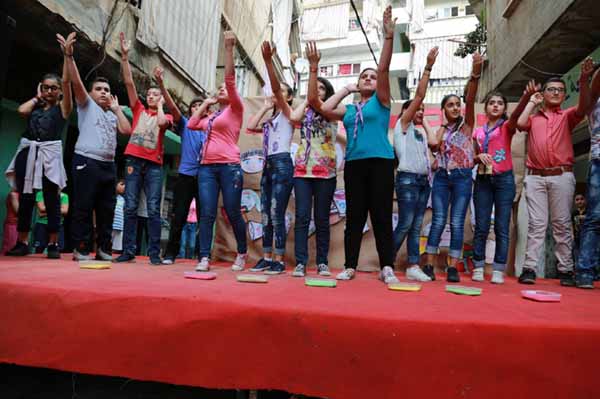 In 2017 ATD Fourth World invited people around the world to document real-life "Stories of Change" starting from situations of injustice and exclusion caused by extreme poverty. These stories, from activists, community leaders, and others, show that when people work together, real change can happen. Read more "Stories of Change".
By Miriam Brelle (Lebanon)
On a small street in the popular district of Nabaa in the suburbs of Beirut, every Friday evening the premises of Beitounia come alive. Some ten young people between 12 and 15 years old gather, accompanied by four volunteer workers, including two mothers. They are Lebanese, Syrian, Iraqi, both boys and girls, Christians and Muslims.
They always arrive so full of energy and happy to meet again. These teenagers are also angry, concerned about tensions at home, and tired from their week at school, where some of them constantly have difficulty. So it is important to take the time to listen to them, to talk, to wait until the storm has flown past before actually beginning the activities.
These young people are indeed loaded with a huge responsibility: they are in charge of preparing for the following day, the day of the library, where 120 children between the ages of 4 and 12 are going to come and, divided into four age groups, be encouraged to read, sing, play, draw, and create, to name just a few of the activities.
The group cannot pretend that life outside does not exist. Salma was born in Lebanon, but her parents are undocumented and so is she. So everything is very complicated and Salma is very often in conflict with her mother, with the school, and with her friends.
Nabil is Syrian, and he arrived in Lebanon in the early days of the war in 2011. His family has a small grocery shop which they operate till they can leave for Europe. At school, a good number of lessons are taught in French. But when he lived in Syria, he never studied French, so he does not understand anything. It is difficult to find motivation in such a situation. So at home there is a constant conflict between his parents and him because they insist that he should study more. Nadia is Syrian. She left school to work in her family's tailor and seamstress shop. She therefore cannot take part in the library activities. Her younger brother Walid never went to school. He is one of those thousands of Syrian children left without possibilities in Lebanon. Mona is Iraqi. Her family has qualified for a resettlement program in Canada. She is attending school while their file is being processed. [At the time of writing this story, Mona and her family have settled in Vancouver after a two year wait.]
Most of the youth live in tiny, unhealthy dwelling places. There are tensions between the various communities of the district. Violent episodes are a concern for the parents, and the result is that some of them keep to themselves. Living together is therefore a constant struggle.
And yet, once the storm has moved on, when all that anger can be changed into creative energy, the premises — a former shop with a big window which opens onto the street — become a home of friendship. Tasks are shared: who is going to read the story to those 4–5 year olds? Who is going to lead singing for the 6–7 year olds? Who is going to write down the names of those who come? Who is going to explain the craft to the 10–12 year olds? Who is going to hand out the material? Who will stay after to put things back and clean up?
The following day, already at 9, the youth are there, ready and happy to have responsibilities which gives them some importance. They may sometimes look so impulsive and fragile, but now they have become leaders, big brothers and big sisters, who welcome and accompany younger ones with a lot of warmth and care.
At the end of the day, it is review time. We share ideas to find a better way to manage disruptive children, we suggest new activities for the following week, we praise what worked, and we also admit our mistakes and learn from them.
At the end of the year, to recognize the investment put in by these young people we organized a celebration and invited their parents. Each one was given a personalized diploma and congratulated for their specific qualities and what they contributed to the group. Those mothers who came showed emotion, pride, and gratitude. It was proof that Beitounia has in fact created in Nabaa a place of trust and benevolence.