"Chats" in Tower Block Apartment Building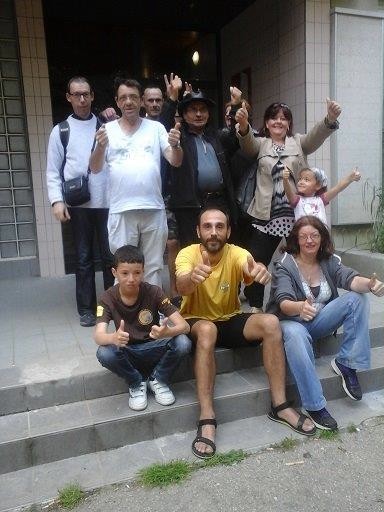 In 2017, ATD Fourth World invited people around the world to document real-life "Stories of Change". These stories are about situations of injustice and exclusion caused by extreme poverty. Written by activists, community leaders, and others, they show that when people work together, real change can happen.
Learn more about "Stories of Change".
A group of residents organise "chats" in apartment block hallways, which little by little, are bringing people together and changing the image of their neighbourhood.
By Jean and Stephane, from the "Maurepas Living Together" group in France.
As a collective of a dozen people, we organize "chats" in the hallways of tower blocks in our neighbourhood, Maurepas, in the suburbs of Rennes. Setting cups out on a camping table, we offer coffee, cold drinks and cake. People can choose to stop or not as they please. We chat about everything and nothing, whether important or inconsequential. The real reason we're there is to be together with other people. We usually stay for about an hour.
We settle in every Thursday, in different places from one week to the next. Back in 2013, problems with drug dealing in the hallways were making local peoples' lives very difficult — we had to react!
The residents mobilized and thought of using "chats" to use the space for something positive and to rebuild a peaceful atmosphere. This would allow people to get to know each other better and to respect each other. And so the collective was born!
Its impact today goes beyond simply occupying the space; it has become a real point of connection between neighbours.
"We get to know neighbours, people we wouldn't have known", said one member. "At the beginning, not many people knew us, only a few people said hello to me in my block. Now everyone knows me and says hello!"
Sometimes simply saying hello is enough to transform the atmosphere: "Even after living in this tower block for more than twenty years," another resident told us, "I didn't know anyone. I worked. I didn't have the chance to interact with other residents. We would pass each other like strangers. We didn't know each other from one floor to another!"
These "chats" allow us to move beyond such moments and talk with our neighbours. Now that we know each other and trust each other, we help each other out. Life is more pleasant. "Sometimes, in the neighbourhood, people have trouble reaching out to others. They are alone, almost as if they are hiding. "Chatting" is an opportunity for them to talk to their neighbours."
Thus, the collective allows us to be useful, to help one another. After all, isn't that what we are here on earth to do? These actions demonstrate that we don't have to be isolated and that, above all, it is possible to do things with others, and that we are stronger together.
We meet once a month. Everyone shares his or her opinion on future projects; some are for, some are against, you can make up your own mind. We discuss how we are going to organize and what resources we need. And then we vote. Together we bring the collective to life. We learn to work as a group. In the past, only two or three people felt able to present our work to the outside world, but today many more have grown in self-confidence and are ready to do so, even if it sometimes still feels a little fragile.
While participating in the collective allows some people to find a place to be with other people, it can also sometimes be a place of comfort. Another member told us, "I joined the group in September, 2015, when I was going through personal difficulties and I was isolated in this neighbourhood where I didn't know anyone. I discovered a lot of kindness and community, whether between members of the collective or with other residents of the neighbourhood."
Now the people of Maurepas know us well and we have expanded our activities. We play boules[1] every Friday. We take part in events such as Music Day or sharing a King Cake, and outside partners have started to approach us. We are becoming well-known.
Overall, our collective is improving the atmosphere in the neighbourhood. We're also changing the image of the area to one that is less negative and more united.
[1] Boules is a collective name for a wide range of French games in which the objective is to throw or roll heavy balls as close as possible to a small target ball.