Countering Discrimination and Teaching New Perspectives: A Training Session in the Central African Republic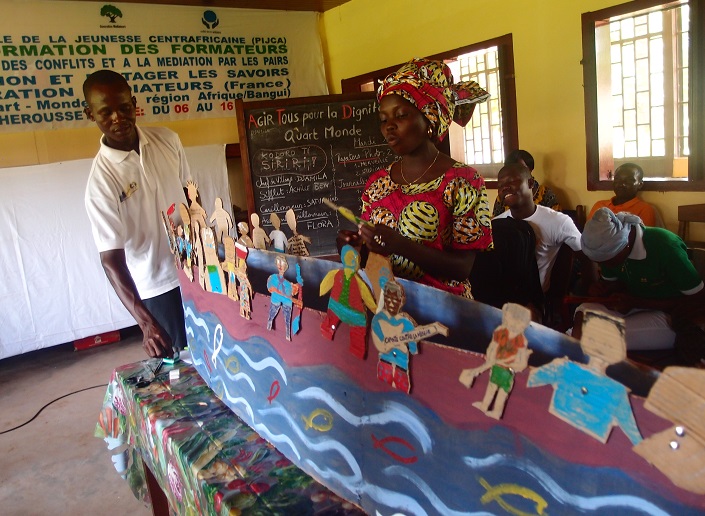 In April 2016, ATD Fourth World members who live with poverty every day ran a week-long training session on "Overcoming Exclusion and Sharing Knowledge" for 40 members of PIJCA (a Central African inter-religious youth network).
Several members of ATD Fourth World in Bangui who live in poverty and who strive to build more inclusive communities organized and facilitated this meeting with PIJCA. Over the last three years of armed conflict, PIJCA has played an important role in allowing communities and neighbourhoods to maintain their ties and overcome barriers.
Participants from PIJCA, particularly university students and professors, were surprised to be getting training from "street teachers" like Gisèle:
"During my life, I have gone through a lot, but I have never thought that I was experiencing poverty. When others see that you are suffering, they will distance themselves from you. […] While speaking with members of ATD, I realised that what I had been doing was forced labour, and that meant poverty. Once I understood that [this is unacceptable for anyone], I knew that I wanted to keep fighting poverty. Since then, I have let others know about the nature of the poverty I experienced, so that everyone can find their place in the world."
— Gisele, a woman living in poverty who facilitated the session
Mr. Parfait, who lives in Danzi, made his way through heavy rain to get to the meeting.
"Before I was involved with ATD Fourth World, I was living in terrible poverty. I could not bring myself to talk to other people; I felt anxious. […] Now, however, I am no longer ashamed to speak out. This is because I have had the opportunity to talk to other people about the feelings of shame I experienced before. What ATD is doing is no small feat. It is very important to help all people find the courage to talk in front of public officials, or even in court, with the confidence of a grown man."
Approaching people with an open mind
Participants discussed how to conduct a group activity that is inclusive and welcoming to everyone.
Flora recalled a girl who had once been her classmate. People said the girl was "filthy" and mocked her so relentlessly that she could not bear to come to school anymore. Others spoke of their encounters with the Aka people, a traditional community who live in the forest — and are often treated by others as inferior beings.
Through the discussions, participants sharpened their understanding about the experience of poverty. Joseph pointed out: "People in poverty are very fearful. If there is trouble in their community, they hesitate to speak up about it. They'll insist that others speak before them and that they'll take their turn later."
Many participants agreed it was their responsibility to approach and listen to people who are isolated and alone, as well as to do whatever it takes to make sure that community projects and activities enable them to be included.
Learning from people in poverty
As people who practice either Islam or Christianity, the participants considered what their religion has to say about poverty and social exclusion. This reflection on spirituality led them to point out that a person who lives in poverty is not an empty vessel to be filled with knowledge or material goods, or someone who needs to be introduced to God. A person who has struggled in life can teach others things they do not know and can, join other people in the common attempt to become a better person.
"[W]hen you go to a poor person's home, they will welcome you regardless of whether you come on foot or by car. However, richer people often stay behind their doors with their watchdogs. They will greet you from a distance, and send somebody to ask what you want before they let you in. Or they may not even interrupt their nap to greet you."
During the session, participants watched the film "Poverty is Violence," dubbed into the Sango language. In the film, a man from Belgium who lives in poverty said something that moved all the participants: "To have peace, you must treat others as your equals." Mariam, one of the participants, said, "We have a long way to go until we overcome the differences that divide us in the Central African Republic. They say that there is peace now, but there are still embers of conflict under the ashes. If we truly see each other as human beings, we will be able to reconcile and go further."
The training session took place in Bangui, a city on the banks of a river, where canoes are an important means of transportation. During a theatre exercise, some participants were aboard a canoe, while others had been left behind, symbolising how people in poverty can be left behind. During the exercise, participants focused on the how each person needs to take responsibility for ensuring that everyone can travel in a canoe. The paddles that move a canoe forward symbolised each individual's experiences and also a group effort that leaves nobody behind.
Many participants said they left this session with a new will to challenge discrimination in their neighbourhoods, their villages, and their communities. Several participants commented:
"I thought that rich and poor people were different. But this training proved to me that all people are equal."
"[This session has given] me courage and wisdom, and encourages me to work both with Central Africans, and other children and young people who are undocumented but have immigrated here from the Congo."
"Thanks to this training, I will always consider other people to be human beings like me."