COVID-19: Nie pozostawiajmy nikogo w tyle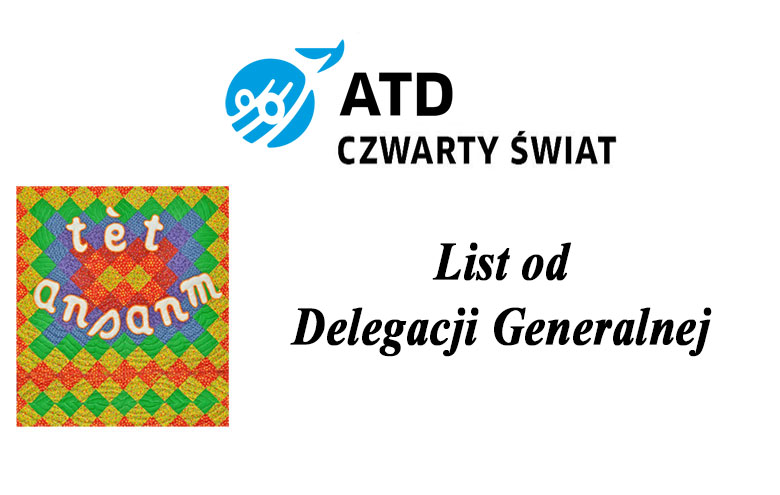 Drodzy przyjaciele,
Wraz z pandemią COVID-19 nastał bezprecedensowy czas. Jednak wielu ludzi – rodziny i całe społeczności – spotkały się już wcześniej z takimi katastrofami jak epidemie, wojny, głód, a także codzienny trud życia w ubóstwie. Wszyscy możemy uczyć się na podstawie doświadczeń członków ATD – od Port-au-Prince do Antananarivo, od Bukavu do Nowego Orleanu – którzy przez lata żyli pośród podobnych ograniczeń i sytuacji kryzysowych. Ludzie stojący w obliczu kryzysów zawsze znajdowali kreatywne sposoby zbliżenia się do siebie i pomagania sobie nawzajem, nawet jeśli odbywa się to poprzez drobne gesty wzajemnego wsparcia.
Od czasu powstania ATD Czwarty Świat w obozie dla bezdomnych w Noisy-le-Grand pod Paryżem, nasi członkowie zawsze wykorzystywali swoje niesamowite pokłady odwagi i mądrości do radzenia sobie z wszystkimi trudnościami, jakie się pojawiały. Te mocne strony pomogą nam również stawić czoła wyzwaniom, jakie stawia przed nami obecny kryzys. Będziemy w stanie razem pokonać obecne trudności, jeśli nie pozostawimy nikogo w tyle.
Więc, co możemy zrobić? Co każdy z nas jest gotów wziąć na siebie? Wszyscy się martwimy, zwłaszcza kiedy myślimy o tych, którzy mają słabe zdrowie lub nie mają dostępu do dobrej opieki zdrowotnej. Ale ludzie już przejmują inicjatywę. Nasza ekipa jest pod wrażeniem, kiedy słyszy te same słowa od członków ATD na całym świecie: wszyscy łączą się, aby dowiedzieć się, kim jesteśmy dzisiaj, czego nasz ruch potrzebuje w tym trudnym czasie.
Zaledwie kilka dni temu rozmawialiśmy w Bangui z niektórymi z naszych członków. Ci młodzi mediatorzy, animatorzy społeczno-kulturalni przeszkoleni przez ATD aktywnie działają w swoich społecznościach. Spotykają się z ludźmi, aby podzielić się informacjami na temat epidemii i wytłumaczyć, jak spowolnić jej rozprzestrzenianie się. To przywodzi na myśl pracę członków ATD na Haiti w ramach projektu Welcome Babies podczas epidemii cholery w kraju. Poprzez wysiłki edukacyjne, szerzenie dobrych praktyk w zakresie higieny i upewnienie się, że wszyscy mieli dostęp do produktów dezynfekujących wodę, członkowie ATD pomogli powstrzymać cholerę w dzielnicach, gdzie byli obecni.
Dzisiaj mamy do czynienia z podobnym zagrożeniem. Po raz kolejny musimy razem pracować, aby powstrzymać tę epidemię. Musimy stworzyć odpowiednie warunki dla młodych ludzi do podejmowania działań a nie tylko biernego cierpienia Możemy wspierać nasze rządy i instytucje poprzez uświadamianie im, w jakiej sytuacji znajdują się osoby najbardziej zagrożone przez kryzys, te o złym zdrowiu i niestabilnej sytuacji finansowej. Niezmiernie ważne jest, aby wezwać do jednakowej ochrony tych najbardziej bezbronnych ludzi.
W Manili, podobnie jak w wielu miastach na całym świecie, kwarantanny stają się obowiązkowe. Rodziny nie mogą opuszczać swoich dzielnic. Ludzie, którzy zarabiają na życie sprzedając wodę butelkowaną lub inne towary na ulicach, nie są już w stanie zarobić pieniędzy na swoje utrzymanie. Panuje strach, że kryzys zdrowotny stanie się kryzysem głodowym dla osób ubogich na całym świecie. Członkowie ATD na Filipinach, podobnie jak we Francji i innych krajach, zastanawiają się, co możemy zrobić razem i czy ludzie są gotowi dzielić się swoimi zasobami.
Oczywiście dzielenie się zasobami wymaga pozostawania ze sobą w kontakcie. Ekipa ATD w Manili pracuje nad tym, w jaki sposób liderzy społeczności mogą mieć zapewniony stały kontakt z ludźmi poprzez działający telefon z wystarczającym saldem minut. Bez tego połączenia, ludzie żyjący w różnych miejscach nie mogą dzielić się wiadomościami ani wspierać się nawzajem.
W Belgii, Szwajcarii, Francji i Hiszpanii grupy ATD rozwijają różne sposoby komunikacji, by upewnić się, że nikt nie jest pozostawiony sam. "Komunikowanie się"? Jak ma to pomóc?" zapytał jeden z członków ATD w Hiszpanii. To sposób na szerzenie doświadczenia oporu, który ludzie żyjący w ubóstwie mają w sobie. Wzywa nas to do stworzenia nowych sposobów na wspólne stawienie czoła tym sytuacjom.
A co z dziećmi? Musimy sprawić, by ten kryzys był czasem, w którym będą mogły dalej się uczyć i budować przyjaźnie. W Hiszpanii, w ramach Tapori dzieci tworzą prace artystyczne i wymieniają się refleksjami bez opuszczania swoich domów. W Brazylii, przyjaciele ATD przygotowali zestawy dla dzieci składające się z kredek, papieru i farb, podarowane przez ludzi, którzy musieli odwołać uroczystości rodzinne.
A we Francji, każdego dnia nauczyciele i rodzice dzwonią do dzieci, które nie mają komputera ani dostępu do internetu, aby pozostawali w kontakcie ze szkołą i nauką. Myślimy o ludziach, którzy nie mają gdzie się podziać i pozostają na ulicy, lub o tych, którzy są oddzieleni od rodziny: więźniowie, dzieci w placówkach zastępczych i rodzice, którzy nie mogą ich zobaczyć. Również w naszych myślach są ludzie, którzy musieli opuścić swój kraj i którzy walczą o znalezienie nowego, gościnnego domu. Byłoby wspaniale, gdybyśmy wszyscy zaczęli myśleć o dzieleniu się z tymi ludźmi nie tylko naszymi zasobami, ale także naszą odwagą i przyjaźnią. Dzieci często podsuwają nam wspaniałe pomysły; powinniśmy się upewnić, że słuchamy ich teraz bardziej niż kiedykolwiek.
Bogactwem ATD Czwarty Świat jest nasza zdolność do łączenia ludzi razem, zawsze pamiętając o tym, aby nikt nie pozostał w tyle. Jesteśmy przekonani, że wszyscy mamy wspólną przyszłość. Zostańmy w kontakcie w najbliższych dniach i tygodniach. Zachęcamy do dzielenia się z nami, jak przeżywacie ten trudny czas, zwłaszcza jakie macie pomysły, aby upewnić się, że nikt nie zostanie pozostawiony w tyle w tym czasie globalnego kryzysu. Piszcie do nas.
Z pozdrowieniami,