Dreaming Permit – Artisans of Peace in Noisy-le-Grand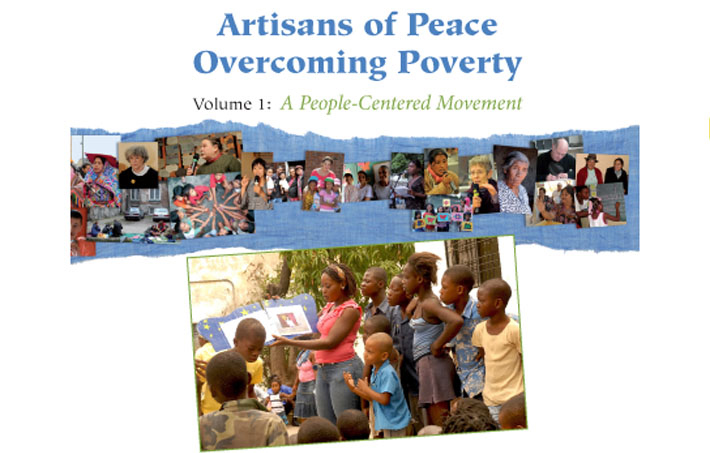 Excerpt from Artisans of Peace Overcoming Poverty
Artisans of Peace Overcoming Poverty is available as a download for free.
The following essay was originally written by Jacqueline Page, an ATD Fourth World Volunteer Corps member and a visual artist, based on the years 2010- 2013 that she spent "living, understanding and endeavoring" in the community of Noisy-le-Grand (France). 
It's already dark out, I'm on my way home. A 16-year-old in a hoodie— someone I've seen before, he's often hanging out with others in the evening near this door—approaches me for the first time, tapping me on the shoulder, "Can I ask you something?" Rummaging through his pockets, he gets out a threadbare wallet and opens it to take out a key-chain with a tiny frame. "This is my father, be careful this is the only photo, could you paint a big portrait of it? He's dying." The small ID photo is already damaged. The boy has to trust a grown-up to paint the portrait. But it will get painted. How could it be otherwise?
I came to live in the Noisy-le-Grand housing project in 2010 so that one of the buildings would not be immediately walled up when people moved out. The first thing I noticed was the surreal pink color that the buildings were painted. Then the garbage bins. Then the children. Later a sign was screwed to the eaves of the building: "Demolition permit." So it wasn't surprising when a child wondered, "Will it be knocked down with me and my family still inside?"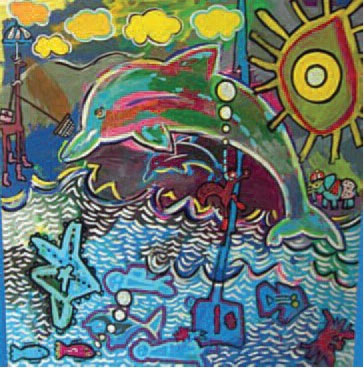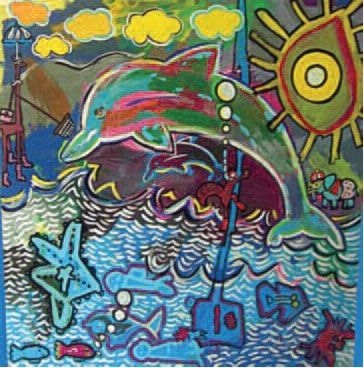 From now on, whenever residents move out, more windows and doors are walled up: it's a kaleidoscope of disjointed cinder blocks, gray or painted in Barbie pink, and the brown or gray armored doors. I've been living here for three years now. This is where I chose to live and to paint, in a housing project that was first scheduled for this disappearance more than fifteen years ago. I was sure that here we could bear witness to miscarriages of justice endured, and to the bravery of the residents in their daily struggles. Showing this is a political act.
One afternoon, the doorbell rang: their eyes black and laughing, they were lofty three-and-a-half-year-olds asking to paint. The way forward was opened. I had no more time to plan designs. Since that day, I've been caught up by the children continually ringing the doorbell, running workshops with them outdoors and indoors, morning, noon and night, our only limits being their desires and my strength. One of their fathers began sketching and painting too. He set up a workshop in a tiny storage space adjoining his home. We organized an exhibit of his work. With other adults and children, we keep painting the walls and the bricked-over windows. One of the mothers asked me to help her decorate her apartment by painting friezes of flowers; another chose to paint festival scenes.
Several of the parents requested portraits of their children. I attend birthday parties, celebrations and impromptu concerts of great rhythmic talent. So when, in October 2012, we held an exhibit at the nearby Chelles Cultural Center, "The beauties of the ghetto," it showed nothing of the violence, injustice, and all the harsh realities that repeat themselves in the residents' lives, sometimes tragically. Instead, the exhibit was a hymn to jubilation and aspiration, generosity and creativity. It showed that wonder can be the foundation for change.
Searching Together for peace but not at any price
When Momo comes to show me his pictures and poems, asking if I agree with such-and-such a sentence, I talk to him about freedom and the responsibility for our freedom. Yes, Momo, your freedom is to write about what's wrong; just as my freedom is to believe in reconciliation. So when you write on the wall of the building, "We can live without dough, but we can't live without freedom," it's not my responsibility to give you my agreement. But it is possible for me to quickly paint some stalks of wheat, a grain I would never have thought to paint without the reality of your writing.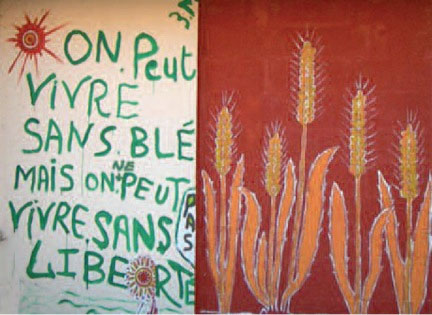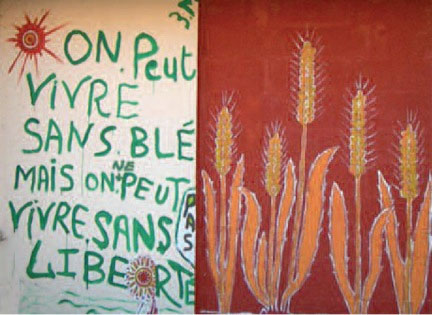 A cheerful tale to tell
I don't know whether the paintings in this community are already traces of art. What I do know is that they would not be here without me. And yet they were not imported from outside; they grew, little by little, along with life here, its hopes and hardships, clashes of personalities, apprehension of the future. Some people are happy about the paintings. Others will use them to express their suffering. And yet, no one has taken a marker or paint or tar to destroy them. It's impossible—it would be like destroying one's own child. Even Rodrigue refused the paintbrush I offered him to erase the red letters announcing, "Here, an old man liked to look out."
Because the old man had died just one week after having been forced to move out.
Because hope is alive
I don't know whether these paintings are traces of peace… What I do know is that they are part of a search for how to live together as a community, a search that is completely beyond us. I dare to hope they are a cheerful story to tell, one that shows what is possible. And when a child snuggles in his father's strong arms, saying, "You're a star, Dad," because he just painted the front of the house, then hope is not just possible, it's alive, and there to be seen.