In Memory of Fintan Farrell
Above: Fintan Farrell in 2019 at the European Parliament in Brussels
By Stuart and Isabele Williams, ATD Fourth World Volunteer Corps members
We are shocked and so saddened by Fintan Farrell's sudden departure. We offer our sincere condolences to his family, and all those who lived or worked alongside him in Ireland and overseas.
From 1999, Fintan marked our very first years in Ireland. We were struck by his larger-than-life personality, his commitment to the Traveller community and above all by his determination to reach out to the most vulnerable people of this community. Fintan knew and respected ATD Fourth World in Europe, and we were so fortunate to be introduced by him both to diverse people and groups involved at political, institutional and community levels, in particular those with a focus in reaching those most forgotten. Through his eyes, we were privileged to gain insights into different aspects of life in Ireland, including the musical scene, and were touched by his broad vision paired with a realistic approach, his acute awareness of those left behind and the absolute necessity for them to fully participate. He took an important part in enabling ATD Fourth World to gradually emerge in Ireland.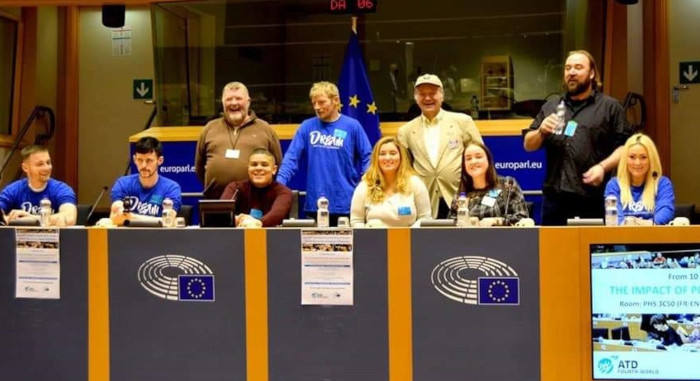 Fintan was deeply aware that the equality legislation that had been won in Ireland was not addressing the rights of people most marginalised and discriminated against. His determination to make human rights a reality for those left behind perhaps accounts for the fact that he took an active part with others in marking October 17; World Day for Overcoming Poverty in Ireland. He unhesitatingly gave credibility to the first commemorations to mark this day beside the Famine Statues on Custom House Quay, and joined a nascent 17 October group that over the years has taken responsibility to have October 17 commemorated and rooted in Ireland. In October 2008 he accepted to lead the inauguration of a Poverty and Human Rights Stone close to these statues, marking indelibly our collective responsibility to defend the human rights of those facing extreme poverty and social exclusion in Ireland and around the world.
Fintan visited ATD's international Centre in France on several occasions, sharing his profound commitment and experience, as well as his capacity to break into song whenever an occasion arose!
We shall remember Fintan with affection and gratitude.