From Bangui: Keeping in Touch with Others Keeps People Together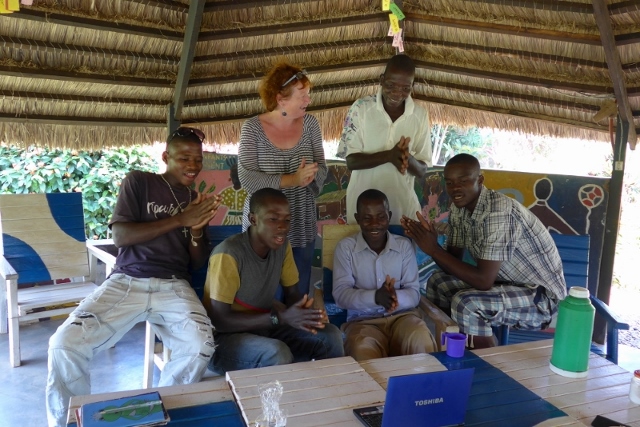 During the recent crisis, a big part of the work of our team in Bangui has been maintaining connections and sharing news. Below is a reflection written by Froukje Dijkstra, one of the members of our team in Bangui.
How do people endure such difficult times?
"When we had to flee the violence during the night, we were hidden 4km from our village, in the bush. I told the coordinators and families who were with me: we're not alone, our friends around the world are sending messages to the ATD Courtyard, even right now. And I'm not wrong. We'll be okay. Long live friendship, and long live solidarity."
In Bangui, every day residents create responses to the crisis. Naturally they reach out for contact with others, for news from others, near or far. It gives courage, joy, and the strength to continue to believe that there will be a better tomorrow.
For Bruno, "As long as we have news, we can hold on. News of our family, of our country, of our friends here and there." Clara adds, "Even if the situation is difficult in our neighborhood, you at least have to go out to get news."
An NGO gave a dozen radios to one of the largest camps for displaced people in Bangui. In the words of the spokesperson for the residents of the camp, "Without information, there is disinformation." He is working with others to organize a series of information points at regular times to bring people together and to listen to the news.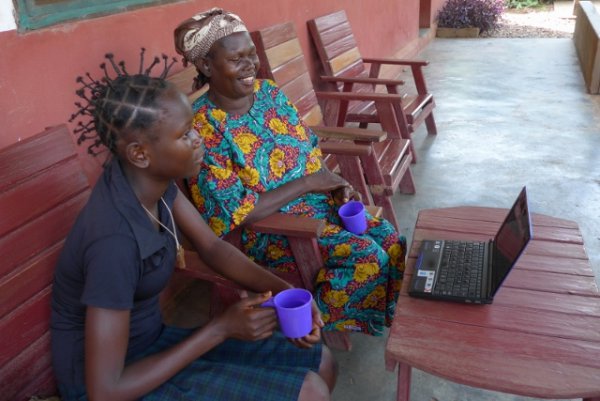 Being informed is important, but so is feeling supported. For Gilbert, "Work is also a place to come together. I go to work even if it has been six months since I've been paid. Every day when we see each other, we reassure each other, 'If things aren't okay where you are, come where we are.' That strengthens the bonds. Someone who accepts to welcome you in his home, that's strong. The children will remember that."
Since the beginning of the crisis in Central Africa a year ago, the ATD Fourth World courtyard has become a hive of activity where friends of ATD can find one another and share messages from all over the city, from farther villages, and even from around the world.
Divin is in touch by text message: "I was on the line with Peter from his country, Switzerland, he sent us greetings for all the friends here." Or, "I had Francois, in France, on the phone and he says hello to everyone!" Or, "Our friends on the island, from the city center and other areas send their greetings. From Lucay, Guillermo, Elie, and even Pape Diop from Senegal!"
Almost every day the courtyard welcomes ATD Fourth World members. They receive messages and share news with the other parts of the city. It is a strategic spot for maintaining links with friends in other areas. News from Kassaï is sent to Kokoro, or from Walingba to Fatima, or from the island Mbongossoua to Gobongo, Miskine, Danzi, Koula Mandja, and then back in the other direction – news circulates. Every day the team relays news of friendship and encouragement between people.
Any mode of communication is used – short written notes, the telephone, e-mail, Skype. In the wise words of Simplice, "Sharing news between us, knowing that we're there for each other, getting news from everyone who we know – it's a good start for peace."
Sharing news helps people stay together. "We know we're together, and that we're supported by many people, and that matters!"