I Choose to Work for a More Just World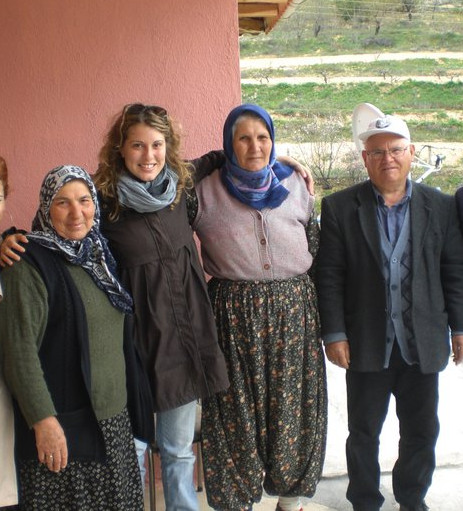 Photo above: Micol Bonapace at her hosts' home in Turkey © ATD Fourth World.  Micol talks about life in the ATD Volunteer Corps in this video.
She's smiling, cheerful, and full of energy. But make no mistake: Micol Bonapace also knows how to throw a punch. She practices French style boxing, a sport she discovered in Myanmar when she was working on an international solidarity project.
"Boxing is a sport anyone can do", she says. "You can practice it anywhere. And it's very popular in certain circles and certain countries. For me, it's like a dance."
Micol has been a member of the ATD Volunteer Corps for five years. She discovered the organization while leading a theater project with a group of young people near Paris, France. There, she saw how precarious life was for some of the young people in the program.
Micol lives with her family at the ATD Fourth World international centre in France, where she spent three years in charge of international communications. Now she is preparing to work as part of ATD's team in Tanzania with her partner, also an ATD Volunteer Corps member, and their two daughters who are 7 months and 3 years old.
Growing up with activism
Micol was born in Turin, the great industrial city in northern Italy that is often a place of political turmoil. Her parents, separated early on, were both activists in their own way. Her father, a professor of philosophy and history, has written a number of books. One of these is about Srebrenica, the city of Bosnia and Herzegovina where, in July 1995, western powers surrendered to Serb troops who then slaughtered more than 8,000 people.
Micol's mother, now retired, worked for the car manufacturer Fiat. A union activist, she always refused to become a manager, preferring to remained an employee. "My mother was involved in all the trade union struggles", Micol says.
Political science studies
Not surprisingly, Micol chose to study political science in college. As part of the Erasmus student exchange program, she spent a year at the Institut d'Études Politiques in France.
About studying political science, Micol says, "I didn't really like it and suffered from the atmosphere. I realized that 'Sciences Po' was not the place where people want to make things happen. Quite the contrary."
So Micol decided to finish her studies at the University of Lille. Through a collective she was involved with there, she discovered the precarious lives of Roma families who lived in the area. She also worked on short-term international cooperation projects in Burkina-Faso, Tanzania, and Senegal.
Discovering ATD Fourth World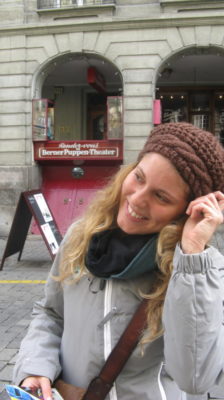 Micol first met ATD Fourth World through an internship during the end of her studies. At the end of the internship, she decided she wanted to continue working with the organization. To her, the movement offered so many terrific opportunities — so why go elsewhere? Micol was attracted by the organization's radical ambitions for social change. In addition, she was inspired by ATD Fourth World's unusual approach. She liked the idea of not just doing things for people in poverty. Instead, ATD offered the opportunity to work hand in hand with people in extreme poverty to overcome the exclusion they experience in so many areas of their lives.
Describing her decision to join the Volunteer Corps, Micol says,
"I didn't want to take part in short-term one-off projects. I wanted to get involved for the long term because that's how you can really cause a paradigm shift and bring about meaningful change.
"We live in a world where we over-produce, where we exploit human labour, animals and the soil. Human beings create problems and then try to solve them without questioning the cause of the problem. We provide solutions that cause other problems.
"The purposeful life that ATD Fourth World offers breaks with a careerist vision of work, profit, and property. It seeks a more just and equitable society through working jointly with people living in extreme poverty. This way of working is itself a call for a new kind of world, one that is more liveable for everyone. And it builds on the realities of life for people living in such difficult conditions. This is what has attracted me".
Micol enjoys being part of an alternative movement where people actively debate the world's problems. For her, ATD's emphasis on critical thinking is particularly compelling:
"In ATD you get this great opportunity to think through what we do very carefully – we consider that as important as the work itself. Right now, for example, I am lucky to be taking part in a research adventure in social philosophy with other members of our movement: Fourth World activists, allies and volunteers. It's very exciting!"
Video of Micol on why she joined ATD, what Volunteer Corps members do, and what it's like to live a "simple life".
Learn more about the ATD Fourth World Volunteer Corps.