Inspirați de bătrânul nuc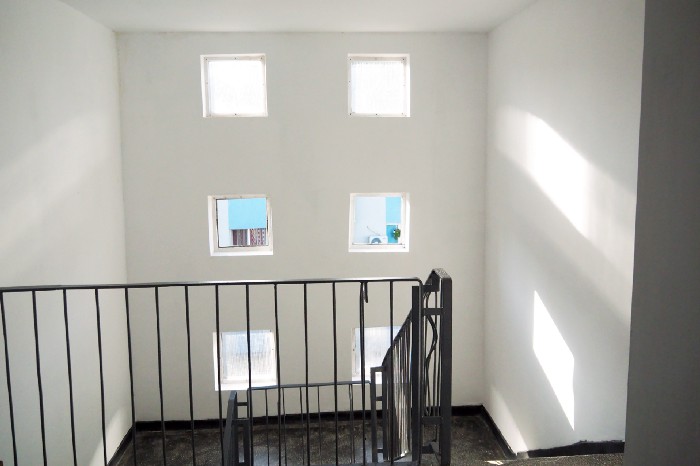 după
Marina Penciu — Policy Center for Roma and Minorities — București-România
Pe Aleea Livezilor din zona de ghetou a cartierului Ferentari din București e un nuc bătrân, cu niște ramuri strașnice și mult gunoi în jur. Peste drum de nuc se află blocul cu numărul 38, a cărui adresă e scrisă cu grijă pe o hârtie pusă deasupra ușii de la intrare. Hârtia este singura parte decentă din exteriorul blocului, căci în rest arată sfâșietor, așa cum se întâmplă cu toate
clădirile din zonă, pentru care momentul construcției de acum mai bine de 40 de ani ține loc și de "renovare". Blocul 38 face parte dintr-un ansamblul de imobile degradate cu garsoniere de 15 mp, fostele " cămine pentru nefamiliști", construite în anii '70-'80 și dedicate inițial muncitorilor necăsătoriți pentru a le folosi ca locuințe temporare. Acum în aceste garsoniere
locuiesc înghesuite familii întregi. Când intri în scara blocului, peisajul se schimbă: gunoiul de afară nu te urmărește înăuntru, arată și miroase curat de la parter și până la etajul patru. Realitatea din scară a fost alta până de curând: mucegai, mizerie, pereți deteriorați, infiltrații de apă, ferestre lipsă.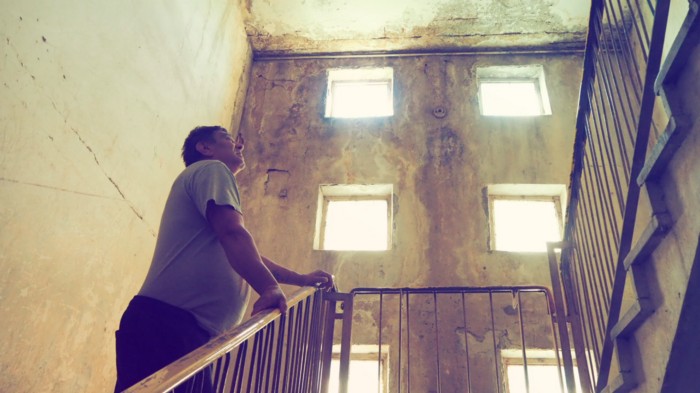 O realitate de 2017, comună pe Aleea Livezilor, un refugiu impropriu de locuire pentru cei mai săraci și vulnerabili locuitori ai capitalei României. Locuitorii povestesc cum, de ani de zile, au ridicat problema transformării locului într-unul curat și sigur pentru familiile lor, dar nu au reușit să facă nimic concret. Pe autoritățile locale nu s-au putut baza, lipsa banilor a fost mereu o mare povară, dar a contat și că " neîncrederea între vecini a fost mare " și că se acuzau de afaceri pe seama scării blocului. Mobilizarea vecinilor a fost stârnită de o provocare lansată în primăvara anului 2017 de Fundația Policy Center for Roma and Minorities, cu sprijinul partenerului său — compania de energie electrică Enel România, în cadrul unui program mai amplu pentru îmbunătățirea accesului la energie electrică și a condițiilor de locuire în Ferentari. Ideea proiectului a ajuns în comunitate prin intermediului
Clubului Mamelor, un grup de inițiativă civică format din
peste 20 de femei rome și nerome, femei de ispravă, dornice să schimbe statutul rău famat al Ferentariului, având ca armă cetățenia activă, adică lucrând împreună pentru identificarea problemelor din comunitatea și cautând soluții pe cont propriu.
Propunerea care i-a motivat și mobilizat pe oameni suna așa: membrii comunității aveau posibilitatea să acceseze un fond de 10.000 lei pentru rezolvarea unei probleme comune, condiția principală fiind să se mobilizeze într-un grup de minimum 15 persoane care să aleagă o nevoie ce aparține mai multora, să gândească soluții și să le pună în practică ei înșiși.
Acesta a fost momentul în care locuitorii au pus piciorul în pragul blocului 38 și s-au hotărât Marina Penciu — Policy Center for Roma and Minorities să curețe spațiul pe care îl împart spre și dinspre acasă. Au format echipa vecinilor puși pe treabă și au ales ca proiect renovarea scării de bloc, refacerea acoperișului aferent casei scării, instalarea unei uși cu încuietoare la intrarea în scară și montarea ferestrelor în casa scării. Cu sprijinul fundației, și-au planificat resursele și modul de lucru, cu fondul de la Enel au fost cumpărat materialele, iar cu mințile și brațele proprii au dus lupta curățeniei. Nu le-a fost ușor să se adune și să se organizeze. Spun că " nu s-au implicat toți vecinii, nu am putut să îi convingem pe toți, dar cei care nu au ieșit la treabă s-au simțit și unii dintre ei au dat câte o sticlă de suc celor care munceau". De lucrat, au lucrat cel mai mult la sfârșit de săptămână și seara, după ce veneau de la serviciu, unii ajungând acasă chiar și la ora 20:00. În total, aproape 30 de persoane s-au implicat în proiect, de la planificarea activităților, pe la finalul lunii martie, și până la finalizarea renovării, de la începutul lunii august. S-au rotit în funcție de timpul disponibil, și-au împărțit treaba pe etaje, s-au îndemnat unii pe alții și s-au strâns în jurul celor mai activi dintre ei, să fie siguri că își vor îndeplini misiunea. Cu toate greutățile întâmpinate, sunt mulțumiți și li " se zburlește pielea " când vorbesc despre ce au făcut. Își împart mândria și laudele cu bucurie între ei: " Ea este o chiriașă cu doi copii, unul dintre ei este foarte bolnav, dar a ieșit benevol, a măturat, a vopsit scările de la parter până la etajul patru, nu doar la etajul ei. Și mai este o altă doamnă care s-a implicat extrem de mult, cu toate că suferă de epilepsie ". Mai mult, proiectul i-a scăpat de neîncrederea în celălalt și i-a ajutat să fie o comunitate mai închegată. Oamenii au sclipiri în ochi când reiau firul poveștii lor, sunt încântați de munca depusă și recunoscători pentru sfaturile organizatorice și sprijinul financiar, fără de care " rămâneau doar cu speranța ".
Așa că își apără curățenia ca pe o avuție de preț: " E mai frumoasă scara noastră ca celelalte. S-a schimbat aerul, mai stăm cu gura pe cei care nu țin cont de curățenie. Nici fata mea de șase ani nu le dă voie să pună mâna pe pereți ".
În toată zarva fericită din blocul 38, nimeni nu uită că problemele nu s-au încheiat. Acumularea gunoiului pe stradă în lipsa containerelor de depozitare (ce a dus la infestarea cu șobolani și gândaci), subsolurile inundate sau infiltrațiile cu apă sunt doar câteva dintre ele. Speră doar să se mai poată organiza pentru a schimba în mai bine comunitatea în care trăiesc, să fie exemplu pentru vecinii din alte blocuri și să mai șteargă din prejudecățile care există despre ei, oamenii Ferentariului. Planurile și le fac în fața blocului, chiar peste drum de nucul acela bătrân pe care îl îndrăgesc și care îi mai pune pe gânduri câteodată când adie vântul și împrăștie gunoiul din preajma lui doar cu puterea frunzelor.