Keep Kids Connected to Friends, and Learning in Latin America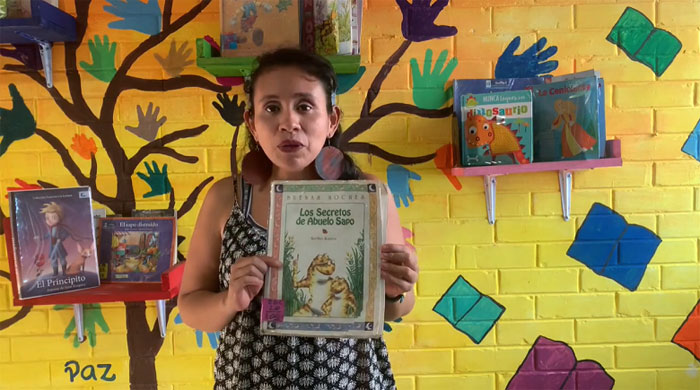 Photo above: Pilar Boche narrating stories from Escuintla (Guatemala)
"I like to listen to the stories over the telephone because I don't have many books at home to read. I miss the Street Library — being with the activity leaders who read to me and who I can talk to, and laughing with my friends."
Snaider, age 8, Lima, Peru
Street and Field Libraries in Latin America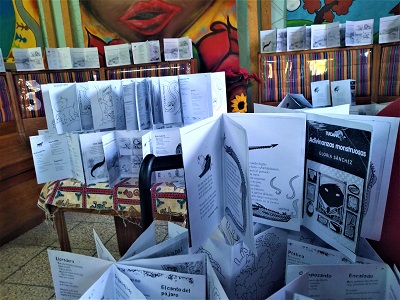 For more than 30 years, ATD Fourth World has been developing Street and Field Libraries in some of Latin America's poorest neighborhoods and communities. These programs allow children and adolescents to discover books in an enjoyable way. With a goal of inspiring their imaginations, the Street and Field Libraries help children and young people find words to express themselves and develop other potential. Around these Libraries have sprung up reading clubs and "knowledge festivals" that bring people together around topics such as art and literature.
At the heart of these activities is the dedication of the Street Library leaders to prepare projects that generate enthusiasm every week.
Keep Kids Connected – Challenges of lockdown and isolation
With the start of COVID-19 and government lockdowns, life for families in poverty has become even more difficult. In addition to just trying to survive, the family must arrange for children to attend school on line, or on TV or radio. Keeping up with all the school requirements under these conditions has become very difficult for families.
In a Webinar on Solidarity, Mutual Support, and Resilience, Roxana Quispe from El Alto in Bolivia said,
"Many people don't know how to deal with technology. Also, buying the necessary equipment is very expensive… In any given class, only half the students are passing. Many parents are concerned about whether their children are going to pass their classes."
In the first phone calls with ATD after confinement began, families frequently talked about all this. They explained how difficult it is for children to stay inside. In homes that are often very small, there is too much homework and little opportunity for fun. Street Library activity leaders wondered how their programs and reading clubs could continue to support these children and their parents. Could they do something remotely, they wondered?
"We have to find a way to let the children know we haven't forgotten them," said Martha Callisaya, a Street Library leader in El Alto, Bolivia during a video conference. "I'm always thinking about them, and I am sure you are, too. We need to let them know how we feel in order to keep the bond we have as activity leaders. We need to assure them that they aren't alone at this time."
Confinement has been strict or not-so-strict at different times in different countries. However, since March it has not been possible to hold Street Libraries or book clubs. So members of the ATD Volunteer Corps had to find creative ways to continue supporting children and families' love of reading and to nurture bonds of friendship and community.
Getting creative
Over the past nine months, members of the Volunteer Corps have told stories over the phone to entire groups of siblings. Through WhatsApp, they have made video-taped stories for children. They have safely distributed fun bags of mini-books and creative activities to children's homes. They have also loaned books, taking them to homes or to neighborhood collection points. In short, they are doing what they can to ensure that reading and imagination help people get through this difficult time.
The Spanish video below, The Small Girl, shows a puppet introducing a book, followed by a reading along with the illustrations.
"Teachers Fray and Amélie, good evening," said Rony, 11, from Cusco, Peru in a WhatsApp message. "When are you going to send us another story?"
"My children and husband all really enjoyed the story in Quechua," said Sarita Guevara from Lima, Peru. "It's really amazing that we are all there together listening as a family. That day my children learned that their dad also speaks Quecha and can tell stories in that language. And now my children want to know about the place where their dad grew up. Since then he sometimes tells us terrific stories in Quechua."
Reactions to inventive outreach tools
Over the past several weeks, children and parents have told ATD Volunteer Corps members what they think about these activities. Children often ask for news of the Street Library leaders. They talk about friendship and what they miss, or what they like or dislike in the stories they receive. Parents describe how these activities support their own efforts to help their children learn and grow up happy.
In a telephone conversation Kira, 10, and Kalet, 12, from Lima, Peru said, "I liked the story about Sun and Moon. What I liked most was when the two Sun and Moon sisters went back to what they always were: Sun and Moon. What I didn't like very much is when the sisters decided to change their powers. The Moon wanted to be Sun and Sun wanted to be Moon. I didn't like it because the two of them were unique and no one could forget them."
"My children love the stories that they send," says Quino in Guatemala City. "Also, we've had fun with the tongue-twisters, which even my husband did!"
Vera Campeao has been a leader in Caxambú (Petropolis, Brazil) for more than 13 years. "Since we can no longer go visit people," she says, "our communication has been through messages, videos, phone calls, and sometimes Facebook. Families say they feel connected to us. They can tell we care about them and want to know what is going on in their lives.
"It is very important for me to send these videos because it is a good way to communicate information and to show our commitment to the Caxambu community.
"In the first video, I set out to show how children can be strong and help solve problems. In the second video, I tried to create a story with illustrations of how children could use reading and imagination to cope with this new situation."
For Amelie, a Street Library activity leader in Cusco, the important thing is to continue to be a prescence in children's lives. Of course the Internet is full of material for children. But recognizing a friend in a video makes children feel connected to the material.  Then they know that even if they're physically far apart, they're still together.
"Those Slippers make me laugh!" said Estefany, an 11 year old from Cusco, Peru on the phone. "They are a grandfather and a little girl, but we know that they are really Amélie and Fray!"
In Peru, creating these videos has also enabled the ATD team to hear from former Street Library activity leaders and to invite new people to contribute. So, despite physical distancing, the struggle against poverty has continued.
In Guatemala, children at the reading club have contributed small recordings for a collective club video. The important thing in these videos is to see the words clearly so someone can read them aloud.
In the video below Fabiola Mamani from Guatemala tells stories in Spanish.
Bringing materials and a familiar face
Whenever possible, Street Library leaders have visited families to lend books or deliver activity bags. But it's not always easy to take safety precautions. "Their arms open so quickly for a hug. You have to react quickly and take a leap back," says Sulma Flores, a Street Library leader in Guatemala. "That was really frustrating and sad. It hurts not to be able to hug them. This was very hard for Vivi and me, but when we explained to the children why we can't give each other a hug, they completely understood."
"The paints and crayons they gave us really helped my daughter do her coloring homework," said Roxana Fajardo from Escuintla in Guatemala. "She ran out of paints and we had no money to buy more, so I told her to leave it as it was. Then David came that day with the creativity bag and she was able to finish her homework. My youngest didn't want to do any homework, but the crayons motivated him to get it done."
Being apart, staying engaged: an ongoing challenge
Despite all the efforts everyone is making, it is still a challenge not to be able to meet in person. For Street Library children it is difficult not to be able to enjoy the large number of books, be with a friend, or read with their favorite activity leader. The most difficult thing for the leaders is not being able to share their passion for books and a better world with children and their families. For parents, who place so much trust in the Street Library's potential, it's hard to see their children struggling even more now to learn.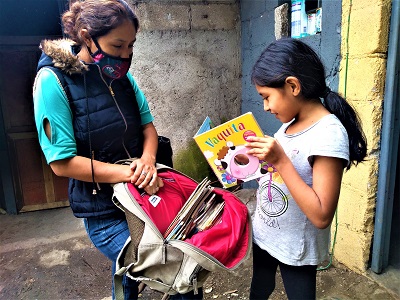 Of course, activity leaders at Street Libraries and reading clubs across Latin America keep hoping they will all soon being able to be together again. In the meantime, these challenges are an invitation to be more creative and to continue inspiring children from the Street Libraries and book clubs. They continue to ask themselves what they need to do now. What can they come up with that nurtures children's desire to learn and create? And how can they be most supportive to parents at this very difficult time?