Look! This is where I live!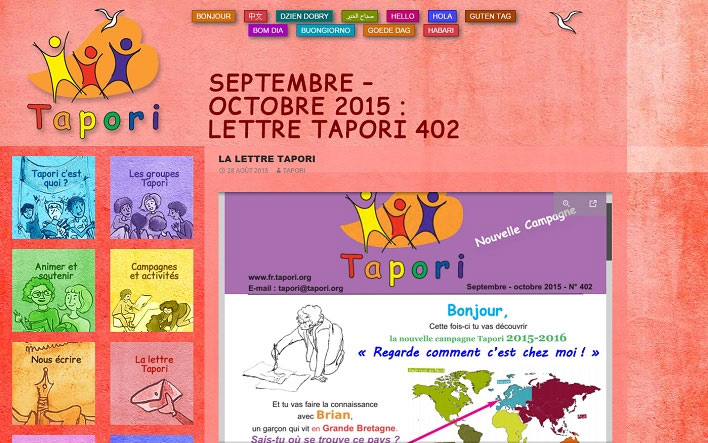 The website of our Tapori children's network has a fresh new design. Take a look here.
"We, the children, can bring back peace if we stay together"
Naomie, Central Africa
"Peace is to play, to have fun and to laugh with others."
Papa, Senegal
Tapori is a worldwide network of children whose motto is:
"We want all children to have the same chances."
Children around the world are connected through the"Tapori newsletter".  In the newsletter,  which aims to build a spirit of friendship and solidarity among children of all social and cultural backgrounds, you will find:
News about children around the world.
True stories of courage and friendship.
Articles about what children do to overcome poverty and exclusion.
The site also contains the Children of Courage minibooks, which tell true stories of children around the world facing challenges linked to poverty. Each minibook contains an interactive page where children can share their personal reactions after reading the stories of Mahamadou and John in Senegal, Katia in the United States, Mayra in Bolivia, or others.
You can also learn more about Tapori in an article on page 7 of Childhood Explorer.
Click on the image below to download a Children of Courage minibook pdf.