ATD Archives Added to Memory of the World Register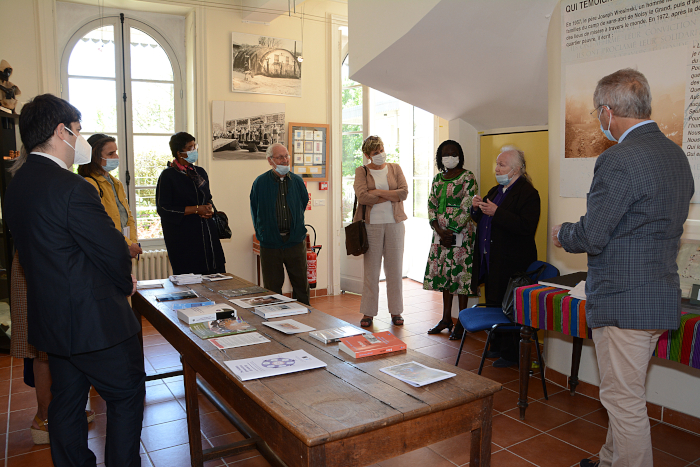 Above: Visit by UNESCO representatives to the Joseph Wresinski Archives and Research Centre – copyright Carmen Martos
PRESS RELEASE
Montreuil, France
The archives of ATD Fourth World International, documenting the lives and aspirations of people in poverty, are now included in UNESCO's 'Memory of the World' register.
For 65 years, ATD Fourth World has recorded the history of those with a lived experience of poverty. This historical collection is housed at the Joseph Wresinski Archives Research Centre (JWC) in Baillet-en-France, outside Paris, and in Burkina Faso. On May 18, UNESCO announced its decision to include a part of ATD's archives in the 'Memory of the World' register.
This inclusion in the Memory of the World register officially recognises the lives, sufferings, resistances, and intelligence of the most excluded people worldwide.
All over the world, poverty is ignored and at times even denied. As a result, the life stories of people who experience poverty vanish or disappear. History has too often and for too long forgotten them. ATD Fourth World created the JWC to detail their pain, but also their hopes, intellect, and refusal to accept the status quo. The JWC has over 2.7 kilometres of physical archives and 130 terabytes of digital records. This includes more than 6 million photos, thousands of hours of audio recordings and videos, writings, oral histories, research studies, publications, and artistic creations. These treasures form a history of the life, courage, and struggle of people in poverty from all continents.
ATD's archives now part of the Memory of the World register covers the period from its 1957 inception (in an emergency housing camp near Paris) to December 22, 1992– the recognition of October 17th as the International Day for the Eradication of Poverty by the United Nations. The archives, compiled from 26 countries, met UNESCO's selection criteria because of their global significance and outstanding universal value. In addition, the collection represents an invaluable source of knowledge that can be used towards working and building peaceful societies–where no one is left behind. ATD's archives reflect the desire of ATD founder Joseph Wresinski to document the life and endeavours of people in poverty. People who rarely, if ever, have the chance to tell their story and to be admired for all they have brought to the world.
For those in poverty whose history is often untold, this recognition is of the utmost importance. Mrs. Mariangeles who has experienced poverty, said after visiting the JWC in 2019:
"Many people do not like us and wish we had never existed; but now that I have seen the JWC, I know it will never be forgotten."
ATD Fourth World would like to thank UNESCO's national committees of Burkina Faso and France, who oversaw the nomination request for inclusion into the Memory of the World register. As well as the many academics, stakeholders and people in poverty who gave their support.
Press contact:
Christine Muratet / – 33 (0)6 28 61 69 05