Overcoming Difficulties Together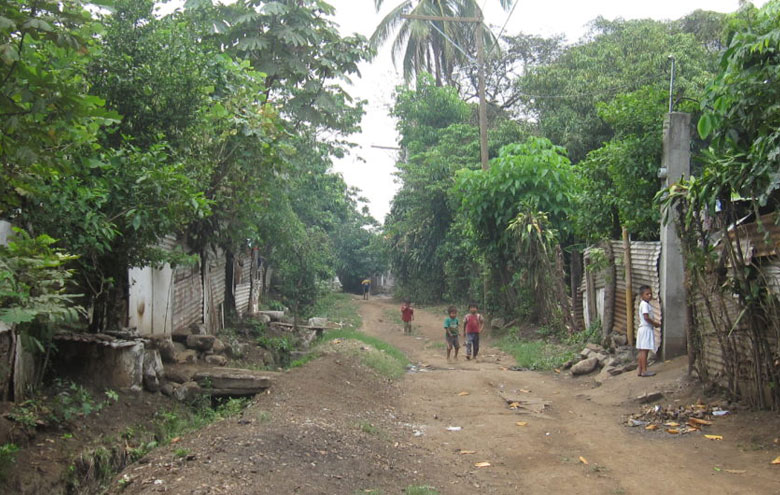 The economy and the resources of the planet's most vulnerable families are severely affected by the coronavirus pandemic. The United Nations Economic Commission for Latin America and the Caribbean predicts a 30 percent increase in poverty in some countries in the region, resulting in an extra 220 million people in poverty. This amount represents millions suffering from hunger, insecurity and lack of access to their fundamental rights: health, housing and education.
But poverty is not new. "The difference," explains Luis Zepeda from his home in one of the poorest neighbourhoods in the Guatemalan capital, "is now poverty is more visible, it's in society's face."
In the same way, the solidarity taking place in poor communities and neighbourhoods in the region is not new: it did not appear in the context of the pandemic, as it forms part of daily life to ensure the well-being of all.
Susana Huarachi explains by referring to the importance of solidarity in the Andean culture and in Senkata (El Alto, Bolivia) where she lives:
"We are part of a shared social structure. It's what enables us to overcome difficulties together. For those of us from the Aymara or Andean culture, sharing is fundamental. Solidarity is there always, whether to share a happy moment or when you need help.
"When you visit someone here, you never go with empty hands. It's not a strict rule but it's generally practised. And if neighbours find out that such and such is ill or has problems, they will help straight away. Usually it's food, not often money, but you'll always take bread or something similar.
"Something that we do here is say hello to people you come across in the street, and all the children call you aunty! It's not just a habit, it's about strong bonds which enable you to feel part of something bigger than just you and your family, to feel part of the community.
"These small collectives of solidarity and these continuous, daily examples, are helping people to resist the pandemic and resist other social conflicts which we have not managed to overcome yet."
Beyond Andean culture, in marginalised communities worldwide, people who have been through very difficult situations start actions of solidarity so that others do not suffer the same fate:
"That is what motivates us to help: we had the same experiences and this motivates us to share, to look out for others. We have to do something so that others don't experience it as well, because it's really tough." Luis Zepeda, Guatemala City
"We're the only ones who can help, those of us who live amongst one another. We know what we need and that helps us to think of other families who are going through a hard time like us, or perhaps even worse." Roxana Quispe, El Alto, Bolivia.
Over the last few months, the often-extreme lockdown measures, which governments have used to combat the health crisis, had a devastating impact on the already fragile survival economies of millions in the region.
Once again, the answer from those who face difficult lives has been to turn to solidarity. Without a thought, they have taken the reins and become actors of cooperation within their communities and neighbourhoods alongside their neighbours. "I think I'm like this," explains Tatiane Soares from her home in Brazil, "because of the way my grandmother brought me up. Ever since we arrived in Morro dos Anjos (the Hill of Angels, in English), we made a difference in the community. That's what I want: to make a difference. I still think there are a lot of good things to do and that will happen. My children will have children and I'll have grandchildren.  I want them to remember that there was a person who fought for a better world, and that they, too, can make a small difference. It's not just me in one community; but in every community, in every country, there's a person that wants to change the world. That makes me very happy."
To tackle this emergency situation, characterised by food and income shortages, people from every community – as Tatiane states – are using their creativity to make a difference and ensure the most vulnerable are not left alone without food. In the last few weeks, they have introduced a number of ways to share: bartering, food parcels donation drives, soup kitchens, facemask production, buying from the stalls of those who most need to make a sale, sharing what they already have.
"From tomorrow, I'm going to focus on setting up a soup kitchen with my neighbours because some families don't have anything to eat. Just now, a neighbour has donated half a sack of potatoes, and others have given us five kilos of quinoa. The little they have they are donating, thank God, and they're passing the word. Sometimes among those in poverty there is more togetherness." Julia Marcas, Lima, Perú.
"We've gone back to bartering, which takes us back to our origins. We carried out a census house by house: what food do families have right now and what do they need? There are some families who have a lot of beans, others rice, so if you want to donate what you already have a lot of, you can. In this way, we put parcels together for those who have nothing." Milena Foronda, Medellín, Colombia.
"One day when we went out with my daughter, we came across a neighbour that I hadn't seen in a long time. I saw he was selling fruit that we don't really like but we bought some anyway because he was an old person who was braving it." Victoria Huallpa, El Alto, Bolivia.
"God has given me the opportunity to make meals of Guatemalan dishes. I share them with ten, eleven or twelve families…however far it stretches. I work on Sunday because from Monday to Friday I have other work. But on Sundays I do it with a great deal of love. I get up with a lot of energy knowing that I have something to do for my community." Aida Morales, Escuintla, Guatemala.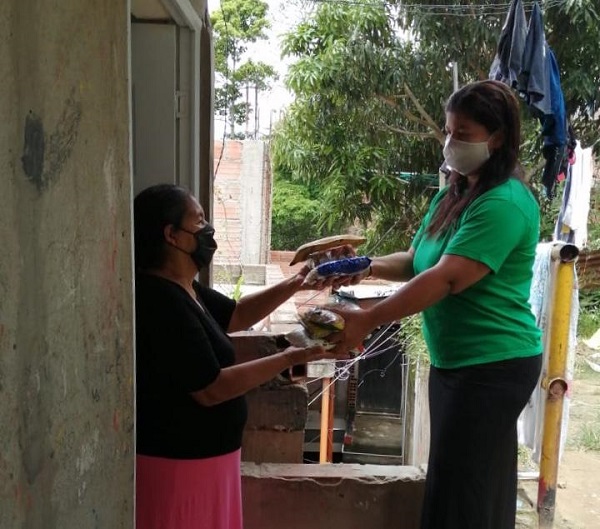 In Petrópolis, Brazil, the idea came about to prepare packs to help families who live in Caxambú (neighbourhood in which ATD Fourth World runs projects) to prevent COVID-19. They managed to get donations of soap and lots of seamstresses donated their time to sew face masks. They put together packs made up of bleach, washing-up liquid, soap, medicinal alcohol, anti-bacterial gel and face masks. Tatiane suggested putting sunflower seeds with the cleaning and hygiene products so that each person could plant one and take care of it throughout the pandemic. "It's always important," Tatiane said, "to be on the lookout so as not to forget to take care of one another. It's also important to feel life growing despite all the difficulties we're going through. And this life reminds us that wherever there´s life, there's hope and we have to carry on."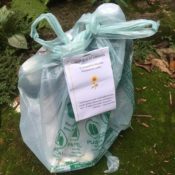 Taking care of one another is not only about sharing material goods and food. It is also about the importance of an emotional support network that strengthens in order to resist when so many have no protection. It is about the importance of listening and being heard, being aware, making sure nobody is alone, that nobody is left with the shame of having nothing:
"I also thought of other people. If I'm in this way, how must others be? Just now, I saw my neighbour and I asked her, 'Are you alright?' She had tears in her eyes. I told her that in the beginning I was in a bad way and I got help. I wanted to console her and give her support. I wanted to tell her, "Don't worry, you're not alone, we're with you. At times like these, when you're feeling down, we can pick you up…'" Paulina Mollericona, El Alto, Bolivia
Solidarity, sharing and mutual support have always been practiced by the people who live in areas of extreme poverty. During the pandemic, the most vulnerable continue this and forging pathways of resistance against extreme poverty. With each gesture of solidarity, they affirm – as Susana explained – that it is sharing that always allows those in extreme poverty to overcome difficulties together.
This article is the first in a series about the solidarity and mutual support that exists in the poorest neighbourhoods of Latin America during the COVID-19 pandemic. All the quotes come from interviews carried out by telephone and video conferencing during months of lockdown. The objective of these interviews and dialogues between ATD Fourth World members is to raise awareness and learn from those in extreme poverty.
Register for the webinar (in Spanish)
Solidarity, mutual support and resilience
Learning from the initiatives of communities in poverty in Latin America during COVID-19
Tuesday, 21 July at 10am Mexico City (GMT -5) | 11 am New York (GMT -4) 4pm London (GMT +2)