Rural Exodus: A True Master Course!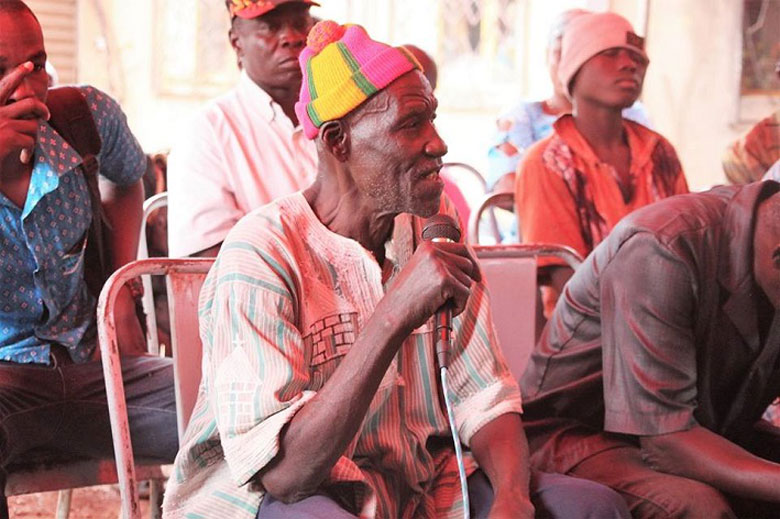 In a large shed, a board on the wall bears this cryptic message "Let people who think they don't know teach people who think they do." In that same shed are one-day teachers — some of the poorest people in Burkina Faso — passing on their knowledge to participants. This "Meeting in the Courtyard" addresses the question: Why are we leaving our families? What are the consequences of this rural exodus on today's Burkina?
There are things that need to be said and heard when they have been turning around in people's heads for too long without any chance being expressed; and then finally an opportunity arrives. That was the case this morning when, in an atmosphere of mutual respect, people were gathered who rarely get the chance to sit down together. Today, under the sheet-metal roof were young people who have spent years living on the streets of Ouagadougou, a director of an organization, women from a squatter settlement near Nagren rural district, a chief of police, farmers from villages in Ganzourgou, women from the Delwende Center, a representative from the Ministry of Social Action, people living in exclusion in their neighborhoods, a journalist from Savane FM, and friends of ATD who helped with translation during the meeting.
The statements were prepared during many smaller meetings that allowed participants to talk about experiences that are often painful, to find the right words, and to develop their thinking as they interacted with one another. Then when the day of the meeting comes, there is an outpouring of ideas.
"They do not understand us."
Mr. Sayoba is eager to speak. He tells us: "I live alone in Nioko 2, and every day I come downtown to make some money. To return in the evening, you need transport. But if I don't earn anything, I can't leave; and I also need money to come back the next day, which is why I sometimes sleep in town. But when the police see you in town at night, they think you are a criminal. They don't understand; they want to take you away." He sits down again, relieved to have been able to speak without being laughed at or interrupted. Afterwards, for an hour and a half, about thirty people make statements about themselves or their friends. The aim of the morning is for Mr. Sayoba to never again have to say, "They do not understand", and for people in the deepest poverty to be heard, understood, and respected. The presenter allows everyone to speak so that they can explore the different aspects of the day's question. Evelyne, who lives in a village, explains: "The young people don't want to farm any more, that is why they come to the city." Jean adds: "Some children live on the streets because their parents are poor. At school they are taunted by other children. They decide to head for the city to try their luck." Cédric, a child who lives on the streets, agrees: "My mother is sick and my younger sisters work. I couldn't just stay at home like that, so I left for the city to look for work; but so far I haven't found any." Alain, a farmer, says: "It is true it's because of poverty that people leave, but it's also because of discrimination. When you live among people who discriminate against you, you feel you have to leave. If rich people cast you aside, you're going to go and get rich just so you're able to sit down with them."
The Consequences of This Exodus
There are many consequences for people who leave. "When you arrive in the city, if you find a job it encourages you and you can even send some money back to the village. But if that doesn't happen, you can't return because you feel ashamed of not being able to provide anything, so you prefer to stay in the city and you go round in circles", explains Nourou, who has not returned to his village for years. A man facing the same hardship added: "If you live in the city, your heart hardens, you can't even think of returning home anymore unless something really bad happens. At the beginning you don't have time to worry about the people you left behind; all you can think about is what you came to find. You no longer notice time passing, until the day you realize that a lot of time has gone by, and then it's often too late." The atmosphere in the shed is heavy as each person is struck by the depth of what is being said and the efforts that participants have made to dare to speak in public.
What is becoming of Ouaga, the city that attracts all these young people? Suzette explains that in her squat, "When we were children, it was not like this. Before, everyone knew one another, and helped one another. For an event, we got together. Today that's not the case any more." Mr Allassane joins in: "When a young person leaves the village, if he has someone to take care of him, he can quickly succeed. But if you don't have that, you are going to end up on the streets, and even if you haven't done anything wrong, they will accuse you of delinquency and pick a fight with you and imprison you, and after a while you don't even care any more and you could become a criminal."
What is becoming of the villages that are emptied of all their vitality? Mr. Idrissa, a farmer in Ganzourgou explains: "When your child leaves you and goes to the city, there is one hardship after another. You were already living in poverty, and now you are in utter destitution." Mr. Jaques, from the same village, adds this: "Four young people from our village left to go to Ouagadougou, leaving behind their families. But in fact they added their suffering to the suffering of their family, because they have difficulties in the city and don't even have the means to go back." Their neighbor is no more optimistic and explains, "When a child leaves like that, the joy in a family is gone too. You leave, but the hardships remain and get worse."
The Right to Fail
We can have good experiences in the city, find a good job there, and earn an honest living, enough to help the family. But if you want that to happen, it is better not to leave without a plan. We were reminded of this by Germain, who after years of living in the street managed to find some stability by gathering scrap metal: "One of my uncles wanted to come to Ouaga. I asked him if he had a place to live. How was he going to take care of himself? He said that he didn't. So I advised him to stay in the village. Nowadays, a young person shouldn't leave without first having someone who has found him a job in Ouaga." Mr Ahmed, a farmer, adds: "I left and returned. I encourage people who have left to come back soon, otherwise nobody will recognize you any more and it will be hard to return." But many participants wondered what advice to give children so that they could resist the attractions of the city. Suzette says: "We also need to let the parents know because some of them are urging their child to go to the city, even though not everyone can succeed." And this idea of a right to failure resonates among the participants. "What makes people never come back to the village is the fact that they have not succeeded in what they set out for. They left because they were poor, and they remained poor. It is shame that keeps them in the city", asserts Mr Ahmed. Nourou continued with this idea, as if to ward off the shame of his own failure that kept him trapped on the streets: "A young person who doesn't succeed in town just has to return to the village. He will help his parents and be useful. That's better than staying in the city and turning to crime."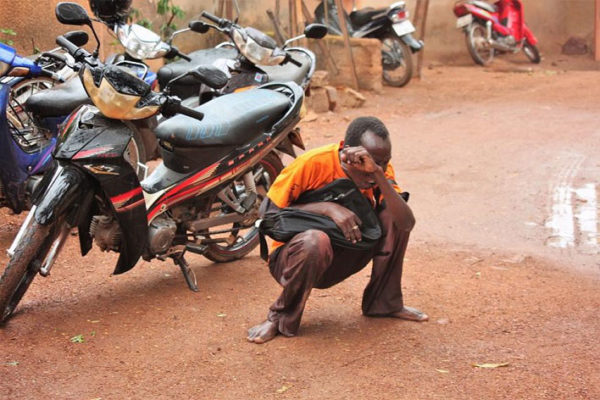 Finally, several participants offer up their ideas of how to keep dynamic energy in the villages, such as increasing the number of dams so that young people could do some market farming during the dry season, setting up youth clubs where they could get together and participate in cultural activities, creating professional training centres, etc.
But the course would not have been complete without responses from the guests and the exchanges that followed. The most notable remark came from the police chief. "This meeting allowed me to become familiar with the various causes of rural exodus, and especially its consequences", he said. "In the future, when I'm in front of a child living on the street, I am going to think, 'Why is he in these conditions?' instead of just punishing him. Without this meeting, I wouldn't have been able to do this." The police chief's reaction was met by long applause. The presenter reminded the participants that it was the young people who had insisted that the police be present so that members of the force could better understand them. Informal exchanges with this much-appreciated representative of the national police force continued for a long time. He understood the importance of taking time, "because if we keep apart", he said, "then it will be difficult to really understand one another."
These meetings allow us to believe, even in these times when we fear our society is in danger of being torn apart, that we can resist violence and prejudice by constantly trying to connect with other people, beginning with someone whose life bears little resemblance to our own.