Street Library Festivals, Summer/Fall 2016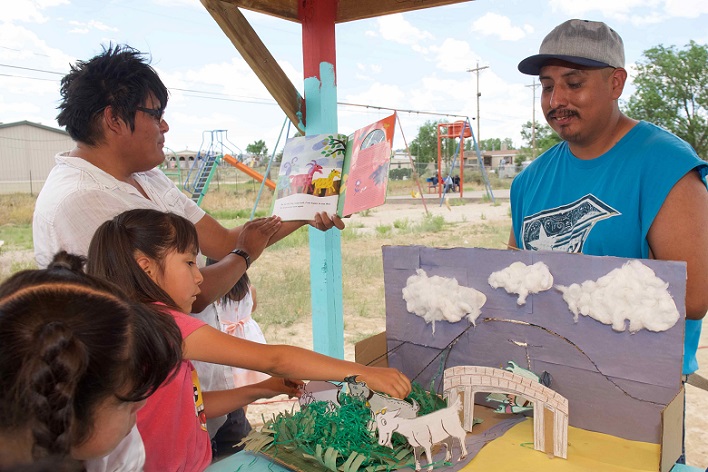 Photo: Festival of Learning in New Mexico, US, June 2016
Once again this year, Festivals of Learning will take place in the neighbourhoods where ATD Fourth World runs Street Libraries throughout the year.
Festivals of Learning always take place outside, and are a time when people in the neighbourhood can meet artists, professionals and other people who want to share their time, their knowledge, and their skills and talents. The goal is to create an environment where art and culture are available to everyone, and to nurture the talents that each individual already has.
Festivals of Learning take place in many parts of the world. During each event, the neighbourhood streets becomes a place for festivities — a time of happiness and friendship where people both young and old can learn about painting, computers, games, theatre, poetry, photography, etc.
The Festivals are also an opportunity for others to get to know people and places they may never visit. The neighbourhoods where ATD works throughout the year are sometimes feared, but the festivals are a chance for people to see them in a new light, challenging preconceived notions of what these areas are like. Art, culture, and educational activities bring the neighbourhood together and nurture everyone's dreams of making life better there.
Who leads the activities? We welcome anyone who wants to share a talent for art, passion for computers, or love of poetry. Or you can just come and help out! We need lots of help to provide fun and high quality experiences in these events. If you are looking for a volunteer opportunity this summer, please get in touch with us! See the email addresses below for contact information in different regions or email us at: .
United States
New York City
Brooklyn, 14-15 July
Jamaica, Queens, 29-30 June/1 July
Brownsville, Brooklyn, 14-15 July
Ocean Hill, 31 August -12 September
Contact:
Appalachia, VA
Clinchco and Centennial Heights, throughout June and July
Dickenson County, 22-24 July
Contact:
Louisiana
New Orleans 22-24 June
Poland
Dudziarska June 24-25,
Contact:
Spain
Madrid 11-23 July
Belgium
Tournai 4-8 July Contact:
Liège 17-19 August Contact: 
France
The festivals below are looking for volunteers!
Contact:
Angers 22-26 August
Poligny 24-27 August
Saint-Nazaire 23-25 August
Paris- rue Houdin (11e) 9 July and 27-28 August
Contact:
Noisy-le-Grand 10-12 July
Mans 24 August
Nogent-le-Rotrou 23-24 August
Lille-Fives 8-10 July (in Admiral Courbet Square) 19-21 August (in Lardemer Square)
Saint Etienne du Rouvray 6-8 July
Marseille TBA
Canada
Montreal (in Hochelaga) 24-27 August (for more information on the Canada Festival, see the article on the ATD Canada website: http://www.atdquartmonde.ca/participez-au-festival-des-savoirs-partages-2016/
Street library in the Philippines.
Festival of Learning in Montreal. Street Library Festival in Lievins (France).