Tanzania June-August 2015 Newsletter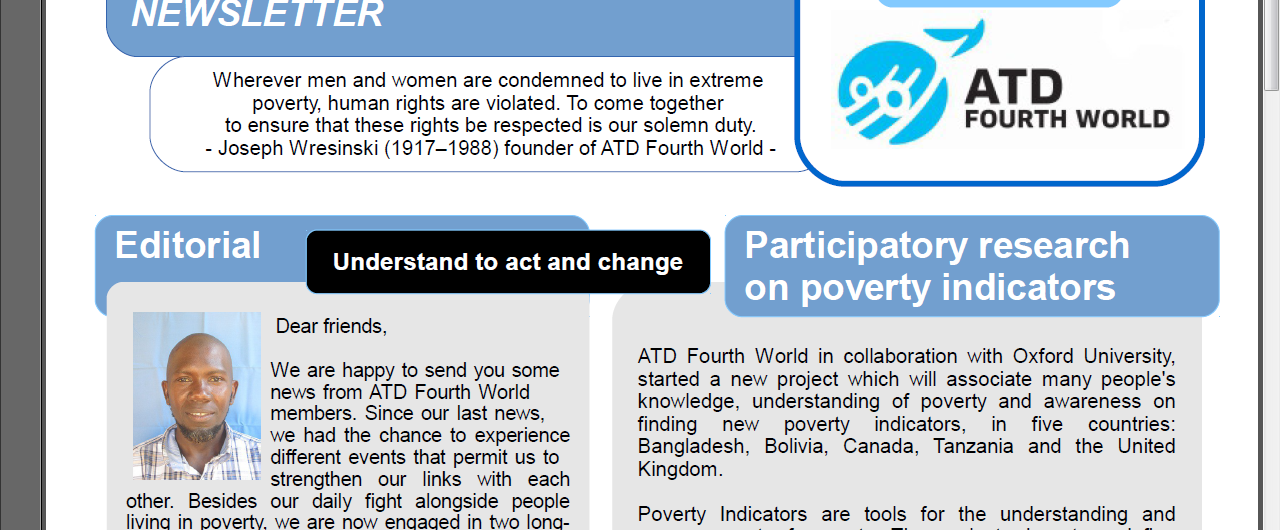 FULL TEXT ATD Tanzania June-August 2015 EN  
Editorial
Dear friends,
We are happy to send you some news from ATD Fourth World members. Since our last news, we had the chance to experience different events that permit us to strengthen our links with each other. Besides our daily fight alongside people living in poverty, we are now engaged in two longterm challenges. Their common points: the will to understand deeply the life and struggle of people facing extreme poverty; and gathering people from every part of society while reserving the heart of the project for those who know deeply what it is to face exclusion.
ATD volunteers, ATD friends living in poverty or not are engaged to listen and understand what people living in poverty share. Then they will propose to policy makers, international or national, professionals and citizens a way to take into account the experiences of those who themselves face extreme difficulties.
Achieving Education for All is a major challenge. As announced in the last newsletter, we are working on this important issue. A committee composed of ATD members from various backgrounds from Tegeta, Tandale and the Dar es Salaam Fish Market is leading this work. Our friend Selemani will speak more about this on the following page.
The second challenge is to identify new indicators of poverty in a worldwide research project. In partnership with Oxford University a proposal is being prepared for the World Bank to fund this ambitious project. Such projects too often exclude people who have first hand experience of what is extreme poverty. It will be a chance for us, in Tanzania, to develop new policies and find new ways to understand the situations of exclusion through the experiences of those who are living it.
We are just at the beginning. Everyone can take part to the effort, you are welcome!
Salehe Seif Team Leader