UN Event: International Day for the Eradication of Poverty 2021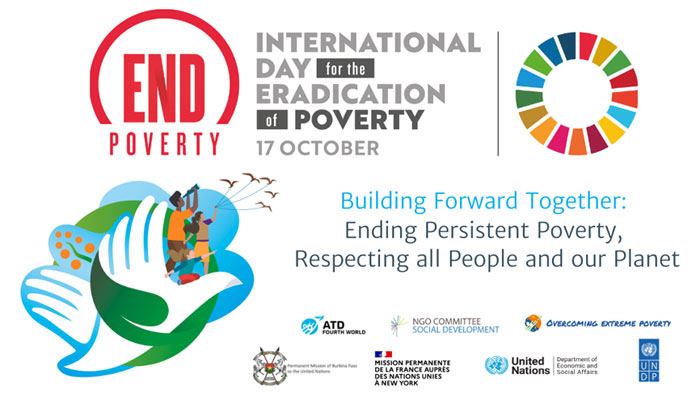 This year's theme for October 17 – International Day for the Eradication of Poverty (IDEP) 2021 is Building Forward Together: Ending Persistent Poverty, Respecting all People and our Planet
This year the UN event takes place on October 15, 2021 from 10:00am to 11:30am Eastern Time (US and Canada). This is a virtual conference over Zoom.
Watch this year's event:
This year's event features:
Messages from activists living in poverty facing the impact of Covid-19, climate change or environmental degradation.
Message from the UN system and statements by
Ambassadors.
Multi-stakeholder Dialogues on eradicating poverty
through social and environmental justice.
Download the flyer in English, French or Spanish for IDEP 2021.
Social Media Guide
Main hashtag: #BreakTheCycle
Other hashtags:
#EndPoverty #BuildingForwardTogether #EndPovertyWeek
#StopPoverty #IDEP2021
Images to share:
General for the day:
Statements by people with a lived experience of poverty:

Policy recommendations:
Tweets:
Another year of virtual International Day for the Eradication of Poverty! Join us from anywhere in the world! RSVP here: bit.ly/UNIDEP2021 #BreakTheCycle.
Inclusive education is key to breaking the cycle of poverty, now is the time to start #BuildingForwardTogether! #IDEP2021 bit.ly/UNIDEP2021.
We want to #BreakTheCycle of intergenerational poverty, that's why we call for early childcare support, a young adult basic income, prohibition of discrimination and inclusive education.
bit.ly/UNIDEP2021