Voices for Dignity: A New Book from ATD Ireland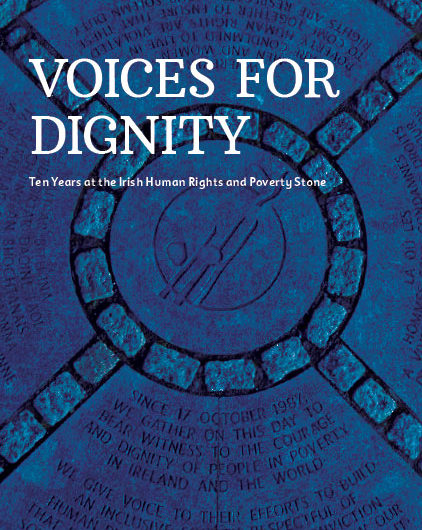 Voices for Dignity is a new book from ATD Ireland about the ceremonies that take place every year at the Human Rights and Poverty Stone memorial in Dublin on 17 October to mark the UN World Day for Overcoming Poverty. The publication offers a collection of personal stories, photographs and speeches that document the history of these ceremonies.
The Irish Commemorative Stone memorial, located on Custom House Quay in Dublin, was first unveiled 10 years ago. On that occasion, Fintan Farrell said of October 17,
"It is a very special occasion, it's not as such a political rally, it's not a protest, it is a very solemn ceremony to commemorate…the courage of people and communities who, day in and day out, struggle against poverty in Ireland and around the world."
Some people ask, "What's the point of having a ceremony where people just talk about poverty?" In page after moving page, this book gives an answer. Time and again, people in poverty tell ATD that one of their greatest sources of suffering is to feel invisible and unnoticed. October 17 is a day when these people have the opportunity to speak out about their lives. It makes a huge difference to feel that others hear what they have to say and take it seriously. As Nolleen Fallon says in her speech given in 2013 and reprinted in the book:
"Persistent poverty is the world we were born into. It's a hard feeling not to be able to climb up the ladder little by little. […] What keeps me going day after day? I suppose it's what is inside really, it's self-pride, it's inner strength, it's knowing that one day our voice will have to be heard."
When the memorial was first unveiled in 2008, Daniel McGuinness said, "For me, the Stone […] is about our responsibility…to look after each other… It means no one should ever feel like I did at one time, that I was worth nothing. …[W]e are all human beings and that's what the world is inclined to forget. […] Because of what I went through before, I had no goals, no nothing. …[T]o be part of the Stone going into the ground, this is a big positive thing in my life."
October 17th is often a time to recognize people who have died because of poverty. Ciaran, in her 2016 speech, remembered a friend who suffered not only from poverty but from a feeling of exclusion and being unheard:
"The first thing we want to tell you today is that we feel many of us are condemned to an early death sentence and this has to stop. …[F]our weeks ago, Jason, our friend… took his own life. I think that it is poverty, exclusion and the fact of being unheard that was also responsible for taking his life."
October 17 is also a day to recognize the many ways that people in poverty do heroic things that the world never sees even as it condemns people for being lazy and selfish. In the 2014 commemoration ceremony, Jackie said:
"Leaving no one behind means bringing back a homeless person to my home, like someone from my family. I could lose my flat for taking this risk. But I do it because I was homeless".
October 17 is a day for people to talk about others who encouraged them, and to offer a message of hope. Amanda O'Shea spoke in 2011:
"I am a mother of five. I left school when I was fourteen. I couldn't read or write. I couldn't help my children with their homework. I started literacy classes last September. […] My kids are delighted that I can read. Before I did the literacy course I used to feel stressed. Now I don't because I can understand if a letter comes in. I can take control. We got a lot closer as a family. […] There are still people worse off than us. I tell them not to give up. There is hope!"
Finally, October 17 is a day for people who have more prestigious positions in society to come and listen to people who live in poverty and to add their voice to calls for change. In 2016, Michael D. Higgins, President of Ireland, attended the ceremony. He said:
"On this important day, when we come together in solidarity with the poor across the world, let us consider how we treat those amongst us who are in difficulty or in need. […] Let us also consider the many ways in which we can enable those living in poverty to make that life changing move from humiliation and exclusion to full participation in their society…"
Copies of Voices for Dignity may be ordered by contacting ATD Ireland.
European Union: €15 (€5 print + €10 postage)
Other countries: €20 (€5 print + €15 postage)
For more information on ATD in Ireland.