Donald Lee
Donald Lee has been a friend and ally of ATD Fourth World for many years. In 2020 he was named President of ATD Fourth World International. Before that Donald was President of the International Committee for October 17 from 2012 to 2020.
Donald served as an economist with the United Nations for 20 years. He began his career in the United Nations at the organization's regional headquarters in Bangkok, Thailand. He later moved to New York where his responsibilities focused on issues of sustainable social and economic development, with special attention to poverty eradication and employment.
Since 2000, he has been involved in the organization of the International Day for the Eradication of Poverty commemoration on October 17 at the United Nations headquarters in New York.
Donald Lee is committed to eradicating poverty and hunger everywhere, and to defending the human rights and dignity of people living in extreme poverty.
Donald Lee discussing ATD Fourth World:
Message from Donald Lee, president of ATD Fourth World International This article was originally published in ATD's 2022 annual international (…) Read more →
Above: Donald Lee speaking at the UN on October 17, 2022 Every year on October 17, the United Nations in (…) Read more →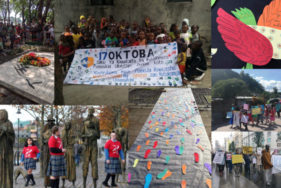 Above: Highlights from the World Day for Overcoming Poverty 2019 By Donald Lee, President, International Movement ATD Fourth World Message (…) Read more →