The Word "Humanity" Includes Everyone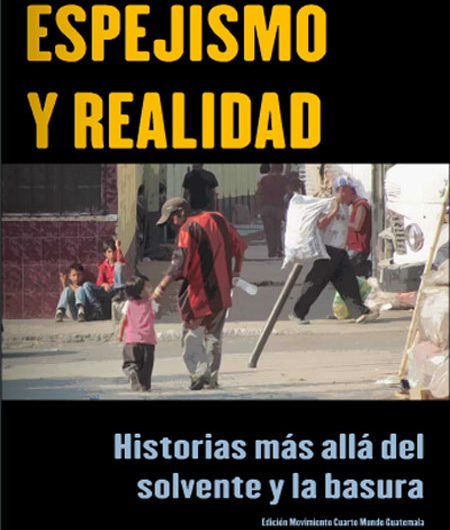 By Romain Fossey
For several years, I was able to join an adventure: meeting people who lived and/or worked in the streets near the Guatemala City municipal landfill. Some of the people I met there were able to contribute to a new book (in Spanish only), edited by sociologist Carolina Escobar Sarti, and published by ATD Fourth World–Guatemala. This book, Espejismo y Realidad, [Mirage and Reality: Going Beyond Stories of Glue-Sniffing and the Landfill], includes direct testimonies of people in difficult situations who were able to get to know one another in order to build solidarity together. Here, I wish to share excerpts from this book that can help others to discover the reality of Guatemala:
"Mynor Garcia, age 35, told us: 'I believe that everyone has the right to opportunity. Which means that, no matter what you have been or are currently going through, everyone should have the chance to improve their lives.' Orphaned at the age of 9, Mynor remembers his parents who disappeared during the Guatemalan Civil War. Since then, he has experienced the hardships of exile, social uprooting, drugs, and hunger. […]
"Like many men and woman, Mynor has had to live in a Guatemala of social exclusion. It is a country of poverty, hunger, and abandonment; a country in which the capital city is dominated by a landfill and lined with poor neighborhoods at its outskirts. A rural Guatemala in which villages receive no electricity, no education, no water, no health care. A country which 2 million emigrants left, so as to look abroad for what their homeland could not provide for them. A country in which 60,000 adolescents girl get pregnant every year after being raped by somebody they know. In this Guatemala, half of children under the age of 5 suffer from severe malnutrition; young people, who make up more than half of the population, cannot access enough jobs, so instead they wind up unemployed, in gangs, or joining the military. Such conditions deprive us of our dignity, make us suffer and exhaust us. […]
"Guatemala, as we discover in this book, can be a country of exclusion and extreme social erosion. It's a place where people label us and treat us as fourth-rate citizens; a place of pure distress. […] But this book tells another story as well. It not only describes people in the margins of society and the discriminations they face because of their living conditions; it also highlights themes of dignity and hope. It speaks of hands reaching out, of lives being opened to other lives. It is true that the people in this book, who are living, or who used to live in the streets in inhumane conditions, do not fully enjoy their rights as citizens. Paradoxically, however, they have a lot to tell us about what is real; about the strength of human spirit; and, especially, about love. As a friend once told me, love is not all-powerful, but without love, life is meaningless.
"These people had a profound humanity engraved in their hearts. Discovery is a chance, a present, a source of hope. […] We appreciated the lesson they taught us. Some people described this book as a collective project, in which every chapter offers hope for tomorrow. It is a memoir, but also a project for the future. That is why I hope to speak in dignity. Because dignity is not a word, but an attitude about life.
"When I listen to all of the voices in this book, drawn together as a collective chant, I can better understand what dignity is. When two friends live in the street and protect one another, that's dignity. When a human being is heard because another one is listening, that is dignity. When someone offers us affection, rather than only a pair of shoes, that is dignity. When a malnourished woman shares her meal with the man she loves, that is dignity. When you live surrounded by trash, but still find the will for life, that is dignity. Because of that dignity, we all belong to the same world. Nobody is excluded from humanity."