Stop Scapegoating!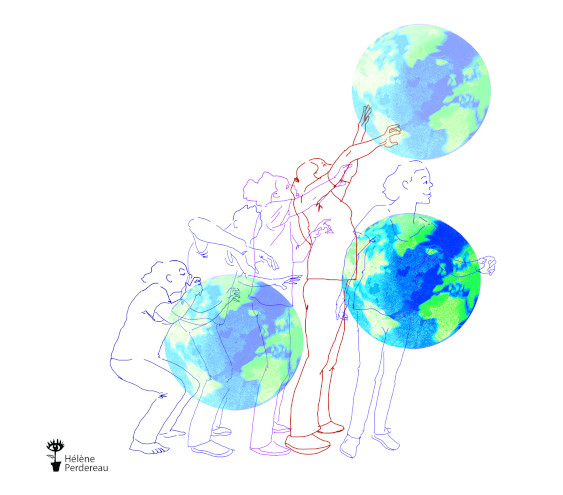 Message from the International Leadership Team of ATD Fourth World for October 17, 2022. This year marks the 35th anniversary of the World Day for Overcoming Extreme Poverty, an initiative of Joseph Wresinski. The day has been recognized and marked by the UN since 1992.
Stop Scapegoating!
Macha is obsessed by how much drugs are affecting the young people in her neighborhood and bringing violence right into family life. So, she has forbidden her son Owen to play outside. She has made enormous sacrifices to afford to buy an electronic game for her son to keep him from going outdoors, even though their apartment is tiny.
At school there was a fight and Owen came out with a head wound. For him, "school is war." He dreams of becoming a soccer star and moving his whole family to a country of his dreams. What does it mean to keep peace in schools and neighborhoods without stigmatizing the families whose children are caught in the web of addiction, and condemning the whole neighborhood? Let's look for deeper, more effective answers than scapegoating. Let's find responses that respect the dignity of each human being.
World Day for Overcoming Extreme Poverty
Each year the World Day for Overcoming Extreme Poverty initiates a world community civic dialogue. In these exchanges we meet people who are accused of not wanting to get out of poverty. We realize that they struggle to survive every day and pay a huge price for it. We meet climate, political and economic refugees and we discover there is overlap in these situations. We experience encounters with refugees from civil wars or invasions and we refuse to oppose solidarity with people in poverty in their own country and others who, fleeing war, arrive with nothing.
October 17
For 30 years the UN has recognized October 17 as the International Day for the Eradication of Poverty. This day reinforces our momentum in continuing to fight all year long, against the poverty that does not have to exist. Beginning with the people in deepest poverty in communities everywhere, near and far, we work together. We want access to housing and decent work, education, environmental justice, and social protection.
To all that, Sandra, an activist with an experience of poverty, adds:
"Poverty is being rejected, excluded, and tired out. We must be with people, not judging them from the start."
Making scapegoats out of people is not the solution to the ills of our societies. That only makes things worse. Let's work together for the dignity of all people in practice.
Bruno Dabout, Chantal Consolini-Thiébaud, Martin Kalisa