Post-2015 Development Goals
At the heart of ATD Fourth World's work is a mandate to contribute to the achievement of a truly sustainable and inclusive international development agenda that has a positive impact on the lives of the people who are the most marginalized and confront the deepest poverty.
As the Millennium Development Goals (MDGs) target date is approached (the end of 2015), member states, the UN system, and other actors including civil society organizations,  were already looking forward to the next development agenda, what has become "Agenda 2030," the Sustainable Development Goals. Informed by our participatory action-research with people living in poverty — which led to the publication of Challenge 2015, Towards Sustainable Development that Leaves No One Behind — our advocacy, at the United Nations and elsewhere, focuses on enhancing inclusion and non-discrimination, participation, human rights, dignity, accountability, and transparency.
The goal of ATD Fourth World is to create conditions for people living in poverty to contribute their knowledge directly and to inform policies within the post-2015 agenda and the Sustainable Development Goals (SDGs). For people living in poverty whose dignity is constantly violated as a result of the circumstances in which they live, it is essential to have human rights at the core of the post-2015 agenda.
Latest News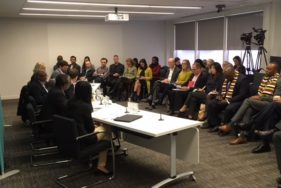 Above: Researchers present poverty dynamics at the national level in Nepal, Tanzania, Rwanda, and Ethiopia. How can civil society and (…) Read more →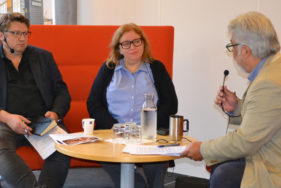 Above: Arne Strand (Christian Michelsen Institute), Diana Skelton (ATD Fourth World), and Alberto Cimadamore (University of Bergen) Every day, around (…) Read more →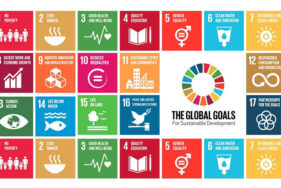 Message of Isabelle Pypaert Perrin, Director General of ATD Fourth World International, on the occasion of the World Day for Overcoming (…) Read more →