2012 Annual Report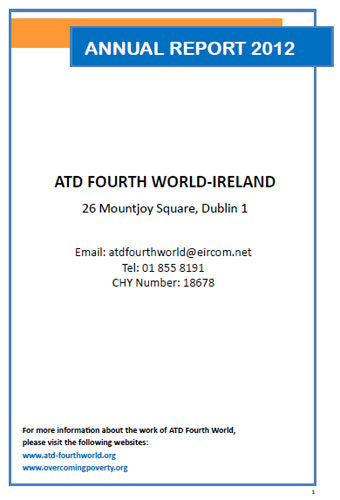 At a local level, in 2012, one of main activities of ATD Ireland was to visit people living in homeless accommodations, socially disadvantaged housing estates or support groups they belong to Many of them have faced persistent poverty since childhood and are still facing it. ATD volunteers encountered a number of organisations/ groups working with young adults in Dublin with the hope that some of them could take part in one of the European Youth events. A creative art project was run aiming at helping elementary school-age children to express what peace is for them.
At a national level, ATD commitment was to continue promoting 17 October, International Day for the Eradication of Poverty and to coordinate its commemoration on the Custom House Quay in Dublin's city centre.
At an international level, in January 2012, an Irish delegation took part in a Colloquium entitled: 'Poverty is Violence, Speak out for Peace'. The aim of this event was to present the results of the action-research project on the connections between extreme poverty, violence and peace to the general public. In March, a second Irish delegation attended the European Fourth World People's University, at the European Economic and Social Committee (EESC) in Brussels. People gathered together around the theme: Citizens United for a Europe against persistent poverty.
In October 2012, ATD Fourth World in Ireland became one of the 12 members of the Board of Directors of the International Movement.
More details in full annual report in PDF file
Documents

2012 ATD Fourth World Ireland Annual Report