A Chance to Be Somebody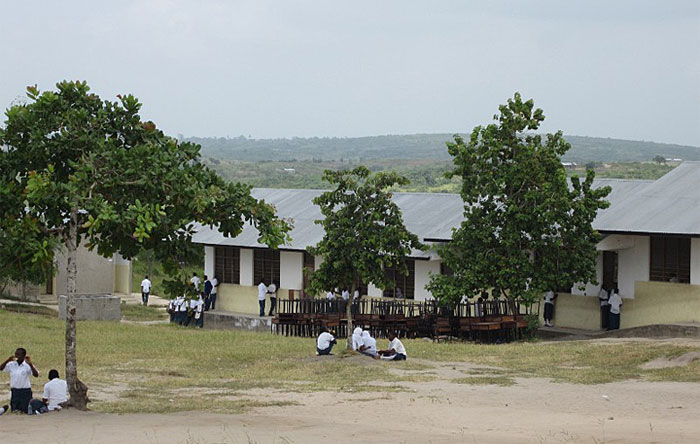 In 2017, ATD Fourth World invited people around the world to document real-life "Stories of Change". These stories are about situations of injustice and exclusion caused by extreme poverty. Written by activists, community leaders, and others, they show that when people work together, real change can happen.
Learn more about "Stories of Change".
"I was always thinking about what will happen to my children tomorrow," Mama R tells us about her struggle for her children to go to school.
By Hamisi Mpana (Tanzania)
For children struggling with the daily hardship of extreme poverty, living close to a primary school does not mean access to education is certain. Multiple and complex barriers exist, like not understanding the school transfer system or a fear of speaking to people in positions of authority.
Our story concerns Mama R, a single mother and her three children. The family had moved from another district to an area north of Dar es Salem. Before moving the two eldest children had been attending primary school. When they moved the mother was unable to understand how to obtain the necessary school transfer papers. She had tried to follow up but, unable to read and write and after several attempts, she became discouraged and stopped. Seeing her children staying at home was distressing for Mama R. As she told us, "I was always thinking about what will happen to my children tomorrow."
Mama R met an ATD activist who was helping to run an adult literacy class in their community. He suggested she join the class and get to know ATD and so she did. When the first ATD Volunteer Corps members visited her, they saw the eldest children staying at home, but not wanting to humiliate Mama R they did not ask about this situation. Over several weeks of visiting her family, it became clear what support she was looking for.
As the ATD Volunteer Corps members knew some of the local schools, they agreed to accompany Mama R and the two girls to one and meet the head teacher. There they were informed the school had a Memkwa class, which accepts children who have been out of school for a long time.
The first meeting with the Memkwa teacher was humiliating for Mama R. The teacher accused her in front of her children of not caring for them by keeping them at home for such a long time. The following day, the ATD Volunteer Corps member visited the head teacher who was sympathetic to the mother's situation and concerned by the teacher's overreaction. He told one of the Volunteers to bring the mother and children the next day to start school. Mama R, accompanied by the ATD Volunteer, brought the children who started in the Memkwa class.
Not long after starting school, Mama R's two girls went with their friends to play and missed school. Children need time to adapt to the routine, structure, and rules of school again, and for older children who might have been playing in the streets for some time, this can be a big challenge.
The children were caught by the auxiliary police. Shocked to see the police returning children to her school, the head teacher expelled the group of children.
Mama R went to the school and tried to ask the head teacher to reconsider and allow her two daughters to return, but he refused. Humiliated and distraught she returned to her friends at ATD. A Volunteer went to the school and met with the head teacher, the Memkwa teacher, a policeman, and the chairman of the school committee, who were all against the children returning to the school.
Finally, given a chance to speak, the ATD Volunteer asked:
"What will the future of our country be if we expel these children? If they miss school they miss the chance to be somebody important in the future of our community, like a teacher, or a policewoman, or a local leader. If they have this chance to study, in the future our country will be a safer place for them."
After much persuasion, the head teacher agreed to allow the children to return. From this point on it was very important to support the children more closely in school. The head teacher, Memkwa teacher, and the mother all agreed to exchange telephone numbers and stayed in regular contact. Mama R became recognised at the school by the teachers, who welcomed her in a respectful way. And when she had some challenges at home, she would call to inform the teacher if one of the children might miss school for any reason.
Her newfound confidence when speaking with people in positions of authority meant she was able to register her youngest son in pre-school, and this year he started primary school. The two eldest girls are studying well in school. Now when speaking with Mama R, her happiness is talking about knowing her two eldest girls will finish primary school next year.
To find out more about ATD Fourth World's work on education in Tanzania.