Drama, Music, Film, and More: October 17 in the United Kingdom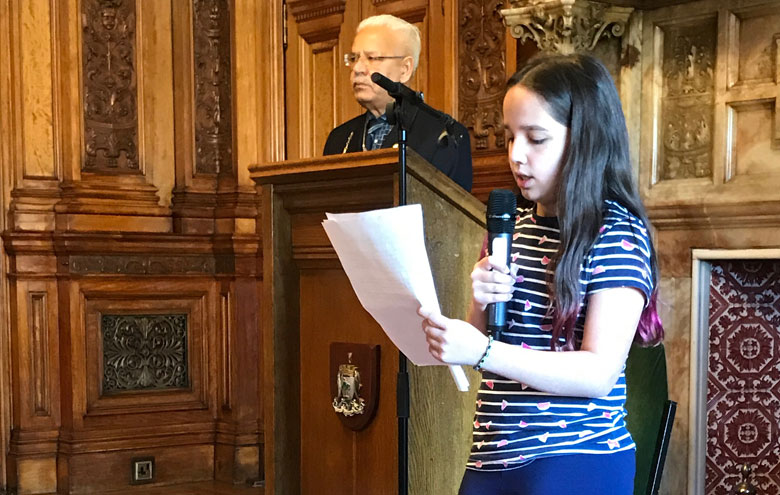 Above: Olivia welcomes audience at Glasgow City Chambers.
From Belfast to Leeds, a variety of events marked the World Day for Overcoming Poverty across the United Kingdom.
"I am Marie and I know what it's like to be sanctioned [by the social welfare system]."
"I am Caroline and I know what it's like to go hungry."
"I am Jackie and I know what it's like to feel trapped and tormented by a system that claims to be helping me."
These voices and others rang out from around the room at a "Hunger for Justice" event in Glasgow organised by Bridging the Gap, the Poverty Truth Commission, and the Lodging House Mission Choir. Participants gathered outdoors at the Commemorative Stone monument in honour of victims of poverty then walked together to City Chambers.
Olivia, a young girl who has grown up with 17th October events in Glasgow, proudly stood next to the podium to welcome the audience and official guests.  Following introductions from Councillor Baillie Hanif Raja and Ian Dickson, Lord Dean of the Merchant's House of Glasgow, a short drama about a woman who visits a food bank after going hungry for days helped publicise a new report offering community food providers tools for maintaining "Dignity in Practice" while tackling food insecurity.
In the "Let Me Tell You" local tradition, one mother described her fear of losing her job and ending up dependent on Universal Credit benefits. "It's not people that need to be fixed", she said, "it's structures and systems."
Another speaker addressed a sharp comic letter "from the people" to "dear honourable members of Parliament" about salary allowances available to MPs. Mimicking the tone of administrative letters to people who claim welfare benefits, it included: "In cases of financial hardship, you can go to your local agency for a bright orange referral form to take to your local bakery. You will get a tinned sausage roll, a powdered iced bun, and an energy drink, in case you doze off in Parliament when the devastating effects of the welfare reforms are being discussed." This brought wry smiles and laughter to the audience.
London: Almost a hundred people packed into Committee Room 4 at the House of Lords for a panel discussion about meaningful political participation by people with direct experience of poverty.
The Baroness Professor Lister of Burtersett opened the discussion by saying, "The diverse panel reflects ways in which groups from across the country are increasingly coming together to act, and try and create change."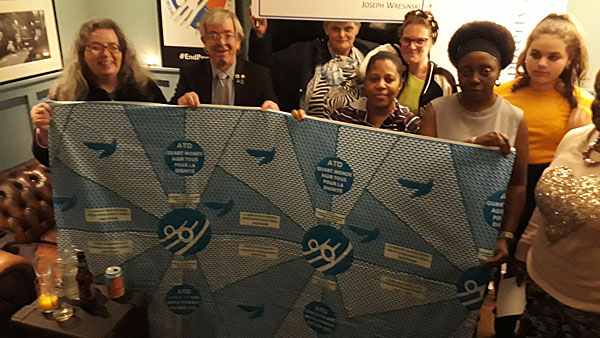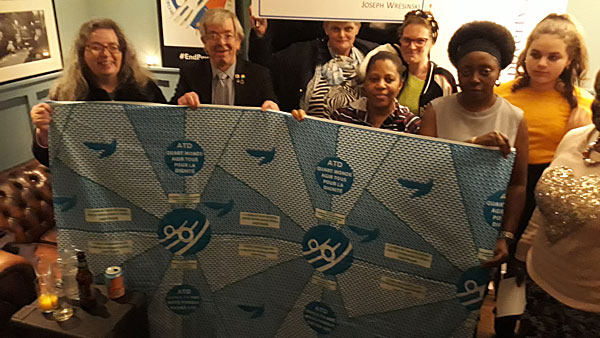 The highlight of the event was the launch of a 7-minute video, "The Roles we Play: A Model of Genuine Participation". James Riley, an activist of ATD Fourth World who helped to make the film, said: "The process was important to us. It's us on the screen. It's our words, our images, rather than a journalist's article where they cherry-picked quotes and images. […] I hope you can see the honesty in this film." Speakers' talks, including those by Rebecca Bromley and a joint talk by Patricia Bailey and Alana Avery, are being published now and in coming weeks.
Elsewhere in the United Kingdom, many organizations held events to mark the world day.
Stockton: Thrive Teeside set up a Speakers' Corner and informational stalls to highlight actions that challenge poverty.
Belfast: the Right to Welfare (R2W) and Participation and the Practice of Rights focused on "Conscious Cruelty: Social Security, the Economy, and Human Rights".
Salford: the Poverty Truth Commission ran an inclusion workshop at the Social Audit Network.
Leeds: the Dole Animators ran workshops to create and share narratives.
Back in London, Being the Story hosted an event featuring speakers with lived experience of poverty and other challenges. 4in10 organised London Challenge Poverty Week.
Nationally:
Church Action on Poverty marked 13-21 October as "End Hunger Week" and collected signatures for a national petition asking that the Universal Credit be fixed.
The Joseph Rowntree Foundation supported many of these efforts led by people in poverty.
Stoke Expert Citizens, the West Cheshire Poverty Truth Commission, and others coordinated social media campaigns using: #EndPoverty, #PovertyTakeover, and #SolveUKPoverty.
A national collective of individuals who experience poverty (of which ATD Fourth World is a founding member) renamed itself the APLE Collective: Addressing Poverty with Lived Experience. Its new Twitter account quickly gained more than 600 followers: @ApleCollective.