A Happy End to a Long Struggle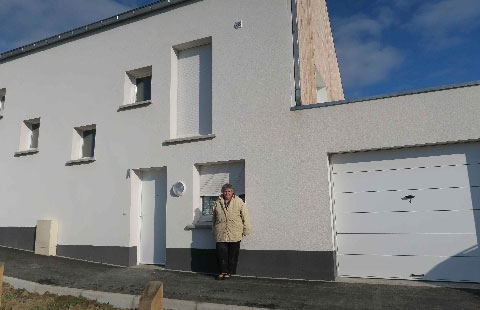 Above: Beatrice in front of her new home. She received the keys on 17 October, 2016.
In 2017, ATD Fourth World invited people around the world to document real-life "Stories of Change" arising from situations of injustice and exclusion caused by extreme poverty. These stories, from activists, community leaders, and others, show that when people work together, real change can happen.
By Béatrice Soulé (France)
Béatrice, her sister Florence, and her son Guillaume faced many difficulties before they finally got the new housing they were entitled to.
It's life-changing!
It's life-changing! We sleep better, we feel better, and nobody pesters us when we go out. My son Guillaume is in better health and he can go out without fear of being harassed. Even the dog seems better. And it's only the beginning. This was Béatrice Soulé's comment in November 2016, just after she had been given the keys to her new home.
For more than a year, we've been the only family living in the Alouettes estate. The block of flats was surrounded by barriers, and we had to call the police to be able to get out. Everybody had moved away. Daniel had been the last one to leave. It was raining; we were cold. Bins were piled up everywhere. We had no gas, and we had to cover the windows with cardboard.
Members of a group promoting access to human rights came together to support Ms Soulé's family and express their concern regarding the family's appalling living conditions.
They sent a letter to the landlord: "For several months, Mrs Soulé has been asking for an approximate date when she could expect to be re-housed. She is still waiting for a written answer. We met her yesterday in her flat. The family lives in unacceptable conditions, and they are exhausted. At ATD Fourth World, one of our priorities is making sure that the dignity of all people is respected. We cannot stay silent while Mrs. Soulé and her family live in this flat."
Letter Not Answered
The letter was not answered, but Sylvie, a member of the ATD Fourth World Volunteer Corps, was given an appointment with the deputy prefect a few months later.
We supported one another in the community when Sylvie was living in the estate. When the National Agency for Urban Renewal renovated the housing estate, all the residents were re-housed except for my family and Jean-Pierre's.
We lived in temporary housing for eleven months. The manager said they would give us permanent housing after four months, but it didn't happen. I didn't understand why. Our dog had been aggressive, but it wasn't its fault — they drove it nuts. Some kids smashed letter boxes and tore one of my tax returns into small pieces. They threw little pellets of earth into my windows. It was unsafe to live in that flat. I wrote to the landlord after I received a letter accusing me of neglecting my flat.
Our neighbours helped us move in. ATD Fourth World did a lot for us. I would never have written to the prefect if it hadn't been for them. A woman working for the Social Action Community Center gave us real moral support. She wasn't in charge of our case, but she was always there for me and helped me when I had appointments with the official handling it.
Now I've got this home and we won't move from here! I got curtains for the windows, I will find a place for the cuckoo clock my mother gave me, and I will send a picture of my new home to my sister in Grenoble.