No Free Speech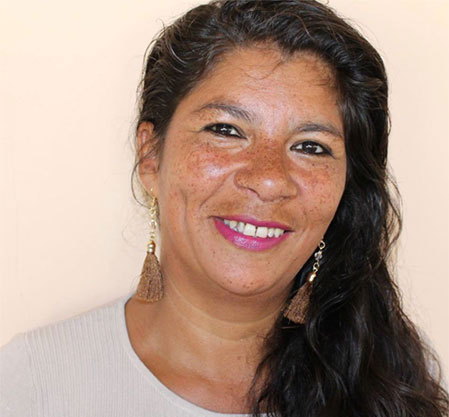 In 2017, ATD Fourth World invited people around the world to document real-life "Stories of Change". These stories are about situations of injustice and exclusion caused by extreme poverty. Written by activists, community leaders, and others, they show that when people work together, real change can happen.
More about "Stories of Change".
Through her involvement with ATD Fourth World, an activist is empowered to speak out to defend the rights of others.
By Raquel Juarez (Guatemala)
They thought I was ungrateful
A few months ago, I got the chance to talk with some of my country's government ministers. I didn't know them, but naturally we started chatting, as we happened to be having lunch together. When I found out who they were, I told them about the help that families in difficult living conditions receive and how, from my point of view, there are other ways to help us:
"It would be much better if we could get a decent job and pay for our children's education ourselves. A bag of food doesn't help us much. It's all gone after a week. Instead of arriving with tankers full of water during a political campaign, lay a pipe so that we get water every day".
They were surprised that I said such things to them. They thought I was ungrateful for the help we received. I think it was the first time they had heard something like that.
Poverty is not just something to study
You have to talk to the people who have the power to change things. You have to make them understand so they can't evade people, but rather support them. It's important they recognise that poverty is not just something to study. You have to walk hand in hand with those who suffer the effects of it and not just judge or accuse them.
Supporting neighbors and speaking out
But life in Guatemala is discriminatory. It's not easy to find the strength and motivation to speak out, to demand our rights. One thing that encourages me to speak out is seeing the injustices and inequalities that exist in my country. It's simply unacceptable that children are dying from malnutrition and that families are suffering. We have to be courageous enough to speak for ourselves and for others in order to make changes.
People in my community come and find me when they are struggling. I speak up for these families, and I support them. But it is not only a question of support. I take time to talk with neighbours and help them recognise their rights. We must look after those who are suffering and give them strength. We must let them know that they are not alone and give them advice when necessary.
Learning not to be afraid
Being able to speak out without fear is not easy. Other people and I had to overcome this fear.
Our involvement with ATD Fourth World has allowed us to learn through activities and family gatherings where we talked about different topics: children's education, work, every day life.
At first, I just listened to what they said and I didn't understand everything. However, bit by bit, I began to participate more and express myself freely.
When I talk to my friend Dona Mikaela, she tells me that she didn't even look up before. Yet now she is someone else when she speaks. She has been freed from many things. I can't imagine what she was like before. Now she can raise her voice and defend someone when they are being mistreated. I'm proud to hear that my friends speak with courage.
Standing up for children at school
School is where we should be able to express ourselves the most. My youngest child had to repeat the first year of primary school several times. This year, I decided to move schools and her new school told me my daughter doesn't have any problems. In fact, she has made great progress.
After that, I went back to the previous school to talk to the head teacher in order to stop them from doing the same with other children. It's not fair for children to spend so many years in the first grade and then not be accepted anywhere else because they are too old.
It's also difficult because I speak up in order to avoid being humiliated and people aren't pleased about that. That hurts, but it is also an honor, a strength and a joy to know that I'm not a pushover and that I can now defend myself.
"They tell me I am a revolutionary"
There are times when they tell me I am a revolutionary. And that makes me laugh because I remember that people also called Joseph Wresinski [founder of ATD Fourth World] a revolutionary because he was on the side of those living in poverty.
More about ATD Fourth World in Guatemala
Learning to speak out about poverty: ATD People's University